The iPod is rapidly turning into the early 21st century equivalent of the Maidenform Lady —you never know where one is going to show up next.
Case in point: This weekend I went to the county fair to get my annual dose of food that's not very good for me, rides that aren't very easy on my back, and peddlers who are selling things I neither want nor need. I also enjoy the rural traditions of the fair—admiring the prize-winning livestock, marveling at the oversized vegetables, and delighting in the trappings that are otherwise foreign to city folk like myself. Surely, this would be one of the last places you'd expect to see anything iPod-related.
That's what I thought, at least, until I wandered into the exhibit hall where the handicrafts were on display and found the student-created poster shown below. Apparently, it's an award-winner, too, if the ribbons festooning it are anything to go by.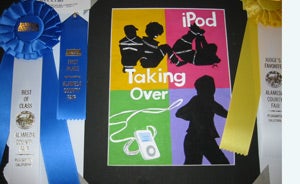 So I snapped the above shot, downloaded it to iPhoto, and sent it around to my Macworld colleagues for their amusement and delight. "This has to be the most obscure place for an iPod-themed sighting this entire weekend," I remarked. And it was…until I got a reply five minutes later from Jason Snell containing this shot.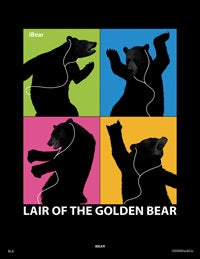 That's a poster for a camp a few miles removed from the Middle of Nowhere (well… somewhere in the Sierra Nevada to be slightly more precise), where Jason spent a week camping, relaxing, and, apparently, finding iPod-themed posters in obscure places just to trump the one I found. And that's why I regard him with equal measures of admiration and loathing.
And if you've got an obscure iPod-related sighting of your own to recount, feel free to share it in the forum—I'd love the opportunity to admire and loathe you as well.