At a Glance
Expert's Rating
Pros
Easy to upgrade to new version
Web Viewer provides dynamic Web content right inside FileMaker
Universal Binary provides major speed increases, especially on Intel Macs
Cons
More creative uses of new Web Viewer require advanced programming
Web Viewer can't easily be used to move data from Web into FileMaker
Must scroll within the Web Viewer to see most Web pages
Our Verdict
Progress can be painful, as anybody who has lived through the last couple of major upgrades to FileMaker Pro can attest. FileMaker Pro 7 ( ; October 2004 ) introduced a new file structure that made great things possible, but which caused many older databases to break, sometimes badly, when they were converted. FileMaker Pro 8 Advanced ( ; December 2005 ) added much more powerful programming capabilities for developers, but experienced developers who knew the old versions well had to work hard to adjust to a new interface. For those fatigued from the challenges posed by previous FileMaker upgrades, there's good news. FileMaker Pro 8.5 offers significant advantages that aren't going to break your old databases or send you back to school. FileMaker 8.5 comes in a Pro version (primarily for database users) and a Pro Advanced version (targeted to developers). I looked at the Pro version for this review.
Faster, faster!
FileMaker Pro 8.5 is one of the marquee Mac apps for Mac OS X to be released in Universal Binary format—that is, an application that has been optimized for the new Intel Core Duo-based Macs as well as the older PowerPC Macs. FileMaker's publicity materials say version 8.5 is up to two times faster than FileMaker Pro 8 on a PowerPC. Based on my real-world tests, FileMaker 8.5 did even better than that—sometimes much better.
In one test I performed, a looping script created 100,000 records; with each iteration of the loop, FileMaker placed a random value in a field and performed a couple of simple math operations on that value. FileMaker 8.5, running on a 2.16GHz MacBook Pro, ran this script in about three minutes—roughly five times faster than FileMaker 8 on the same machine. Sorting 100,000 records was also faster in version 8.5 than in 8, by about the same factor of five. FileMaker 8.5 is faster on older hardware, too. On my 1.33GHz PowerBook G4, FileMaker 8.5 was roughly twice as fast at performing the same tasks as FileMaker 8 on the same machine.
Many factors can affect the program's speed, so results may vary. And not every test I did showed such dramatic differences. For example, a find involving the asterisk (*) wildcard character (which stands for one or more unspecified characters) performed comparably in both versions of FileMaker, on all machines. Nevertheless, the bottom line is clear: If speed matters to you, upgrade to version 8.5 no matter what your hardware.
No browser necessary
FileMaker Pro 8.5's major new feature is a new layout object called the Web Viewer. The basic idea is simple: Show Web content in a defined space right on a FileMaker layout. For example, the Web Viewer can show a map of an address built from the values in the street, city, state, and zip fields in the FileMaker record you're browsing. Move to another record, and the map changes.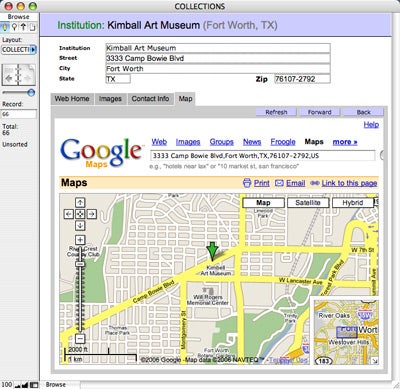 This database uses a Tab Control to provide quick access to a number of Web Viewers. Each one brings different information about the museum from the Web into the database, but the Tab Control lets users see exactly what they want quickly, without having to poke around in a Web browser to find it. The tab panel displayed shows the museum's location using Google Maps. Note that the Web content does not scale, so the small Web Viewer only shows a limited amount of Web content and you may have to scroll to see what you want.
It has long been possible to use FileMaker's Open URL script to take a URL from a FileMaker field and send it to your computer's default Web browser—pretty much the same way you can click a link in an e-mail and launch your Web browser. But in the past, if you wanted to open a dynamic Web page that required parameters (like a mapping site), you had to figure out how that site's URLs were constructed, and then write your own calculation in FileMaker to generate the correct URL. You can still tie the Web Viewer to any URL you can construct, but easy access to a couple of dozen Web sites, including Google Maps and FedEx package tracking, is built into the Web Viewer Setup dialog, so even a beginner can get Web content displayed in no time.
And in the past, you had to live with the fact that the browser window came to the fore and covered up the FileMaker window. In FileMaker Pro 8.5, using the Web Viewer, you will be able to see Web content and database content side by side. The database I use to pay my household bills, for example, has a field that stores the Web addresses for various accounts and there has long been a button on the account layout that opens bill-pay Web sites in my browser. In the past, while reviewing my credit card bills online, I often had to switch back and forth from FileMaker to my browser to compare charges. But in FileMaker Pro 8.5, after taking two minutes to add a Web Viewer to the layout where I display my account data, I am able to look at the data online and the data in my database and compare them in the same window. It's not just cool, it's useful.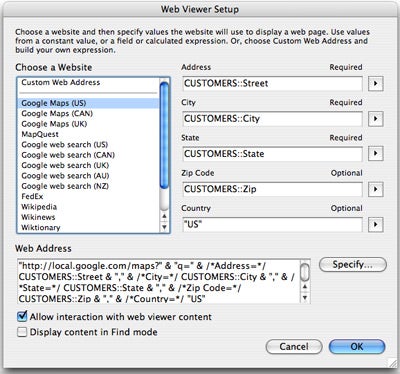 You use the Web Viewer Setup dialog to control what the new Web Viewer shows. Here, using one of the built-in formula guides, I configured the viewer to show an address in Google Maps by simply putting the appropriate fields from my database into the option fields on the right. The resulting formula is displayed at the bottom of the dialog.
What makes the Web Viewer especially exciting is that it can display any content that you can see in a browser. That includes but is not limited to Web pages: In addition to maps, you can view stock quotes, news sites, Web cam video, online photos, weather in various cities, your company's online inventory database, or your credit card or bank statement. The Web Viewer can also display files on your hard disk such as pictures, movies, and PDF and Flash files, so long as your browser has the appropriate plug-ins installed. In short, anything that you can view in your browser, you can view in the FileMaker Web Viewer.
There are some limitations. You will normally want the Web Viewer to take up only a part of your screen, but you might be loading Web pages that were designed for viewing in a full browser window, so you might be in for some scrolling. Of the thousand and one possible ways to use the Web Viewer, only a handful are actually built into the Setup dialog. For the rest, you're on your own, as you have always been, and some of the more creative uses of the Web Viewer (like interacting with Flash content) may require advanced programming outside FileMaker Pro. And, while users can interact with Web content shown inside the Web Viewer (by clicking links or filling in Web forms, for example), there is no simple way to extract data from the Web Viewer and save it in database fields.
More enhancements
Greater speed and the new Web Viewer are FileMaker Pro 8.5's headline features, but there are a handful of additional enhancements. For advanced developers, there are several new object functions and script steps. My favorite is the ability to name layout objects, including individual tabs in a Tab Control. This means no more "stupid FileMaker tricks" are required in order to script the display of a particular tab on a layout. You can now go directly to a tab by name. For less experienced users, FileMaker's new online Learning Center promises to be a big help. This Web site provides extensive and targeted help with nearly all of FileMaker 8.5's features. It is accessible from within FileMaker Pro 8.5 (in the Help menu). Finally, FileMaker 8.5 includes scores of bug fixes.
Macworld's buying advice
Compared to versions 7 and 8, FileMaker Pro 8.5 is a modest upgrade, and I can't say it is a must-have for all users. The new Web Viewer won't matter to everybody, and if you've never felt that FileMaker was slow, then the speed boost in 8.5 won't matter to you, either. But if your database can make use of the Web Viewer, it's so easy to set up and such a sweet addition to your layouts that you won't be able to resist it for long. And if you tend to run larger databases and would like to spend less time looking at the FileMaker progress bar, then the upgrade is worth the money for the speed increase alone. This is especially true if you are lucky enough to have a shiny new Intel Core Duo Mac. Finally, unlike the last two upgrades of FileMaker Pro, this one is guaranteed not to break your old databases or make your brain overheat, so I don't see any reason to wait.
[ William Porter is an independent database applications developer and writer in Dallas. ]