Thanks to e-mail, messaging clients, cell phones, and countless other communication tools, it's easier than ever to stay in touch. And the six applications I list below make communicating with other people even easier, without costing you an arm and a leg.
In addition to communication tools, this installment of our multi-part look at the best low-cost software for the Mac profiles Internet and networking applications on the next page. If you missed any of the three previous installments, we've already covered enhancers and troubleshooters, multimedia apps, and time savers and shortcuts.
The version numbers listed below are current as this article was posted. But software is updated frequently, so new versions could become available by the time you read this; check the developers' Web sites through the links provided to make sure that your Mac meets the system requirements for the programs.
Remote-control utility: Salling Clicker 3.0.1
Address Book shortcut: BuddyPop 2.5.1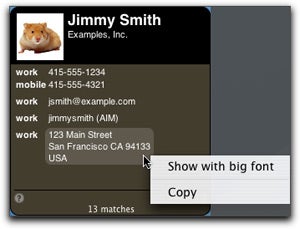 Pop-up contacts BuddyPop gives you quick access to your Address Book info.
BuddyPop 2.5.1 ( ) lets you quickly access to your Address Book contacts without having to leave another application to get to them. Simply press a keyboard shortcut, and up pops a translucent window; type in a few letters of an Address Book contact's name, and press return to get a floating window that lists the contact's details. You can click on an e-mail address to open a new message to that person, click on a URL to open it in your browser, or control-click on an address to copy it to the Clipboard. If you've got a Bluetooth-enabled mobile phone, BuddyPop lets you call any contact by double-clicking on a contact's phone number, and it displays a handy Caller ID pop-up window for incoming calls. (€10; Tynsoe )
iChat recorder: Conference Recorder 2.0.1
Although iChat archives your text chats, it doesn't record your audio chats and videoconferences. If you need this functionality, check out Conference Recorder 2.0.1 ( ), which lets you easily record your video and audio with one mouse click. Recordings are automatically saved as QuickTime movie files—what you see in the movie is exactly what you saw during the conference. You can select the quality of audio and video in your recordings and whether to record just the audio portion of a video chat. You can even record yourself via iChat's video preview window—great for practicing a presentation or creating a video podcast. ($15; Ecamm Network )
Video-chat enhancer: ShowMacster 1.8.1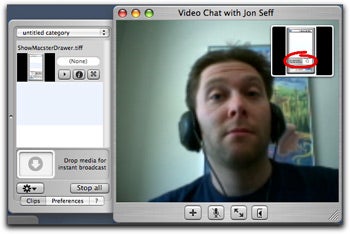 Multimedia chats With ShowMacster, you can display video and images and play audio, in an iChat videoconference.
Have you ever been in a video chat and wanted to share an image, a movie, or an audio file? You could drag a media file into iChat to send it to the other participants in your chat, but they would have to download the file and open it on their own Mac. ShowMacster 1.8.1 ( ) lets you display media files in iChat itself, turning videoconferences into full-blown multimedia presentations. To show an image or play an audio file, just drag the file into the drop zone of the chat window's ShowMacster drawer; the media will immediately be shown—in place of your mug—in the other participants' video windows. While presenting media via ShowMacster, you can still talk to other chat participants. When displaying images, you can use the built-in Sketchboard to draw on them. Best of all, because ShowMacster uses iChat itself to send images and video, people receiving your media don't need to be using ShowMacster, just iChat 2 or later. (€15; Eberhard Rensch )
Other top communication tools
If you're the type who keeps meticulous records of all your iChat sessions, you need Logorrhea 1.3.1 ( ; free; Spiny ). The application lets you browse your iChat logs by user name, date, and time, as well as search for chat sessions by words and phrases. MailTags 1.2.2 ( ; payment requested; Indev ) delivers organizational moxie to your Mail messages by letting you assign keywords to e-mail, or organize messages by project, for easier search and retrieval; you can also use MailTags to add notes to messages, set and view a message's priority, and set due dates for responding to messages.
Note: When you purchase something after clicking links in our articles, we may earn a small commission. Read our affiliate link policy for more details.