A few years back, Burton Snowboards released a backpack and jackets with built-in iPod controls, allowing you to direct playback while your iPod was tucked safely away. These products got plenty press coverage at the time—although it was nearly impossible to actually find them in stores—but soon after, the whole "iPod-integrated" apparel trend seemed to die a sudden death. Apart from a few handbags and backpacks with iPod pouches, such as those from Delarew Designs, we didn't see too many products built specifically for the iPod; mainly just clothes, such as those from Scott eVest, with pockets and cable organization for gadgets in general.
But over the past six months or so, the iPod-inspired clothing/bag market has reawakened, with a number of vendors—both big and small—creating clothes and bags with iPod playback controls and storage as an integral part of the products' designs. We've gathered up a number of these "fabric gadgets"; here's what we think about the Second Wave of iPod apparel.
Backpacks: JanSport
Anyone who's ever been to school has seen a JanSport backpack; they're one of the staples of student life. But you've never seen backpacks like those in the company's new LiveWire line, which include features for the various electronic devices students (and adults) now carry around full-time.
In terms of iPod integration, you place your dockable iPod in a zippered, neoprene pouch inside the bag's main compartment. Two plugs—one for your iPod's dock-connector port and the other for its headphone jack—connect your iPod to the bag. (You'll want to enable your iPod's Hold switch to prevent bumps to the Click Wheel from affecting playback.) Near the top of the right-hand shoulder strap is a standard stereo miniplug, into which you plug your headphones; lower on the strap is a set of soft-button iPod controls: Play/Pause, Volume Up, Volume Down, Forward, and Back. These buttons worked well and were easy to use, while resisting minor bumps—I was surprised how infrequently I accidentally hit a button while using the backpack. Another feature that I really liked was the small elastic pouch at the very top of the right shoulder strap (near the shoulder) that can be used to store your earbuds. The pouch is too small to fit your earbuds and all of their cables without some effort, but for quickly stashing the earbuds themselves, leaving the cables free, it worked well.
Overall, the Audio Pack is a solid bag for carrying books and other large items, and its iPod integration is implemented well. However, this isn't a bag for carrying lots of gadgets and gear, as it doesn't have enough pockets and organizers.
The Alt Pack uses the same iPod connections and controller as the Audio Pack. (Its zippered iPod pouch is on the outside, between the laptop compartment opening and the top of the bag.) But the Alt Pack also includes Bluetooth connectivity. Why would a laptop backpack include Bluetooth? If you're listening to your iPod, you can't exactly be expected to pause playback, remove your headphones, take your phone out of the bag, and answer it, can you? (JanSport's answer would be "no," by the way.) Instead, you pair your Bluetooth-enabled mobile phone with the bag—a small Bluetooth button and indicator light can be found on the left-hand shoulder strap. When your phone rings, press the Bluetooth button and your iPod pauses, your phone's audio comes through your headphones, and a microphone hidden near the Bluetooth button picks up your voice. Press the Bluetooth button again to hang up; your iPod resumes playback. A small (2-by-3.5-inch) battery/Bluetooth pack fits in a pouch in the laptop compartment of the bag; Bluetooth functionality requires 3 AAA batteries.
Although the Alt Pack's Bluetooth support worked well overall, I did experience one minor issue. Like most Bluetooth "headsets," the Alt Pack's Bluetooth LED blinks regularly to indicate that Bluetooth is on and the bag is paired with a phone. However, sometimes I heard a faint noise through the headphones whenever the blink occurred; a sort of low "blip." (JanSport told Playlist that this isn't normal. The company is sending another Alt Pack for us to test; we'll update this article with the results of that test.)
[ UPDATE 8/27/06: JanSport has since provided Playlist with a second Alt Pack, and this second sample did not exhibit the Bluetooth issue described above. ]
There are also a couple minor improvements I'd like to see in the bag in general. Unlike the Audio Pack, the Alt Pack's iPod pouch isn't padded; given that the pocket is on the outside, it should offer more protection. And considering how expensive the bag is, and how many (possibly heavy) gadgets you can stuff inside it, better padding on the shoulder straps (similar to that of the Audio Pack's straps), along with chest and waist straps, would make this a killer backpack for the gadget-laden road warrior.
Soft-button jackets: JanSport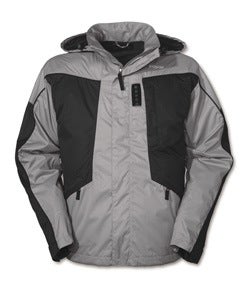 The jacket itself is well-made and comfortable. A mesh interior lining aids ventilation; soft fabric on the inside collar prevents chafing; a Velcro-closed zipper flap keeps out wind; and an adjustable waist and adjustable wristbands keep out drafts. You get three non-zippered internal pockets and two zippered hand pockets, as well as a removable, two-layer hood with elastic drawstrings. Overall, the Velocity is a nice jacket for cool weather and light hiking/walking. The big caveat here is that since this isn't a jacket for very cold conditions or an "active" jacket—for example, for serious exercise use—there isn't as much need for keeping your iPod tucked away; some people will be just as happy keeping their iPod handy and controlling it directly.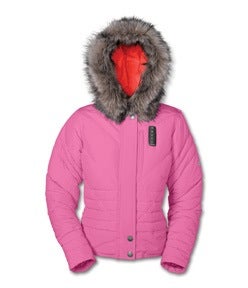 The Wired Puffer seems a bit more suited to iPod control than the Velocity, mainly because it's designed for colder weather—when you're less likely to want to undo your jacket to access your iPod, and when you're more likely to be wearing gloves. (The iPod control pad works well with gloves.) It won't keep you warm in extreme cold, but you should be comfortable in mild winter conditions.
Fabric-button jackets: Kenpo
The Kenpo jacket's iPod controls are located on the left sleeve just above the wrist; top to bottom, the buttons are Volume Up, Volume Down, Back, Play/Pause, and Forward. The buttons are easy to use, requiring very little force to activate. However, I do have two complaints about them. The first is that the buttons' subtle labels are the same black color as the jacket itself, with only a slightly different texture. This design means the buttons don't stand out from the jacket, but it also means that at night or in dark environments the buttons are nearly impossible to find on the sleeve. Dark gray would be a good compromise.
My second complaint is that after approximately seven seconds, the controls are automatically locked; to unlock them, you have to press and hold the Forward button for approximately three seconds before pressing the desired button. Although I understand the need for such a lock—without it, you'd frequently press buttons accidentally—the current approach can be quite frustrating: If you want to skip tracks and then sample a few seconds of the next song to decide if you want to listen to it, the controls usually lock before you make a decision, forcing you to unlock the controls each time. A better approach, in my opinion, would be to keep the controls unlocked until the user specifically locks them (say, by pressing the forward button for several seconds).
One other issue with the Kenpo jacket is that its stock iPod connector plug fits only the headphone/remote jack on 3G, 4G, photo/color, and mini iPods. If you've got an iPod nano or iPod (with video), you have to send the stock connector back to Kenpo to trade it for a dock-connector plug.
Fabric-button jackets: Koyono
Another company that has taken advantage of fabric controls is Koyono, a more upscale-fashion-oriented company, which has used Eleksen's ElekTex technology to add iPod control to Koyono's BlackCoat jackets and shirts. However, instead of silk-screening button labels onto the fabric, Koyono uses tactile, flexible-PVC overlays that make it easier to use the controls—which are located inside the jackets—without looking at them.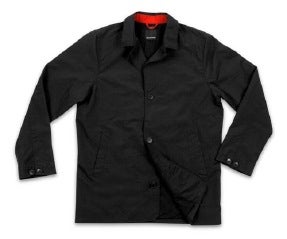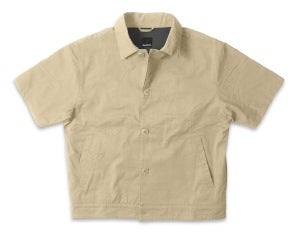 The ElekTex buttons used in Koyono's products work exactly like those used in Kenpo's jacket (above); in fact, the systems are so similar that I'd be surprised if Kenpo isn't using Eleksen's technology, as well. You place your iPod in the left interior pocket and connect the dock-connector plug, and your headphones, to your dockable iPod. (Unlike the JanSport and Kenpo jackets, the Sport and Surf don't include any cable management loops.) Unfortunately, the Koyono controller suffers from the same inconvenient auto-lock feature as the Kenpo version.
However, the Koyono jackets differ from the Kenpo in that Koyono has placed the iPod controls on the inside of each jacket, next to the iPod pocket; you use your thumb to press the buttons. This design has both advantages and disadvantages. On the positive side, it means that it's not obvious you're wearing an expensive, iPod-compatible jacket, and the jacket's looks aren't blemished by an iPod controller. On the other hand, it makes the buttons much less convenient, especially if the jacket is buttoned. (Granted, this would be a bigger issue in a cold-weather coat, where opening the jacket to access the controls would mean letting in the cold air.) In addition, this placement begs the question: Do you really need integrated controls if you have to reach inside the jacket to access them? I'm sure some people will be satisfied with a non-iPod-integrated jacket with an interior pocket that lets them press the iPod's own Click Wheel through the pocket lining.
Both BlackCoat jackets are very comfortable and look great. However, their interior-mounted controls and hefty price tags make them more difficult to recommend than the Kenpo and JanSport models, which are less expensive and a bit more functional. Basically, you pay for Koyono's more-fashionable style; if you're OK with that, so are we.
Belt buckles?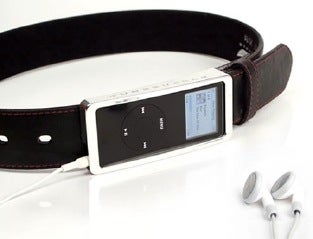 If you're the type who thinks an iPod belt buckle is a cool gadget—and that's a key "if" here—the TuneBuckle Original is an impressive product. It's well-made and looks very nice. (Although I didn't like the red stitching on the belt itself; I would have preferred same-color stitching—black-on-black or white-on-white—or something a bit more subtle, such as gray. That said, the belt itself is removable; you can use the TuneBuckle with any removable-buckle belt.) The biggest caveat is that since the Original leaves your nano's screen and Click Wheel accessible, it offers no protection against bumps and scratches—a significant risk for some people, such as those who spend their days near counters, tables, and tools or in environments (public transportation anyone?) where they're likely to be bumping into other people and their bags. If this is a concern, TuneBuckle offers two other models: the Full Moon, which leaves only the Click Wheel exposed, and the Full Metal Jacket, which completely encloses your nano.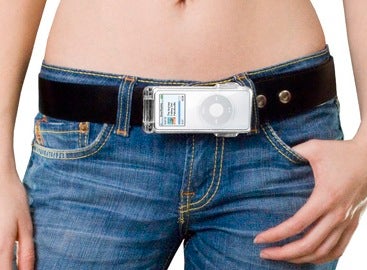 The BeatBuckle is made well and is much more protective overall than the TuneBuckle. However, I personally find its clear-plastic design to be less attractive than the chrome-plated TuneBuckle, and I didn't like the looseness of the BeatBuckle's belt ring.
It's worth noting that neither of these products, the TuneBuckle or the BeatBuckle, provide access to your nano's hold switch; to access it, you need to completely remove your nano from the buckle. And of course, whichever belt buckle you choose—except for TuneBuckle's Full Metal Jacket—you should also consider the risk of "showing off" your iPod in public.
UPDATE 8/27/06: Updated article with information on second JanSport Alt Pack sample.
[ Dan Frakes is Playlist 's senior reviews editor. ]
Note: When you purchase something after clicking links in our articles, we may earn a small commission. Read our affiliate link policy for more details.