Last week I didn't read my e-mail.
For an entire week — the first such week I've had since May 2000 — I was without my laptop. I went on vacation, up into the Sierra Nevada mountains, to The Lair of the Bear.
It was peaceful, the kids had a great time, and we met a whole bunch of nice people. However, in taking this trip I did discover one thing about camping amid the tall evergreens that I hadn't known before: it's all about the iPods.
If I had to estimate, I'd say that there was at least one iPod in every single tent cabin at the Lair. As I walked through camp, I was never out of hearing distance of someone's iPod. From the cabin just downhill from us wafted Jamie Cullum's cover of Radiohead's "High and Dry" powered by an iPod nano in a Bose SoundDock. Just uphill? Why bless my stars, that's Richard Thompson's " 1952 Vincent Black Lightning " coming from a JBL Creature II speaker set. And just around the bend there's something — I'm not quite sure what — blaring from an Altec Lansing inMotion set.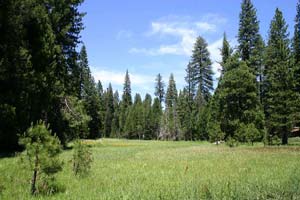 Here be iPods.
See? I can flee my MacBook and still not flee Apple, because the iPod is apparently the tune-player of choice even when you're out in the sticks. No wonder the clever kids at the Lair made a iPod-themed t-shirt this year.
For the record, I did contribute to the noise pollution a little bit myself, broadcasting some Fountains of Wayne via my Tivoli Audio PAL. But I have to admit my PAL was severely outclassed. Next year it's iPod Hi-Fi time.
It just goes to show you that hiding out in the mountains, amid the fresh air and streams cold with melted snow, will not save you from the sound of someone else's favorite music.
But you want to know the worst thing? The most devious, nefarious, underhanded thing about the whole vacation? It turns out there was wireless Internet access available at the camp office.
I'm not sure I'll actually bring my MacBook with me next year to camp; but I'll tell you this — I know my iPod will be coming along for the ride.