Editor's Note: It's MacMania time again—the event that combines seminars on Photoshop, Tiger, and the iPod, with an ocean cruise. This time around, MacMania sets sail for 10 days in the Mediterranean Sea, and Senior Editor Christopher Breen is our man aboard the ms Noordam. In Blog Uno , Chris checks in from Italy a few days before MacMania 4.5 commences.
Rome, Italy —When traveling abroad I do my best to dent the notion of the Ugly American. I speak slowly and softly, slacken my pace, and learn enough of the language to say "Hello, Goodbye, Please, Thank you, Pardon me, How much, and My, that [beer, wine, local firewater] was tasty, may I have another please?" That doesn't mean, however, that I'm incapable of playing the Stupid Tourist—the visitor so steeped in the customs of his homeland that all expectations of his current surroundings are wildly off the mark.
Take, for example, my assumption that because you can't spit in an American city without wetting a wireless hotspot, broadband is as ubiquitous as water in other parts of the globe.
Well, no. In the land of real cappuccino, the Internet coffee shop is as rare as Starbucks.
Fine. My hotel, though definitely of the "old and charming" versus the "new and why-exactly-did-I-leave-home-just-to-stay-in-an-American-style-hotel" variety, boasts a business office with Internet access. Cool, I'll just log onto the hotel's connection and… oh, wait, no wireless.
"Ah yes," the charming concierge replied to my query, "if you'd like to use your laptop with our computer you just need the cable to plug into our modem."
"I see," I said. "The cable. The Ethernet cable."
"The computer cable, yes."
" Grazie ."
And as I walked away I realized that my initial Stupid Tourist assumption had a good deal of resonance left in it.
No one would accuse me of going light on the gear when I hit the road. As the accompanying picture attests, my computer bag serves as a litmus test for those hoping to move up the ranks of airport security. Hand-search Breen's bag and holiday bonus for work beyond the call of duty is virtually guaranteed. Yep, that bag holds everything from FireWire cables to video dongles to external iPod chargers.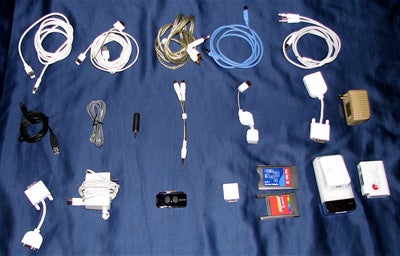 Firewire cable, iPod Y cable (FireWire and USB), 6-foot audio Y cable (RCA and minijack), USB cable, Apple AV cable, USB-to-mini USB, phone cable, audio Y adapter (RCA and minijack), iCel power adapter cable (dock connector to FireWire), Apple DVI to TV adapter, power transformer, DVI to VGA adapter, iCel power adapter, Belkin TuneTalk iPod microphone, iPod camera connector, PC card media adapters (CompactFlash and SD), iLuv 30GB 5G iPod power cell, iCel iPod power cell
The one thing it does not hold, however, is a Cat-5 cable. When packing I considered taking one but thought,  Oh grow up, this is the 21st century," and left it behind.
Stupid, stupid, stupid.
So the hunt was on for an Ethernet cable.
Walking out of the hotel and taking a left I found myself in the Piazza del Popolo, gateway to what turned out to be one of the swankiest shopping districts in central Rome. The Smart Tourist, passing shops emblazoned with the Fendi, Prada, and Versace names would intuit that a Shack del Radiofonico sharing a wall with such pedigreed neighbors was about as likely as the local Neiman-Marcus boasting a tire center. The Stupid Tourist, however, stalks past cultural wonder after cultural wonder, doggedly searching for a display of electronic gizmos that hints the Golden Cable lies within.
Yet, even the Stupid Tourist must tire after 24 hours of no sleep. And when he does, the phrase "When in Rome" finally breaks through his dimwitted determination. And in that moment he understands that he must do. He turns, spies a sign that reads gelati , digs out the two Euros necessary to fill a cup with the finest ice cream on the planet, finds a spare hunk of marble on which to squat, and settles into a moment of pure chocolatey bliss.
As this entry attests, the connection eventually came. No Ethernet cable was necessary as—after the kind of investigation that might have saved everyone a lot of trouble—it turned out that there was one to spare right there in the business center (but was completely useless as the modem wasn't set up for DHCP and was configured in such a way that mere mortals couldn't determine an IP address that would allow another computer to work with the hotel's ISP).
Like all good solutions, this one turned out to be local—a USB keydrive to transfer the text file for this story to the hotel''s PC, a .Mac webmail account for getting in touch with the boss and loved-ones back home, and the Mac's International system preference (and accompanying Keyboard Viewer) that finally revealed the mystery of where the locals hide the @ symbol on a PC's keyboard.
I haven't completely given up on the idea that wireless broadband exists somewhere in the Eternal City. Should any of my friends in Rome be reading these words, feel free to post the location of the nearest wireless shop in this entry's comments section (as I said, I'm near the Piazza del Popolo). Point me in the right direction and the next time you're in the U.S., I'll clue you into where you can find acceptable gelati.