At a Glance
Expert's Rating
Pros
Pocket for iPod and zippered area for gear storage
Sharp design
Plenty of power
Lots of adapters included
Cons
Messy wiring
Messy assembly
Our Verdict
I've been witness to a peculiar bifurcation at the gaming industry's Electronic Entertainment Expo trade show over the years involving the evolution of so-called sound chairs—chairs that have speakers built into them for an enhanced game-play or home-entertainment experience. Once the domain of mid-range devices that served the dual purpose of serving up sound and giving you a place to sit that looked reasonably integrated in the dorm or the office, the sound chair has evolved in two very different directions. On the high end are elaborate, expensive contraptions that are designed for home theater enthusiasts looking for a bit of thrill ride in their experience. And on the low end are products clearly designed for general consumers.
To that end, Ace Bayou's $99 X Rocker II is set squarely with the general consumer category in mind. You can find it at Wal-Mart, Target, and other department stores.
As the name implies, the X Rocker II certainly isn't a replacement for a desk chair—there are no casters or feet to prop you up in front of a desk. No, this is more intended for use in front of the TV or in the living room or den, as it has a sculpted shape that lets you rock back and forth. But what makes it worth $100 isn't the shape of the thing, it's the built in speakers—specifically, two full-range speakers built into the side of the headrest, and a subwoofer next to a port in the back—good for 80 watts of combined power, according to the company.
The chair can hook up to almost any device—a control panel on the side includes a 3.5 millimeter input jack like you'd find on a Mac or a PC, and cables let you hook up to a stereo RCA device such as a receiver or amplifier, video game console, or DVD player. Using an included adapter, you can also connect right to an iPod or laptop through that jack. Ace Bayou even thoughtfully included a stitched side pocket to drop your iPod (or TV remote or whatever) into when you're not holding it.
The entire chair arrives folded in half, like a clamshell, and is easily stowable in a closet when not in use—a surprisingly strong retaining pin holds the back in place when the chair is upright, and two armrests on each side give you something to buffet yourself against getting in and out (though Ace Bayou is careful to advise people not to put too much weight on the armrests).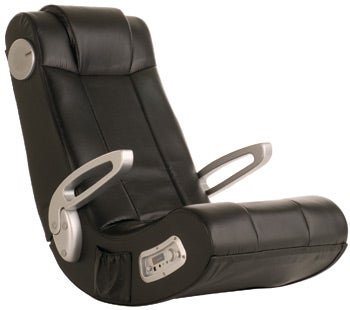 Ace Bayou's X Rocker II
The chair features a hollow interior that resonates and vibrates with the bass (you can adjust the bass and volume using dials on the side), so you get a big kick to your back when there are explosions, gunfire or other bass-heavy sound effects or music on screen. If you've been told to keep it down, the X Rocker II also features a headphone jack for private listening—probably not a bad idea.
There's even a storage area underneath the seat cushion, behind a zipper—so when you're not using the X Rocker II, you can keep all the cords and cables together in one neat place.
And despite its hollow interior, the X Rocker II is fairly solidly constructed—it doesn't creak or crunch, the stitching is good quality, and the black vinyl exterior is sufficiently leather-like to add a snazzy, race-car look to your den or family room.
This thing is also a kid magnet. All three of my kids insisted on taking turns in it and fought to retain their seat—you might want to think about picking up more than one if you've got little ones in the house.
The X Rocker II comes partially assembled. You have to put on the arms yourself, and while that's not tough, it's messy—my fingers were coated with a graphite-like grit by the time I was done. And ideally, I'd pay a bit of extra money for the convenience of a wireless connection, to my stereo, though I don't see a way to get away from the AC adapter without making the X Rocker either really heavy or a steady consumer of batteries.
The bottom line
The X Rocker II is just the thing you need to complete a family room that uses a Mac mini or other Mac system for gaming and other entertainment; it's also a fine addition for iPod junkies looking for the ultimate immersive music experience.