Editor's Note: The MacMania 4.5 cruise is underway, with Christopher Breen checking in from the ship with his third MacMania dispatch.
Somewhere in the Western Mediterranean —Just hours ago, Holland America's newest vessel, the ms Noordam, put to sea with a passel of passengers (including a respectable complement of Mac geeks and photo enthusiasts). Participating in my third Geek Cruise, it took little time for me to fall into the pattern of shipboard luxury living—eat, drink, sniff in the ocean air, and geek-out with the passengers and other instructors.
This is made all the easier by the fact that each of Holland America's "dam" boats is laid out in exactly the same ways. The buffet can always be found on the 9th (Lido) deck. The aft areas of the second and third decks host the Vista dining rooms where we tuck into sumptuous meals after a long day talking tech. And you'll find the same two pools—one indoors and the other out. The Ocean bar invariably appears mid-ship on the 3rd deck and the Internet Cafe…
Wait a sec, the Internet Cafe is no longer the Internet Cafe. It's now the Explorations Cafe. Not only does it bear a different name, but the erstwhile IC has a different look.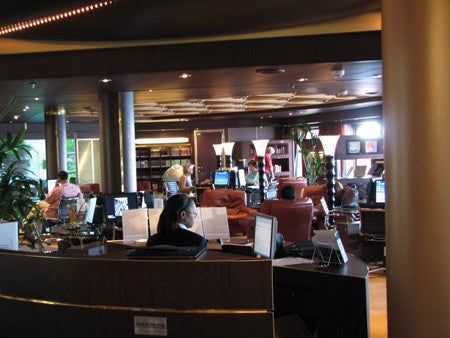 While the Cafes on the other ships were roomy enough and offered the same variety of satellite-based broadband we have here, the Explorations Cafe is huge: there are more than a dozen leather-clad lounge chairs, multiple computer stations (all Windows-based, unfortunately), a video wall made up of four synchronized plasma displays, a coffee bar at the aft end, and—most interesting to me—tables adorned with personal music listening stations.
That's right, if you've failed to bring your iPod you can punch up a selection of music chosen from a library of more than 1,000 tracks. Just choose a genre, artist, or album (or all three if you want to get very specific), and in no time you're listening to your favorite music through a set of headphones tethered to the station. As the picture below attests, the interface can't touch the iPod's elegance, but for a desk-bound music solution, it's no worse than any other 21st century jukebox.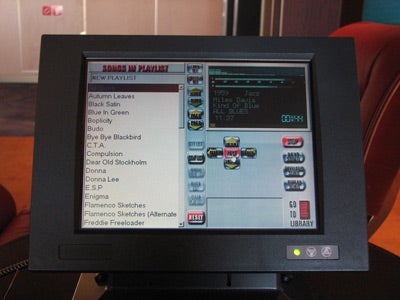 The existence of these music stations and the fact that Holland America determined that the only change it would make to the design of a new ship was to expand the size and scope of the Internet Cafe tells you something. While the geek-leaning passengers may remain in the minority, it's clear that their influence is being felt in high places. Now if only we could get wireless in our staterooms…