About a month ago, as part of my quest to find an alternative to Apple's Front Row for managing multimedia, I took a look at MediaCentral. The then-free application from Equinux boasted some potential advantages over Front Row, most notably that it could run on both PowerPC- and Intel-based Macs.
Regrettably, the first version of the program was riddled with inconsistencies—"a beta in everything but name," I wrote at the time. Specifically, the program failed to play some iTunes playlists, was unable to work with a supposedly compatible Elgato EyeTV 200 PVR, and came with controls that worked in contradictory ways.
Equinux went back to drawing board, producing the improved $30 MediaCentral 2. This update represents a more attractive version that now requires a 1GHz PowerPC or Intel Mac, offers scads more features, cleans up some of the initial offerings' bugs, but includes a few lapses and inconsistencies of its own.
More in store
Launch MediaCentral 2, and your Mac's screen is eventually filled with bold headings that read: IP TV, TV, Movies, DVD, Games, Music, Radio, and Pictures. Most of these entries are linked to either streaming Web content or media files stored in your Mac's media libraries—the iTunes and iPhoto libraries, for example—or files that you've placed in the appropriate folder within the My MediaCentral Folder stored at the root level of your user folder. Those appropriate folders include My DVDs, My Games, My IP TV, My Movies, My Music, My Pictures, and My Radio.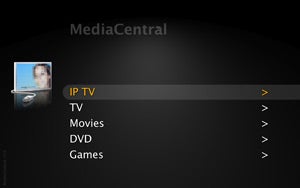 Here's what you see after you launch MediaCentral 2.
IP TV provides links to video from Google Video, YouTube, and a variety of outfits that stream video over the web including the BBC and the AmericaFree.TV archives. These streams are offered in RealPlayer, Windows Media, or QuickTime formats. If you don't have the appropriate player or plug-in you can download RealPlayer and the Flip4Mac QuickTime components (necessary for Windows Media playback) from within the MediaCentral system preference. Regrettably, Flip4Mac is not compatible with Intel-based Macs so you can't play Windows Media files with MediaCentral on any of Apple's latest Macs.
Choose TV, and you can watch television through compatible DVB-T devices (devices such as Twinham's DTV Alpha or Terratec's Cinergy T2 that you don't likely own since the standard is not in use in the United States — Elgato's popular EyeTV PVRs aren't supported).
Within Movies, you can select movies stored in MediaCentral's My Movies folder (these can be the original files or aliases to other movies stored on a local or networked volume), movies within your iTunes library, or movie trailers hosted by Equinux.
The DVD entry lets you play a DVD movie or a DVD ripped as a Video_TS folder stored in the My DVDs folder. While MediaCentral supports a greater variety of DVD and movie features—angles, subtitles, and audio channels—these can be controlled only from the Mac's keyboard, not by Apple's Remote Control. Perhaps the program's worst failing, MediaCentral doesn't support surround-sound audio. A DVD that plays beautiful surround-sound via Apple's DVD Player application manages only stereo playback through MediaCentral.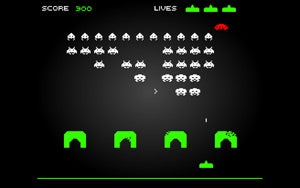 Alien Invaders—similar to the early '80s arcade favorite Space Invaders—is one of the Flash games you'll find in MediaCentral 2.
Games offers a few Flash arcade favorites including Alien Invaders (Space Invaders), Astroblast (Asteroids), and Ping (Pong). The games are rudimentary at best, but an interesting diversion if you long for simpler times. Programmers who understand the workings of Flash games can create MediaCentral-compatible games by replacing mouse interactions with keystroke commands and placing the resulting .swf files in their My Games folder.
The Music entry points to music files stored in the My Music folder, your iTunes library, mounted volumes that contain music files, and a few music-video streaming services.
Radio includes listings of a select few streaming music services in a variety of genres including Alternate, Ambient, Classical, and rock. You can add other streams by placing .pls and .m2u files in the My Radio folder.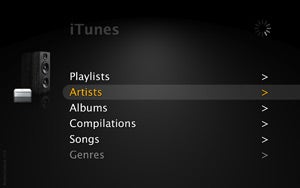 MediaCentral's Music entry allows you to access your iTunes library.
Finally, Pictures offers slideshows of images stored in MediaCentral's My Pictures folder, images in your iPhoto library, and some Web-based photo-streams.
In most cases you can create hierarchical file structures within these menus by nesting folders inside the My MediaCentral folders.
Improvements
In addition to adding streaming media capabilities to the latest version of MediaCentral, Equinox has brought in some welcome interface and control features. This version of MediaCentral can be launched as well as controlled with Apple's Remote Control (though it's a poor game controller as the games react too slowly). You can also resize the MediaCentral window to Small, Medium, Large, or Full Screen. This is helpful not only because you can do other things with your Mac while media is playing, but also because much of the streaming video you view looks blocky at full screen resolution. In this instance, a smaller screen is the better way to view videos.
MediaCentral 2.0 still lacks Front Row's ability to stream media through OS X's Bonjour zero-configuration networking. To perform this kind of stunt you need to mount a network volume and copy an alias of its media to the appropriate My MediaCentral folders. However, Front Row doesn't do a good job streaming long videos via its sharing function, and I've found that using a networking scheme similar to what MediaCentral demands is the best course with Front Row as well.
Rough Edges
In addition to the lack of support for surround-sound audio, a few glitches remain. For example, when I launched MediaCentral, inserted a DVD, and asked the program to play it, a black screen resulted. It turns out that Apple's DVD Player launched automatically in the background, took the task of playing the DVD as its own, and left MediaCentral, quite literally, in the dark. You can work around this issue by choosing Ignore from the When You Insert a Video DVD pop-up menu in the CDs & DVDs system preference to keep DVD Player from interfering.
As mentioned earlier, Flip4Mac isn't compatible with Intel Macs so those services that stream Windows Media files—Viralx.com, for example—are useless on Apple's latest hardware (including the Mac mini Core Duo that serves as the hub of my multimedia setup). And playback stutters in some situations. For example, a movie stored in my iTunes library that played perfectly well at full screen in iTunes hiccuped when I attempted to play it with MediaCentral. When playing back iPhoto slideshows with music, the music would occasionally pause as one slide moved to another.
And while I respect Equinux's right to make a living, I find its one-copy-per-one-computer protection scheme—where the program is tied to a specific computer and can't be installed to another without deauthorizing the first—a little tight-fisted. Yes, you can purchase a total of three licenses for an additional $10, but most applications allow two installs—one to a desktop Mac and another to a laptop, for example—before putting up a fuss.
Centrally located
Despite its flaws, MediaCentral 2.0 is a big improvement over its earlier iteration—a program worth every penny you didn't pay for it. Sure, your Mac can perform all the functions offered by MediaCentral with a collection of applications and Web sites, but having it all in a single, attractive package is a real convenience. I'm sorry that MediaCentral doesn't support Bonjour file sharing, but I'm just as sorry that Front Row doesn't perform that sharing more effectively. I'm sorrier still that Equinux couldn't make its program play surround-sound audio.
If your Mac doesn't support Front Row, or you have an Intel-based Mac but are frustrated by Front Row's limitations, MediaCentral 2.0 is worth a look. Regrettably, Equinux doesn't give you much of a look, allowing the demo to run for a measly five minutes before it quits. Running the demo a few times should tell you all you need to know.
[ When not tending to the Mac 911 or iPod Blogs, Christopher Breen continues to look for ways to turn his Intel-based Mac mini into a multimedia center. ]