At a Glance
Expert's Rating
Pros
Dedicated iPod shuffle dock
Stylish design
Great feature set for the price, including AM/FM radio, remote, and AV output
Cons
Dock not secure enough for carrying around and makes it difficult to access iPod's Click Wheel
Poor remote control design
Lacks bass
Shuffle audio "bleeds through" to other modes
Our Verdict
It's summertime, which means lots of time enjoying the weather and the great outdoors. And what's summertime without music? A boombox is the perfect summer companion, and the iPod boombox market is, well, booming. We take two of the latest models— iLuv's i552 and MTX's iThunder—for a spin.
( NOTE 7/27/06: Shortly after publishing this review, we were notified by MTX that the iThunder's price was lowered, prior to publication, from $200 to $150. We've left the original review untouched, but updated our product table. Keep this lower price in mind when you read our price-based comparisons.)
MTX iThunder
MTX's $200 iThunder , available in black, white, or pink, is about as utilitarian as they come. The 7.1-by-15.5-by-4-inch shell is boxy and uninspiring as far as iPod accessories go. Large, silver, metal grills on the front protect the iThunder's two (left and right) 4-inch, ported drivers. Between the speakers is a slide-in iPod dock cradle that, via a number of included adapters, accommodates every iPod except for the shuffle; dockable iPods are charged when the iThunder is plugged into AC power, and the iThunder grabs your iPod's audio via the dock connector. (When using an iPod without a dock connector—i.e., 1st- and 2nd-generation models—you must connect the iPod to the iThunder using a mini-to-mini stereo cable. You also need to be careful when inserting these iPods in the dock slot, so as not to damage the dock connector at the bottom of the slot.) Unlike the dock cradles on Altec Lansing's inMotion iM7 and iM9, which close like a cassette deck door to secure your iPod inside, the iThunder's cradle holds your iPod in place via a rubber-covered tab that presses against the back of your iPod. This design is surprisingly secure, although I do wonder how well it will hold up over time.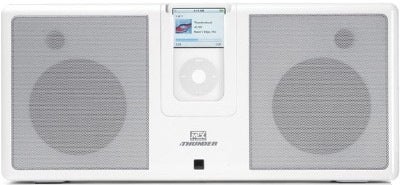 The rear of the iThunder is similarly sparse: Two battery doors—each of which hides 4 C batteries—the power cord jack, a stereo minijack input (which silences iPod playback when an external audio source is connected), and a slot to hold the iThunder's remote control. One noteworthy point here is that unlike many portable iPod speakers we've tested, the iThunder's power supply is internal, which means there's no bulky external power supply to carry with you; you just need to pack a thin power cable.
Finally, the top of the iThunder hosts a simple On/Off switch as well as Volume Up and Down buttons. (Unfortunately, like too many iPod speaker systems, turning off the iThunder doesn't pause/stop your iPod.) The top of the unit also conceals the iThunder's most unique feature: a pop-up handle. Press gently on the center of the silver stripe running along the top, and a toggle-spring, full-length handle pops up. Once you've reached your destination, press down on the center of the handle and it locks back into place, flush with the top of the iThunder. It's a clever design and one that makes the austere iThunder more attractive that it could have been had the handle been permanently mounted on the top.
The iThunder's remote is similarly basic, but provides most of the necessary features: Play/Pause, Forward, Back, Volume Up and Down, Shuffle, and Mute. You also get a Backlight button that turns your iPod's screen backlight on momentarily to make it easier to see, for example, the name of the current track; however, note that this feature does not work with 3G iPods (or, of course, non-dockable iPods). In my testing, the remote worked very well for an infrared model—better than those on most of the portable systems I've tested—but like all IR remotes requires line of sight to the iThunder's remote sensor (located on the front of the unit below the iPod cradle). I also liked the handy storage slot for the remote, located on the back of the system.
The iThunder weighs 5.5 pounds without its full complement of 8 C batteries, and a couple pounds more with; it's definitely a boombox, not a truly portable system that you can pack in your carry-on. Unfortunately, like DLO's iBoom, MTX warns you not to plug the system into AC power while batteries are installed—an inconvenient requirement that means to conserve battery power when near a power source, you have to actually remove the batteries.
I was pleasantly surprised by the iThunder's sound quality. The 4-inch drivers produce much more bass than I expected—although that bass can be a bit boomy at times—and the system's overall sound is warm and full with good midrange. The one area in which the iThunder lacks is treble detail, which isn't surprising given that MTX chose to omit dedicated tweeters, instead using "full-range" drivers; fans of treble may be disappointed. The system can also play very loud—loud enough for outdoor use, although you will get a bit of distortion at the loudest levels from bass-heavy music. Compared to some of our other favorite systems, the iThunder fares pretty well in the sound category. Logitech's truly portable mm50 offers better detail and, thanks to its "3D" processor, a wider soundstage, but the iThunder trounces it easily in terms of volume and "oomph." On the other hand, Altec Lansing's excellent inMotion iM7, which is available at street prices for around $150 nowadays, offers a similar feature set but better sound overall and can play louder without distortion; the iM7 continues to be the gold standard by which iPod "boomboxes" are measured. Probably the most similar system, sound-wise, is Altec Lansing's $200 iM9, which features a similarly beefy sound that's lacking a bit of treble. However, the iM9 is a smaller, sturdier system that can still be packed in a suitcase; the iThunder is quite a bit larger and, as a result, provides better bass and can play quite a bit louder—and includes a remote control, a significant omission from the iM9.
iLuv i552
iLuv's $120 i552, in contrast to the iThunder, is feature-rich and stylish—we haven't seen a similar feature set in a portable system at this price. The curvaceous i552, available in black or white , is approximately 7.5-by-14.2-by-6 inches at its tallest/widest/deepest points; however, the i552 is only 2-inchdeep at the top, a reflection of the system's triangular design. It weighs just over 4 pounds without batteries. Behind matching metal screens on the left and right are 2-inch drivers—small for a system of this size. The middle of the i552 features a dock design that differs from any of the other iPod speaker systems we've seen: Nearly the entire space between the speakers is "hollowed out," apart from a 2.3-inch-high support piece at the rear. In this space, towards the rear, is an iPod dock cradle. Five included adapters accommodate all dockable iPods except the 5G iPod (with video) models; compatibility with these models is obtained using the included rubber bumpers, which are affixed to the adapter for the 30GB or 60GB iPod color/photo (for the 30GB or 60GB 5G iPod, respectively). As with most dockable speaker system, your iPod is charged when the i552 is plugged into AC power; however, there's an exception here—when listening to the i552's radio, charging is disabled, presumably to reduce radio interference. Unfortunately, although the i552's dock adapters provide a bit more stability than those designed for Apple's Universal dock system, they aren't nearly as secure as the dock cradle on the iThunder—the i552 holds your iPod rather loosely. Although you shouldn't worry about carrying the system, with iPod, from room to room, you should remove your iPod for any kind of toting where the system might get bumped or fall over.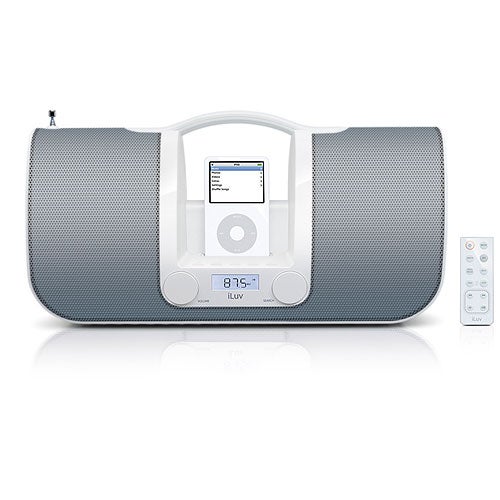 Just in front of the standard iPod dock is a rather unique feature: an iPod shuffle dock. Basically an upward-facing USB port, this dock is hidden behind a small, flip-up door; it holds your iPod upright and grabs audio from the shuffle's USB connector. (You can have both a shuffle and a dockable iPod in the i552 simultaneously.) As with full-size iPods, your shuffle is charged when the i552 is running off AC power; however, since the shuffle doesn't offer a line-level audio signal or remote capability via its USB connector, the shuffle's volume controls will affect the overall volume of the i552 when playing music from the shuffle and you can't use the i552's remote to control shuffle playback. One aesthetic quirk with this shuffle dock: Whereas the front face of the i552 is angled back, and the standard iPod dock leans your dockable iPod back to match, the iPod dock places your shuffle bolt upright, which looks a bit odd. Unfortunately, I also found a more significant flaw with this iPod shuffle dock: When an iPod shuffle is connected and playing, its audio "bleeds through" to the other modes—dockable iPod, radio, or auxiliary. You must manually stop your iPod shuffle when you switch to another playback mode or else you'll hear the shuffle's audio mixed in.
Also in the area between the speakers are the system's controls. On the front face, near the bottom, are the volume and search (tuning) knobs, both flat wheels. Because of their positions on the unit, you'll usually need to use your thumb to use these controls; I like the fact that the faster you turn each wheel, the faster it changes the volume or radio frequency, respectively. Between the two dials is an LCD screen that displays the current play mode: On (iPod), FM frequency (FM), AM frequency (AM), AU (auxiliary input), and SHU (iPod shuffle). Just above the display, on the flat surface in front of the shuffle dock, are buttons for Mode, AM/FM, Play/Pause, Program/Reset, and Power. The Mode key cycles through the system's different playback modes; however, it doesn't cycle through AM and FM radio; you need to switch to "radio" mode first, then use the AM/FM button. And since the only iPod playback control on the unit is the Play/Pause button, you'll need to access the iPod's Click Wheel (or use the remote) for any other functions. Normally this wouldn't be an issue, but because the i552's iPod dock is located deep in the system's center "well," it's a bit awkward to access—you need to reach in to push the Click Wheel, and since the back of the iPod isn't resting on anything solid, it flexes with each push, which doesn't seem good for the iPod's dock connector.
The back of the i552 hosts an auxiliary line-in minijack; headphone minijack; AC input (unlike the iThunder, the i552 uses an external "wall wart" AC adapter); battery compartments (two, each of which holds 4 C batteries); and AV output minijack. The latter is similar to the video-capable headphone jack on photo/color/video iPods: Plug in a minijack-to-audio/video cable—included with the i552—and you can connect the i552 to your stereo and TV (via composite video and left/right RCA audio plugs) for watching movies and viewing photos.
The i552's FM radio offers good performance given the system's price. Most strong local stations were received clearly, even without using the built-in extendable antenna; however, distant stations or those with weaker signals—for example, a few San Francisco stations from 40 miles away, near Cupertino, CA—were received but with significant static. AM performance is about what you'd expect from an AM radio integrated into a multi-function system: You'll be able to tune in to strong frequencies clearly, but don't expect to grab as many long-distance stations as you would with a more expensive tuner.
One unique feature of the i552's radio is that you can choose AM and FM frequency ranges for use in different parts of the world. The FM dial has settings for 87.5-108MHz in 50KHz or 100Khz steps, as well as 87.5-107.9MHz in 200KHz steps; the AM dial can be set to 522-1620KHz in 9KHz steps or 520-1710KHz in 10KHz steps. You also get 10 AM and 10 FM presets. Unfortunately, you can't access these presets from the remote, and when accessing them from the Prog/Preset button on the main unit, you have to cycle through the current band's presets; you can't go directly to a particular preset.
The i552's remote offers decent performance in terms of range, but it was one of my least favorite features of the system thanks to a poor layout and missing features. Buttons for iPod playback—Play/Pause, Previous, Next—are separated by the Mode and Mute buttons; similarly, Mute is separated from Volume Up/Down by two rows of unrelated buttons. And the radio tuning and iPod navigation buttons are confusing: You get < < and >> buttons for skipping between radio stations, but separate Prev and Next buttons for the iPod (which only skip between tracks, not scan within them); most radio/iPod systems we've seen at Playlist have a single set of Forward/Back buttons that handle both radio tuning and iPod navigation. Making this worse is that the iLuv has labeled the remote so that the < < and >> buttons (for radio tuning) are grouped with the Volume Up/Down buttons, and set apart from the rest of the remote's buttons, by a thick visual border. Many times over the course of my testing I pushed the < < and >> buttons repeatedly, wondering why the system wouldn't switch tracks on a docked iPod. And unlike more and more iPod-speaker remotes, there's no shuffle or repeat buttons; combining the < < / >> and Prev/Next controls into two buttons, and then using the newly-extra buttons for shuffle and repeat would make for a much more useful, and less confusing, remote. (It's also a bit inconvenient that there's no place to store the remote, given that the i552 is a portable/transportable system.)
The i552's sound quality is comparable to other portable systems in the $100 to $120 range—which is saying something, considering that none of those systems include a radio, remote control, or compatibility with both dockable and shuffle iPod models. That said, sound is decent but not great. You'll get good midrange, but the system's small (2-inch) drivers limit bass response and warmth, and the system's treble detail is only fair. And at the loudest volumes, which aren't nearly as loud as those of the iThunder, you'll hear some distortion, especially with bass-heavy music. If you're looking for better sound quality, Logitech's mm50, a Playlist Pick, is available at street prices similar to that of the i552, sounds noticeably better, and is small enough to fit in a carry-on; however, it can't play as loud and doesn't include a radio. Moving up, Altec Lansing's inMotion iM7, also a Playlist Pick, is selling for as little as $150 and offers much better sound quality as well as much louder maximum volume.
That said, I suspect that sound quality is not the ultimate goal for iLuv with the i552. Rather, it's the sense of value the system provides. Much like iHome Audio's iH5 home alarm clock, the i552 offers an impressive bundle of features, all of which work fairly well, at a price point that will usually get you only a basic speaker system. The i552 doesn't stand out in any particular area, but you get a lot for your money.
The Lowdown
The iThunder and i552 are both solid products, but with very different strengths. Thanks to its secure dock-cradle design, sturdy handle, internal power supply, and "bigger" sound, the iThunder is ideally suited for carrying around like a traditional boombox. And, despite a lack of treble detail, it sounds quite good. However, at $200 with few features, it has some heavy competition from other "transportable" iPod speaker systems, such as Altec Lansing's superior (and, at current street prices, less expensive) inMotion iM7; you'll want to shop around for a discounted price. The iLuv i552, on the other hand, doesn't sound nearly as good, but is appealing for its value—you get more features (AM/FM radio, remote, compatibility with dockable and shuffle iPods) for the money ($120) than in any other boombox-style system we've tested. However, its design—a less-than-secure iPod dock cradle, no place to store the remote, and an external AC power adapter—makes it more suited for stationary use with occasional transporting.