Editor's Note: Senior Editor Christopher Breen is on board the MacMania 4.5 cruise and will be checking in from the ship during his 10-day voyage.
Somewhere in the Mediterranean —On this, my third MacMania Geek Cruise, I travel without the companionship (and, OK, the added expense) of my loving family. I'm sorry that they're not here with me not only because we're a chummy clan who enjoy each others' company, but because my daughter has missed the opportunity to meet one of her heroes.
This is a hero she (or, perhaps, even you) wouldn't recognize by name, but if you're a longtime Mac user who's had children in the past 10 years, you're more than a little familiar with his work. I'm speaking of Geek Cruiser Craig Hickman, the inventor of the original Kid Pix.
I had no idea this soft-spoken Oregonian would be aboard and I was floored when I was introduced to him. As any computer-using parent knows, Kid Pix isn't just for kids. Before I had a child, I was a fan of this frolicsome art and design program and there are still times when my daughter has to wrest the mouse away from me when we're playing with Software MacKiev's version of the program. (Although Hickman designed the original Kid Pix, he's had no input on recent versions.)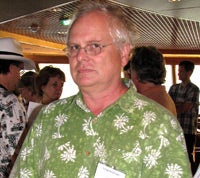 Craig Hickman, inventor of the original Kid Pix
While lounging around the Internet Cafe the other night, Craig was nice enough to give me a demo of a project he's working on—Beautiful Dorena, a "paint program" that, in the About Box, he describes as "a framework that would allow me to try out ideas as they occurred to me."
I'd describe it as beautifully playful.
While Beautiful Dorena includes some elements that are similar to Kid Pix—line, shape, stamp, and kinetic drawing tools and sound effects that accompany your work, for example—it's not Kid Pix, or even Kid Pix for adults. Again to the About Box: "Most of the tools in Beautiful Dorena are more interesting that useful."
No kidding.
How about a Freeform Line tool (read: pencil) that offers a Gravity option? With the option enabled start drawing and as long as you hold down the mouse button, the current scribble drifts slowly down the page. And speaking of scribble, that's an option too. Enable it and your line dances about like you've jacked it into an electric socket. The Bad Handwriting option has a similar effect but bunches the scrawl closer together so it looks like a physician's poor script.
The Basic Shape tool—the tool normally reserved for creating circles and rectangles—is anything but normal. Choose the Stretch option within the Line area of the tool's pop-up window and the line you draw becomes progressively thinner the longer you make it.
And then you leave the land of the expected altogether with tools like Twist and Shout, a tool that generates marble-like objects on the canvas. Click once and increasing numbers of colorful marbles dance onto the canvas. Click again and they stop.
Then there's Hair, a tool that, well, draws this scrawly-looking hair wherever you've dragged your cursor. Or the Bounce option within the More tool. Select it and you create art via a "Pong" interface—colored marbles trail across the screen. You use your paddle to direct the path of the marbles. There's even a tool for capturing video from a connected camera (even a built-in iSight camera) and stamping the canvas with images captured from the camera.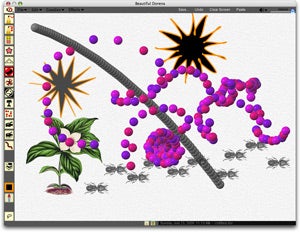 Beautiful Dorena in action
But the beauty of Beautiful Dorena's playfulness goes way beyond the tools. This "paint program" has a backstory that you can read by choosing The Backstory from the program's About menu. In Hickman's world, Beautiful Dorena was created by a computer club at the fictional Oregon high school, Hazelnut Springs High. Supposedly, you're using the program in the rural town of Hazelnut Springs and, as such, it occasionally plays the kind of ambient sounds you'd likely hear when sitting at your computer—dogs barking, birds chirping, sheep bleating, chickens clucking, and cars driving by. Though the sounds are random, they're time-sensitive. Work with Beautiful Dorena later in the evening and you'll hear crickets and howling cats. During "rush hour" you'll hear far more automobiles that you'd hear, say, mid-day.
At the bottom of the page you find two small icons that represent Dexter Lake, the computer club's know-it-all jerk, and English and Music teacher (and the club's faculty adviser) Mabel Silverton. Click Dexter's icon and he'll make crass remarks about your picture. Mabel, on the other hand, issues nothing but praise.
You can even print a fake diploma—featuring your name—from Hazelnut Springs High.
And the best part? It's free. Just go to Hickman's site, and you can download a copy of Beautiful Dorena. As Hickman and the program cautions you, it's beta software so it may behave in unexpected ways.
But, quite frankly, when lost in Beautiful Dorena's world, I'm not sure I'd know the difference.