Editor's Note: Senior Editor Christopher Breen continues his report from the MacMania 4.5 cruise.
Somewhere in the Mediterranean —I admit it, when preparing for the MacMania cruise I was in a bit of a rush—wrapping up my stateside work and prepping my presentations for the cruise. As such I didn't pack my PowerBook as completely as I might have. Specifically, I neglected to include the photo-stitching tool for my camera. Given the number of panoramic views I've encountered on our voyage, this was a big mistake.
But, by Neptune's beard, I'm on a Geek Cruise and if I can't find a way to fake it with the tools provided by Apple, I deserve to be set adrift.
After some experimentation, I managed to stitch together a series of images from my Canon PowerShot S3IS. Granted, they're not as beautifully stitched as they would be with a tool designed for that purpose (or with a copy of Photoshop), but for a quick and dirty stitch, they're not bad. Here's how I did it.
Using the camera's Stitch mode I snapped five successive images of the Colosseum. After cleaning them up in iPhoto, I opened Apple's Pages, chose the Blank template, used Page Setup to create a custom page size of 35-inches by 11-inches (so that I'd have plenty of room for creating a wide image), dragged each part of the stitch from the Media browser onto the page, and lined them up in a panorama. (Note to nitpickers: I characterize this as "quick and dirty" for a very good reason. I understand that this technique doesn't warp the images so that they line up perfectly.)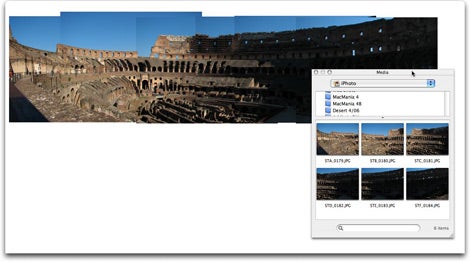 After grouping the images I opened File -> Export and saved the document as a PDF file.
iPhoto wanted nothing to do with the resulting PDF file so I opened it in Preview. From there, it was the work of a moment to choose File -> Save As and, in the resulting sheet, select TIFF from the Format menu, and save.
I imported the image into iPhoto, opened it in the program's image editor, and broke out the Crop tool to shave off the rough edges. This made the multiple images look more like one, but there was all-too-obvious banding in the sky. To deal with it I selected the Retouch tool—a tool most people reserve for removing blemishes and age spots.
I chose it not because the Colosseum was showing its age, but because the Retouch tool can handle very rough blending—just what I needed to get rid of the banding in the sky. There was no way to blend the brown bits within the Colosseum itself, but those bits worked to my advantage. They were rough and jagged enough to cover up the seams between pictures.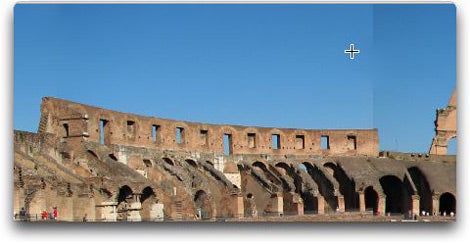 Careful application of the Retouch tool cleaned up the sky so that the panorama was acceptable for use in an iMovie project I was preparing. Game, set, match.
Would Photoshop have done a better job?
Absolutely.
Does every Macintosh ship with a copy of Photoshop?
Absolutely not.
When the going gets rough, the geeks get going with the tools on hand.