At a Glance
Expert's Rating
Pros
Connects to computer via USB for syncing
Surprisingly full sound given the system's size
Auxiliary input jack
Clever dock/stand design
Impressively thin
Cons
Docks with only iPod nano
Large AC adapter for such a small system
Dock/stand not very sturdy
No remote
Our Verdict
Much of the allure of the immensely popular iPod nano can be attributed to its diminutive size. Concealable behind or beneath a short stack of business cards, and weighing a scant 1.5 ounces, the nano exudes sleekness. Yet most travel speakers that work with the nano don't match its slim design; rather, they're designed to fit full-size iPods but include some sort of adapter or cradle insert for use with the nano.
Altec Lansing and XtremeMac are two of the first companies to release travel speakers specifically designed for the iPod nano. We've given these new systems the Playlist treatment; if you're looking for an iPod minisystem (nanosystem?) that won't take up much room in your bags, read on.
Honey, I shrunk the speakers
Altec Lansing's $130 inMotion iM500 and XtremeMac's $120 MicroBlast are actually quite similar in design. Both include an iPod-nano-specific dock cradle—you can't dock any other iPod model with these systems—a fairly rugged construction to withstand the rigors of travel, and small size compared to most iPod speaker systems.
XtremeMac's MicroBlast is just 7.6″ wide by 5.1″ high by 1″ thick when folded for travel, and weighs 14.5 ounces without batteries. A black aluminum grill on the front protects four (two left, two right) 1-inch speaker drivers, and a dock cradle in between the speakers holds your iPod nano securely—once in the dock, your nano isn't going anywhere, even if you tip the MicroBlast upside down and shake vigorously. (In fact, it takes a lot of purposeful pulling to get your nano out of the MicroBlast.) The downside to this design is that you can't use the MicroBlast with a case-clad nano. The bottom of the cradle includes both dock-connector and headphone plugs that connect to the corresponding jacks on the bottom of your nano. The dock connector means your iPod is charged when the MicroBlast is powered using the included AC adapter, whereas the headphone plug means that, unlike many iPod speakers that also grab audio from the dock connector, the MicroBlast gets your iPod's audio via its headphone jack; you set the system's volume via the iPod's own volume control.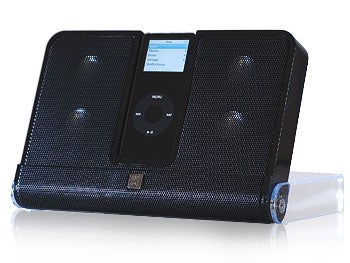 During travel, the MicroBlast's front and sides, as well as your nano, are protected behind a thick, clear-plastic cover; I like the fact that you don't have to remove your nano from the MicroBlast when moving around. When you reach your destination, the cover swings down and behind the MicroBlast to become a sturdy stand. A nice touch: tiny silicone bumpers on the edges of the cover that keep the unit from scratching whatever surface on which it's placed; unfortunately, on our review unit, one of these tore off after very little use. Another unique feature is that the MicroBlast includes two interchangeable trim pieces—one white, one black—to better match white or black iPod nanos. (XtremeMac calls these pieces frames .) Each trim piece covers the right, left, and top edges of the MicroBlast, as well as forms the sides and back of the unit's dock cradle. You switch between trim pieces by removing the two Philips screws that secure the case's cover, removing the cover and current trim piece, attaching the new trim piece, and then replacing the cover and screws. The process is fairly quick.
The back of the MicroBlast hosts a hardware On/Off switch, a green power indicator light, and the unit's battery compartment, which holds 4 AA batteries. (I got approximately 10 hours of playback from one set of batteries.) You plug the MicroBlast's AC adapter into a recessed jack on the bottom and then snake the cable through a small indentation in the stand. The MicroBlast also includes a thin fabric carrying pouch.
Altec Lansing's inMotion iM500 is even smaller than the MicroBlast overall: only 8.5″ wide by 5″ high by 0.7″ deep when folded for travel, and just 12 ounces without batteries. Easily the thinnest iPod speaker system we've seen, the iM500 is ideal for squeezing into a laptop bag or even a purse. As with the the MicroBlast, a metal grill—this one dark gray—protects the iM500's left and right speakers, each of which is approximately 2.5″ by 1.5″ and uses flat-driver technology to fit inside the iM500's svelte enclosure. But instead of a custom-fit dock slot, the iM500 uses a dock design similar to that of the company's iM5 and iM11 systems: Press a button on the front of the iM500 and two small "flaps" fold out near the bottom of the unit. The front flap, which protrudes less than .5″ from the front of the iM500, hosts Power, Volume Up, and Volume Down buttons (which are somewhat difficult to press), along with a dock connector. The latter holds your iPod nano—loosely—in place, grabs the iPod's audio via its dock-connector port, and charges and syncs your iPod (see below). The rear wing, approximately 1.2″ deep, acts as a stand for the iM500; when closed, it also protects the system's mini-USB port, auxiliary input jack, and AC-adapter jack. When you're ready to pack up, you just press both flaps up and into the iM500's body where they snap into place. (The system doesn't turn off when you close it; however, after three minutes of no audio, it turns off automatically.)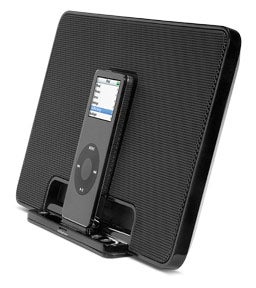 The advantage of the iM500's "bare" dock connector, besides allowing the system to fold up so compactly, is that it can accommodate some iPod nano cases. For example, you can use your nano in the iM500 while clad in some "skin" cases and thinner hard-plastic cases—especially those with open bottom edges. The disadvantage is that, unlike the MicroBlast, the iM500 can't protect your iPod during transit and, in fact, doesn't provide much support for the nano while stationary—a hard bump, or tipping the iM500 over, could knock your iPod loose. Along those lines, the iM500's stand isn't nearly as sturdy as that of the MicroBlast. Finally, although the iM500's spring-loaded, pop-out stand indeed holds the system upright, it's not very sturdy; pushing gently on the top of the iM500 causes the stand to fold. (I also wonder how the stand will hold up over many openings and closings.) In other words, the iM500's design is clever and compact, but it does have its tradeoffs.
The auxiliary input jack on the back of the iM500 is a 2.5mm version, rather than the more common 3.5mm (1/8″); Altec Lansing includes a 10-inch 3.5mm-to-2.5mm cable for connecting a laptop, non-nano iPod, or other audio source. I like that instead of muting your nano when the cable is connected—the approach taken my most vendors—the iM500 mixes both inputs. This means that you can listen to your iPod and output from your laptop, for example, at the same time. The mini-USB port allows you to connect the iM500 to your computer via a mini-USB cable (not included) to sync your iPod with iTunes. In fact, the iM500 acts as a standard iPod dock, so your iPod can sync, and be charged, when connected to your computer via USB, even when the iM500 itself is turned off.
The iM500's Class D amplifier runs for 8 to 10 hours off 6 AAA batteries, or via the included AC adapter. A thin "pleather" carrying pouch is also included.
Things in common (or commonly missing)
Like the nano itself, which omits some of the more advanced features of its larger iPod (with video) siblings for the sake of miniaturization, these nano-specific speaker systems lack, for the sake of compactness, some of the features found in similarly-priced larger systems. For example, neither system includes a remote control, an accessory that's becoming more and more common for a speaker system in this price range. And as I mentioned above, the MicroBlast doesn't include any option for syncing your iPod with your computer.
I was also surprised by how bulky the AC adapter included with each system is, considering that these speakers are designed to be supremely portable; if you're trying to pack light, you'll want to leave this accessory at home. A more compact adapter, similar to the 2″ by 1.3″ model included with Logitech's new mm32, would have been preferable. And on an aesthetic note, I should point out that the glossy-black back panels of both systems show fingerprints and scratches like nobody's business.
Size does matter (at least as far as sound quality goes)
Let's not beat around the bush: Speakers of this size don't sound great. It's just the physics of audio reproduction—you (generally) don't get good bass without a larger enclosure; balanced, full-range sound from a single driver (or from two identical drivers right next to each other); or effective stereo separation with drivers only a few inches apart. So you shouldn't expect the MicroBlast or iM500 to outperform even similarly-priced speakers that take advantage of less-size-conscious design. For example, Logitech's $150 mm50, one of our favorite truly portable speaker systems, is shorter than both of these systems, but much wider, and uses four larger drivers set relatively far apart, as well as a special audio processor, to provide decent bass, good stereo separation, and impressive overall sound. (It also includes a remote, computer syncing, and a built-in rechargeable battery.) Similarly, Logic 3's less expensive i-Station ($70) and i-Station 7 ($100) offer better sound quality and more features in a slightly bigger enclosure. And when it comes to super-portable systems, you can also choose a different tradeoff: JBL's $100 On Tour speaker system, similar in overall size to the XtremeMac and Altec Lansing systems, lacks the convenience of an iPod dock but offers better audio quality.
Assuming you're willing sacrifice ultimate sound quality for the appeal of a compact, nano-specific system, deciding exactly what type of audio compromise you'll accept will help you choose between the iM500 and MicroBlast. The MicroBlast provides good treble detail and decent midrange, but virtually no bass—the overall sound is very clear but somewhat tinny. I also heard a bit of static/hum through the MicroBlast when connected to AC power with no music playing; however, with music playing, this static was inaudible.
I had assumed the iM500 would sound similar to the MicroBlast, given the system's similar sizes. Yet the iM500 provides a very different listening experience: Although there's still no true low-end, the iM500 produces enough lower midrange and upper bass to give the system a bit of "oomph" and an overall sound that's quite a bit warmer and richer than that of the MicroBlast. On the other hand, treble detail is obscured by the iM500's prominent midrange.
In terms of volume, although both the MicroBlast and iM500 can play fairly loud without distortion when running off AC power or fresh batteries—enough to enjoy music in a bedroom or small hotel room—when I used them with batteries that had been used for several days, both exhibited significant distortion at anything above modest volume levels. (Speaking of volume levels, although I generally prefer speakers to grab the iPod's higher-quality dock-connector audio and provide their own volume controls, one advantage to the MicroBlast's approach—grabbing audio from the nano's headphone port instead—is that since you use your iPod's Click Wheel to adjust volume, you can see the actual volume level on your iPod's screen. With the iM500, you're left to guess how close you are to minimum/maximum volume.)
Overall, I preferred the sound of the iM500 to that of the MicroBlast, thanks to the former's more full-range—relatively speaking, of course—response. However, fans of detail and treble may prefer the MicroBlast.
The Lowdown
Considering that better sound quality can be found for less money, and significantly better sound can be had for just a bit more money, you're definitely paying a price premium for compact size with both Altec Lansing's inMotion iM500 and XtremeMac's MicroBlast. That said, both are attractive and impressively compact systems that are ideal for carrying in a bag or backpack. If you plan on keeping your iPod nano with your speakers during transit, the MicroBlast will store your nano safely inside and feels exceedingly solid. If you carry your nano around with you—say, to listen via headphones—when not using speakers, the iM500, for only $10 more, is a bit more "packable" thanks to its thinner design, sounds slightly better to my ears, and includes USB connectivity and an additional audio input.