Apple's landmark "1984" commercial has been posted on the Web, replicated on posters, and parodied by friend and foe alike. Now, it's been immortalized in a new Apple-themed LEGO playset.
PodBrix, which makes LEGO figures based on Apple's popular iPod campaign , announced a new Apple-themed LEGO playset based on the 1984 television ad that introduced the Macintosh.
The 1984 playset includes a detailed runner minifig carrying a hammer, two riot police minifigs, and an audience of 12 figures. An LED backlit static movie screen with a minifig style "Big Brother" completes the effect. Three AA batteries are required for the backlit screen.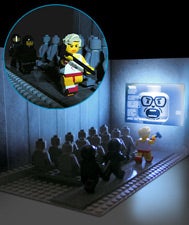 The playset is a limited-edition run of only 100 units, each signed and numbered by the artist Tomi. The 1984 Playset goes onsale for $198.99 on Wednesday, August 2 at 9 p.m. Eastern.
This isn't PodBrix's first Apple-themed playset. Previous versions have included minifigs of Apple founders Steve Jobs and Steve Wozniak. The former sold out in 36 minutes, and the later in less than 2 minutes.