Editor's Note: Turns out Christopher Breen's return from MacMania isn't done yet.
Wichita, Kansas —If one were to measure a successful trip by the amount of time versus dollars spent, my trip home from the recent MacMania cruise is a grand success.
When last we met, I was lost in a vengeful fantasy—planning how I would serve Alitalia representatives Paulo-of-the-white-Eurotrash-glasses and Blameless Marco for turning what should have been a long day of travel into a days long endurance contest. Little did I know when I filed the story that there would be more to tell. It's like this:
If Alitalia had honored my confirmed ticket from Rome to Cincinnati, I wouldn't have had to tell the Blameless Marco that I would do anything to get out of Rome on Monday.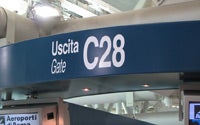 Where it all began…
If I had chosen to stay in Rome, I wouldn't have found myself running an hour late on the flight from Rome to Paris.
If Air France hadn't held up its Paris to Rome flight to accommodate me and other passengers, I wouldn't have eventually found myself at New York's JFK airport.
If I hadn't arrived at JFK at the end of the evening, I wouldn't have had to spend the night in a nearby Ramada Inn that one could generously describe as "only funky."
If I had slept in and missed my Delta flight from JFK to San Francisco, I wouldn't have been rudely interrupted by the captain mid-flight, reporting that due to an oil leak in one of the engines we would make an emergency landing in Wichita, Kansas. What the captain didn't report is that they had shut down the engine and landed without it.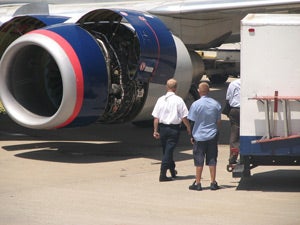 When Chris does return to us, this will not be the airplane that brings him here.
If this was a major airport, there would have been a replacement jet ready to carry us to San Francisco instead of a mechanic that Delta brought in to check out the plane.
If the mechanic and crew were completely sure of their work, they wouldn't have had to take all the baggage out of the plane in case it turns out to be faster to put us all on another plane and send us somewhere else.
If some of that baggage was mine, I could change out of the now-nasty gray (and getting grayer) t-shirt and jeans that I've been living in for nearly two days. In all likelihood, that luggage is on its way to Bombay.
If I had slept more than a couple of hours in those past two days, I would seriously consider renting a car, driving to Kansas City, and booking a flight with any carrier other than Delta.
If I knew any meat barons here in the Midwest, I'd call in a favor and ask said baron to fly me and a couple of other Mac-using patrons likewise marooned in Wichita home on his private jet.
If I had any sense, I'd just walk home instead of taking the tickets from Wichita-to-Dallas/Ft.Worth and then Dallas/Ft. Worth to San Francisco. Thankfully, Delta is now out of the equation and has turned my destiny over to two other airlines.
If I knew the end of this story, I would come up with a snappy and somewhat philosophical conclusion.
I don't.
So I can't.
Stay tuned.