Editor's Note: All this week at Macworld's Gadgetbox Blog, Dan Moren has filed reports from the Association for Computing Machinery's Special Interest Group on Graphics and Interactive Techniques trade show—otherwise known as SIGGRAPH.
If you weren't among the attendees at SIGGRAPH in Boston this week, don't feel badly for missing one of the things in abundance at the annual computer graphics and interactive techniques trade show: the city's skyrocketing temperatures. Thankfully, the Boston Convention & Exposition Center kept its cool, a blessing to those of us trudging the show floor, heavy bags in tow.
And there was a lot of show floor on which to trudge. This year's SIGGRAPH boasted a pretty hefty exhibit hall, courses, panels, and more special events than Steve Jobs has turtlenecks. The trade show returned to Boston for the first time since 1989, bringing with it 25,000 attendees.
Here are some highlights from the past week of graphic activity.
Marriage made in heaven?
My hopes of an all-singing, all-dancing Sharks-vs.-Jets-style confrontation between rival graphics makers nVidia and ATI were sadly dashed. And the only waves coming off of chip-maker AMD's $5.4 billion purchase of ATI seemed to be soothing waves of happiness. At the release event for its new Quadro Plex visual computing system, nVidia seemed quite content to bill itself as "the only remaining independent GPU-maker," while on the show floor, reps at AMD were modestly pleased about the acquisition.
Apple MIA?
I did hear that Apple was present at the SIGGRAPH Job Fair, but the company was absent on the show floor itself. Nevertheless, Mac hardware was out in full force, both behind the scenes and on display, though I saw more than one booth using Apple monitors connected to Windows machines, including the booth set up by— gasp —Disney. To top that off, a video clip at the Disney display also showed the villain from the upcoming animated feature Meet the Robinsons professing his hero worship of Steve Jobs. Careful guys, or you'll have an angry shareholder on hand at the next board meeting.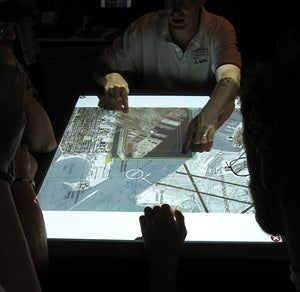 Mitsubishi Electric Research Laboratories DiamondTouch table interface
Bright boy
I got a chance to see NEC's monitor lines up close and personal, and I have to say that its new model, the first backlit by white LEDs instead of conventional fluorescent lights, is probably the brightest LCD monitor I have ever seen. The colors pop off the screen, so vivid they're almost unreal. Other displays that look beautiful when seen alone, including NEC's own professional line offerings, seem gray and wan in a side-by-side comparison. Then again, double the power consumption and a $7,000 price-tag are hefty tradeoffs to make.
Putting the 'touchy' in 'touchy-feely'
The Emerging Technology section of the conference featured Jeff Han's Multi-Touch Screen, which looks like something straight out of Minority Report. ( Macworld covered Jeff Han's work before at the O'Reilly Emerging Technology 2006 conference and in a Macworld Podcast episode.) In fact, touch interfaces were everywhere at SIGGRAPH. Mitsubishi was showing off its DiamondTouch table display on the show floor, but there was also a large touch-sensitive flat-screen display in one of the lobbies that you could use to check your flight status. Touch-screen technology is hardly new, but it's one of those things that I always find myself wondering why it isn't in wider use.
Putting the 'feely' in 'touchy-feely'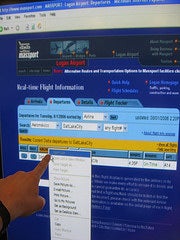 Even checking your flight status could be done by touch in the SIGGRAPH lobby.
Sure, touch-based interfaces are hotter than a Core Duo processor, but what's even better? Interfaces that touch back. I'll admit it, I had no idea what the word "haptics" meant prior to attending SIGGRAPH, but now I'm convinced that it'll probably be the next major revolution in computing. Even though our hands are an important part of computing, we totally negate their usefulness as sensors. The highlight here was probably the Virtual Open Heart Surgery, which appeared real enough that I cringed when one ham-handed user jabbed his tweezers rather harshly into the organ's exterior. Somewhat stranger was a device that could generate a directional "tugging" force by virtue of an electric motor. The developers suggested it could be used in cell phones to provide directions by touch, or on an iPod to "show&38221; the user how much of its capacity has been used by simulating weight. I think ''ll stick with a screen for that, thanks.
The world's largest Etch A Sketch
The topper for the conference was the two-hour show of the year's best in computer graphics. Even better than that were the pre-show festivities, which pitted one side of the auditorium against the other in a giant Pong-like game, then made them work together to draw shapes on the world's largest Etch A Sketch.
[ Dan Moren is a freelancer writer who contributes to MacUser and Macworld's Gadgetbox Blog. ]