In the last installment of the iPodBlog, I pondered what makes a particular video valuable enough for an iPod owner to sacrifice a portion of his or her 'pod to hold it. When clacking out those words little did I know that I would shortly stumble upon a tool that would make iPod video management even more challenging for me.
That tool is Stinkbot's $15 TubeSock. What's it do? The name provides a hint.
Ever been frustrated by your inability to download the cool Flash-based videos you find on YouTube ? That's where TubeSock comes in. With the click of a single bookmark script (compatible with Safari and Firefox) it will download the YouTube video displayed on your monitor and convert it an H.264, MP4, or MP3 file.
MP3? Right. Suppose you're not blessed with an iPod that plays video. TubeSock is still capable of downloading the file and stripping out the sound track. Download any of the thousands of music videos found on YouTube and you'll understand the power and glory of this feature.
You can also play back YouTube videos directly within TubeSock. Just enter the video's URL in the appropriate field and click the Preview button. If you like what you see, choose the encoder you'd like to use and the destination for the video (your Movies folder, iTunes library, or a directory of your choosing) and click Save. TubeSock will download the Flash file and convert it to a format that can be played on your Mac, iPod, and PSP.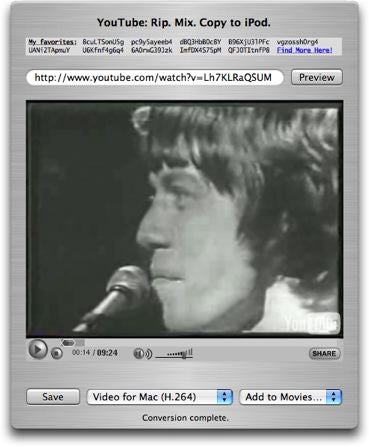 TubeSock hasn't proved to be rock solid in my tests. When I asked it to add videos directly to iTunes there were some glitches—the program unexpectedly quit a time or two—but it's behaved well when I save videos to my Movies folder.
It's also not the only way to do this kind of thing. You can download the videos for free by loading the video you want, accessing Safari's Activity window, grabbing the video, and then using Techspansion's free iSquint to convert it. But I find $15 a small price to pay for TubeSock's convenience.
In all honesty, the worst thing about the program is that I've now got a folder full of very cool video clips—appearances by the Rolling Stones and Howling Wolf on Shindig, George Harrison's induction to the Rock and Roll Hall of Fame where Prince completely tears it up on the final solo of When My Guitar Gently Weeps , Willie Mays' Blasting Caps Public Service Announcement (you had to be there), and a young James Brown ripping out Please, Please, Please (complete with seemingly endless capes) in glorious black and white—and once I get really serious about ripping these movies, where in god's name am I going to put them all?
On the other hand, if that's the least of my worries….
(Hat tip to David Chartier at The Unofficial Apple Weblog for bringing TubeSock to my attention.)