Editor's note: We're taking a closer look at each of the upcoming OS X 10.5 features previewed by Apple. In this installment, we'll examine the changes slated for iChat.
As Steve Jobs demonstrated Leopard's new version of iChat during Monday's WWDC keynote, my initial response was two-fold. First, "Thank you." iChat users got a number of features we've been requesting for quite a while. My second thought was, "You know, a bunch of third-party developers aren't going to be too happy about this." Many of the features-to-be are right out of the books of shareware and freeware products. Perhaps some of these are "well, duh" features that anyone who uses iChat extensively could come up without much difficulty, but what isn't a mystery is that Leopard's iChat will be much more appealing to heavy chatters and may even make iChat users out of users who aren't currently enamored with instant messaging.
How it works
iChat has been around since the days of Jaguar (OS X 10.2), with audio and video-conferencing capabilities added in Panther (OS X 10.3). That functionality isn't going anywhere—this is still a messaging client that lets you have text, voice, and video chats with anyone with an AIM, .Mac, or Jabber screen name. But the new version offers a number of useful changes and additions.
What's changed
The last time Apple upgraded Mac OS X, another built-in app, Safari 2, added tabbed browsing—which lets you have multiple Web sites open in a single window—to cut down on window clutter. People have been wishing for similar functionality in iChat for quite a while. Current iChat users can get that feature (and much more) by installing Chax ( ), but tabbed chats will be built into Leopard. Even better, in the new iChat, floating text bubbles let you know if someone in a different tab is sending a message; you won't miss messages in one tab just because you're chatting in another.
Although it's easy to save transcripts of your text chats in the current version of iChat, keeping a video record is not so easy—at least not without third-party software such as Ecamm Network's Conference Recorder ( ). But the Leopard version of iChat will let you record video (and, we presume, audio) sessions out-of-the-box. What's up in the air is whether or not iChat will offer as many options or as much flexibility as Conference Recorder.
iChat currently has a few rudimentary features for determining who can "see" when you're online or idle, but the new iChat in OS X 10.5 will let you set your status to Invisible —you'll be online and logged in, but no one, not even your closest buddies, will know it. (This feature has been available for nearly a decade on chat services such as ICQ and is long overdue.)
As for other changes to existing iChat features, the days of being able to log into only a single AIM/.Mac chat account at a time will be over with Leopard. If you've got multiple AIM/.Mac accounts—for example, personal and work—each with its own Buddy List, you'll be able to log in to all those accounts at the same time (although you'll apparently have separate Buddy Lists for each account).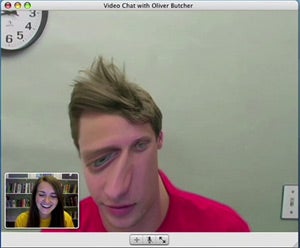 As with Apple's Photo Booth—or Script Software's ChatFX—iChat in Leopard will include special effects for altering your image.
What's new
The major additions to Leopard's iChat we've seen thus far focus on video chat features and effects—and most of them will sound quite familiar to anyone hip to the latest in third-party iChat add-ons.
Take the special video effects that will be a part of iChat in Leopard. Sure, those special effects can be found in the Photo Booth application that ships with all iSight-equipped Macs, but it took Script Software's ChatFX ( ) to apply such effects to iChat video. In Leopard, this functionality is built right into iChat: Just click on an effect, and it's applied to your video, in real time, as the video is sent to your AV chat buddy. And because all the video processing occurs on your own Mac, your buddy doesn't even have to be running Leopard to see those effects. (As I noted in my review of ChatFX, some of the more processor-intensive effects resulted in a bit of video lag; I'm curious to see if this will also be the case in the new iChat. It also remains to be seen if, like ChatFX, the new iChat will let people create their own effects.)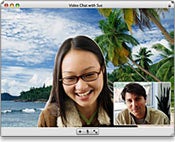 Leopard's iChat will let you insert a photo or video behind you as a backdrop.
The next version of iChat also provides a feature similar to one of ChatFX's more unique—though less reliable—capabilities: inserting a photo or video behind you as a backdrop. However, instead of using a key-color background approach, the backdrop feature in Leopard's iChat will take a picture of your background first and then replace it with the photo or video of your choice. From the demos we've seen, there will still be a thin border around your head and body, so you're unlikely to convince your boss that you're working when you're really at the beach. But it looks like a fun feature, nonetheless.
A more practical addition to iChat is the ability to show a slideshow, movie, or presentation to whomever you're chatting with. Eberhard Rensch's ShowMacster ( ) lets you do that right now, but Leopard will save you €15 by incorporating similar functionality, making it a bit easier to use, and dubbing it iChat Theater. For example, while viewing an album in iPhoto, a click of a button will send that album to the current chat and present it as a slideshow with your mug in a small box, off to the side, as you narrate. And developers will be able to add such send-to-iChat compatibility to their own apps.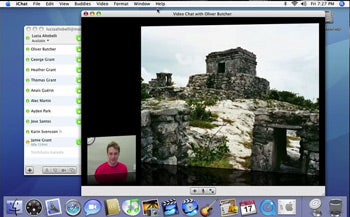 With the press of a button, you can display iPhoto images as a slideshow for other participants in your iChat video session.
Another useful new feature is Screen Sharing. Although ChatFX and ShowMacster let you show other iChat participants your Mac's screen, the quality isn't great and your buddies can only watch. At the other end of the spectrum, Mac OS X's built-in VNC capabilities let you view and control another Mac, but setup isn't easy. iChat combines the best of both worlds with its new Screen Sharing feature. With a click of a button, two iChat participants can share and control one of the participants' Macs, all the while communicating via an audio chat. You can even display the other Mac's screen in full-screen mode, and switch between your own screen and the remote screen with a single click.
Finally, if you're tired of boring, static buddy icons, Leopard will offer live-animated versions. Although largely an "eye candy" feature, there's been enough of a demand for it that two different third-party products, iChat Streaming Icon and LiveIcon, offer it for the current version of iChat.
Who's it for
If you're already a heavy user of iChat, especially its audio/video capabilities, the Leopard version's changes will surely be welcome—you'll get more of the features iChat users have been asking for, and you'll get a number of popular features that previously would have cost you a good chunk of change in third-party software.
But the new features should also spawn a good number of new iChat users by making iChat much more useful for businesses, tech support, and multimedia chat. The ability to remotely give Keynote presentations to multiple people has the potential to make iChat a powerful business tool. Similarly, being able to quickly show your parents a slideshow of your newborn or a video of your child's first steps as you're talking to them is a compelling use of technology. And the fact that you'll be able to view and control your less-than-tech-savvy friend's computer screen from across the country—without any more setup than starting a chat—will make troubleshooting much easier (although it may also mean that you spend a lot more of your time helping fix friends' computers).
What's missing
A few questions about the new iChat still need to be answered. How will these new presentation effects and capabilities affect the number of people who can participate in audio and video chats? (And will Apple increase the number of people who can participate in general?) How will displaying a Keynote presentation or movie in a video chat affect performance? Will there be a performance hit if you apply video effects while participating in a multi-person video chat?
There are also some no-brainer features that we're sure we're not alone in wanting. For example, why not add Yahoo and Microsoft messaging support, so you really can chat with all your buddies using iChat, no matter what client they're using? Another desired feature is better audio quality; the current version's audio is mediocre compared to Skype and other audio-chat and VOIP services.
What it means
Despite questions that remain and features that remain absent, from what we saw at the keynote and what Apple has announced, the upcoming improvements make this arguably the most significant upgrade to iChat yet. And although it's unfortunate that a number of third-party developers will find their products less compelling come spring 2007, from an end-user standpoint, having these features built into iChat means fewer compatibility issues and, hopefully, better ease of use.
[ Senior Editor Dan Frakes keeps a close eye on low-cost software for his Mac Gems weblog. ]