At a Glance
Expert's Rating
Pros
Good bass and treble performance
Transmitter doubles as a dock
Cons
Headphones lack width adjustment
Headset and transmitter both require charging
Our Verdict
Part of what has made the iPod popular is the freedom it gives music fans to take their tunes anywhere. Headphones with Bluetooth technology can add even more freedom to the iPod experience by allowing music lovers to enjoy their favorite tunes without being encumbered by wires. Last year, we reviewed three such headphone systems, Ten Technologies' bring-your-own-headphones naviPlay (

), Logitech's original Wireless Headphones for iPod (

); and MacAlly's BlueWave (

). I recently tried out two of the newer Bluetooth headphones systems for the iPod, Ten Technology's $200 naviPlay Stereo Headset and Wi-Gear's $179.99 iMuffs MB210 . The two products have many features in common, but each has its own style and unique advantages; as a result, each is likely to appeal to a different type of user.
Both the naviPlay and iMuffs systems use a lightweight Bluetooth adapter that plugs into your iPod's dock connector port to transmit digital stereo audio to the headphones from up to 30 feet away. Both also support all dock-connector iPods (3G and later, except for the iPod shuffle). As we found with our earlier Bluetooth headset reviews, neither of these systems will compete on sound quality with comparably priced wired headphones. However, both produce sound good enough for casual listening, especially considering the added convenience of wireless. Both headsets also offer limited remote control capability via buttons on the side of the headphones.
In addition to acting as iPod headphones, both devices can be paired with a variety of other devices—including cell phones, PDAs, and computers—provided those devices support one of two Bluetooth protocols. With the small pinhole microphone built into each headset, both systems can be paired with a Bluetooth phone to act as a wireless headset when making calls. Both the iMuffs and naviPlay support the Headset Profile (HSP) as well as the newer Hands-Free Profile (HFP). After a minute or two spent pairing either device with my Motorola RAZR V3 phone, I was able to initiate and receive calls easily. The sound quality of the microphones is not as good as that of my phone's built-in mic, but it's passable for short conversations. Both headphones are also capable of receiving stereo audio from devices that support the Advanced Audio Distribution Profile (A2DP) protocol.
Ten Technology naviPlay Stereo Headset
The naviPlay Stereo Headset (

) is a new product from Ten Technology, makers of the naviPlay wireless stereo kit reviewed in our first roundup of wireless headphone systems. Unlike the earlier model which allows any wired headphones to be used wirelessly, the newer naviPlay system uses its own wireless headphones.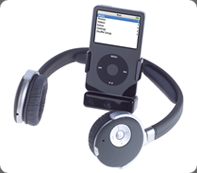 Ten Technology naviPlay Stereo Headset
The naviPlay transmitter doubles as an iPod dock—complete with port for connecting Apple's dock-connector cable—and includes a built-in flip stand, yet still manages to weigh in at only 2 ounces. The dock comes with several snap-in plastic adapters to allow a variety of iPod models to fit snugly into the base. Having the transmitter double as a dock is one unique convenience of the naviPlay design, making it easy to sync and charge your iPod without having to remove the transmitter.
The naviPlay headphones have a padded headband, designed to sit on top of the head. The 4.2 ounce plastic headphone unit allows the headband to be adjusted up and down, but not widened.
Despite being too small to completely enclose most people's ears, the naviPlay earphones' padded earcups do a surprisingly good job of blocking outside noise. And when playing music, the naviPlay's headphones produce more bass and treble than the iMuffs, though I found the bass to be a bit overwhelming on some songs.
A circular set of buttons on the side of the earphones provide limited remote control capabilities. The center button is used to pause and play; when pressed for several seconds, it turns the headphones off. Up and down buttons adjust volume, and forward and back buttons navigate between and within tracks.
The naviPlay includes a USB cable for charging the headphones, whereas the transmitter/cradle recharges whenever you use Apple's dock-connector cable to sync and charge your iPod. (You can also connect the dock-connector cable to the naviPlay's cradle on its own to charge the cradle.) Without an iPod connected, the transmitter can be fully charged in 4 hours. However, charging both the iPod and transmitter at the same time takes longer than charging either one individually. The headset also takes 4 hours to fully charge. However, if you don't need a full charge, both the transmitter and the headphones can be charged to 80% capacity in approximately 2 hours. Ten Technologies states that when fully charged, the system can operate for 8 hours of continuous usage at maximum volume and 2-meter range.
Wi-Gear iMuffs
The iMuffs MB210 (

) is an updated version of the company's original iMuffs design. Weighing in at only 2.3 ounces, the MB210 offer a more sporty design than the naviPlay: The earpieces sit loosely on top of the ear and are connected by a flexible-plastic, behind-the-head band. Three buttons on the right earpiece—a center pause/play button, and forward and back buttons on either side—control playback. A rocking switch on the bottom edge of the earpiece controls volume and a sliding switch on the top edge turns the headphones on and off. The firm on/off switch is a convenience when traveling, since the headphones are less likely to be turned on accidentally.
Wi-Gear iMuffs
The iMuffs' transmitter, at a weight of only .4 ounces, is slightly smaller than a match box and, unlike that of the naviPlay, draws its power from the iPod. As a result, the amount of play time between charges is dependent on the capacity and charge of the iPod being used. The small size of the iMuffs transmitter is a bonus for those who prefer to keep their iPod in a case: Though not all cases provide easy access to the dock port, I was able to use the iMuffs even when my iPod was tucked safely inside a Speck ToughSkin case.
Because the transmitter is iPod-powered, you need to charge only the iMuffs headphones, which you do via the included USB cable—by connecting the USB cable to either your computer or the included AC-to-USB adapter. A full charge can take up to 5 hours, although an 80% charge can be accomplished in only two. Wi-Gear claims the iMuffs headset is capable of up to 16 hours of continuous operation, depending on usage pattern, distance from adapter, and battery age.
Considering that the iMuffs is likely to appeal to more active users, the system produces adequate sound. Users satisfied with Apple's stock earbuds likely won't be disappointed; however, the design does little to block outside noise.
The Lowdown
Both the iMuffs MB210 and naviPlay Stereo Headset are likely to appeal to those who value wireless convenience over ultimate sound quality. Choosing between the naviPlay and iMuffs systems comes down to personal preference. The naviPlay is a better bet for those who prefer bass, and others may prefer the comfort of its padded, over-the-head headphone design; however, I found the lack of width adjustment to be uncomfortable for extended listening. The iMuffs system's smaller size and weight make it more suited for portable and active use—the way I personally tend to use my iPod. Although you'll sacrifice a bit in terms of sound quality, I found the iMuffs to be more comfortable over long periods. And I liked that I can keep my iPod protected inside its case while still enjoying wireless stereo sound.
Matt Vance is a technology consultant, Web developer, and freelance writer living in Austin, Texas.
Note: When you purchase something after clicking links in our articles, we may earn a small commission. Read our affiliate link policy for more details.