No matter what you do in college (academically, at least), you need a printer. But what kind of printer do you need? Are you working with lots of graphics? Sharing a printer with roommates? Here are four affordable options that cover a variety of printing needs.
Lexmark C522n
Pros: Fast print speeds; Bonjour-capable; PostScript 3 emulation. Cons: Noisy printing.
If you need color output, Lexmark's (comparatively) inexpensive color laser printer, the $500 C522n ( ), has quick print speeds, Bonjour support (for easy network connections), and high-end features like built-in Ethernet and PostScript 3 emulation. Though it may be a bit loud for tight workspaces (like your average college dorm room), the C522n can take care of everything from straight text to elaborate graphics. ( full review» )
Xerox Phaser 6120N
Pros: Excellent photo quality; networkable; PostScript 3 support. Cons: Not Bonjour-capable.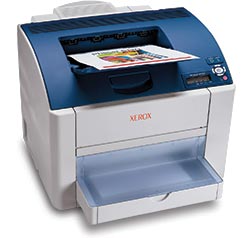 Xerox Phaser 6120N
If you want a printer to share with the neighbors in your dorm, you could all chip in for a $500 Xerox Phaser 6120N ( ). It produces excellent photographic images, is networkable (so everyone can use it at the same time), and supports PostScript 3. While the Phaser 6120N is no speed demon, it's plenty fast for a small suite of users. The hard part will be figuring out who gets to keep it at the end of the year. ( full review» )
Canon Pixma iP4200
Pros: Built-in duplex printing; individual ink cartridges; inexpensive; great-looking photos; 100-year print life. Cons: Sluggish printing at high resolutions.
The $130 Pixma iP4200 ( ) is a great all-around ink-jet printer. It can print on both sides of the page, and it excels in printing both Microsoft Office documents on plain paper and high-quality, long-lasting photos on Canon's photo papers. The only downside is that it's a little poky in printing high-resolution images. But for general-purpose printing, the Pixma iP4200 is a great, affordable choice. ( full review» )
Hewlett-Packard Deskjet 5940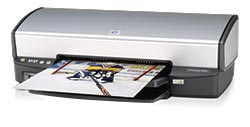 Hewlett-Packard Deskjet 5940
Pros: Excellent text quality; convertible to a six-color photo printer; PictBridge USB port. Cons: Slow in PDF test.
General-purpose ink-jets don't get a lot of respect. Laser printers can print sharper text more quickly, and photo printers can produce smoother, more-pleasing pictures. But Hewlett-Packard's $120 Deskjet 5940 ( ) prints cleaner text more economically than a photo printer, produces better photographs than a color laser printer, and costs a lot less than either. ( full review» )