For most undergraduates, music is as much a part of student life as libraries, pizza, and beer. Macs and iPods make storing music easy, but what about listening to music? Whether you prefer sharing your tunes at very high volumes with everyone else or quietly listening to them as you walk across campus, we've got five ways for you to hear what you're playing.
AKG K26P
AKG's $50 K26P headphones give you two things that are tough to find in small, lightweight headphones: a closed design and killer bass. Their small leather earpieces block a good amount of external sound (also known as roommates), and their bass response will leave you wondering if there's a subwoofer hidden somewhere in the room. Best of all, they fold up to fit inside an included travel pouch—perfect for road trips and in-class listening.—Dan Frakes ( product guide » )
iLuv i177
There are several iPod-compatible alarm clocks available. The $110 iLuv i177 ( ) is one of the few that doesn't skimp on the clock part. It has two alarm settings (so you can set it to go off at different times). You can set each alarm to wake you to any audio output. And the alarm volume can be set independently of the master volume, so you won't be blasted out of bed, unless you want to be.—Mathew Honan ( full review » )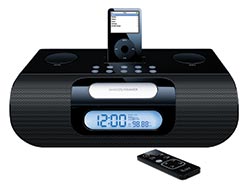 iLuv i177
Zvox Mini
Want an iPod boom box that's better than Apple's own iPod Hi-Fi? Zvox Audio 's $200 Zvox mini offers superior sound. True, it doesn't have the Hi-Fi's room-shaking bass, but many listeners will be fine with that trade-off. And if you want to take the Zvox mini outside, you can get a big rechargeable battery and a padded case for an additional $100.—DF
V-Moda Remix M-Class
Want to stand out from the horde? Exchange the iPod's ubiquitous white earbuds for V-Moda's $50 Remix M-Class earbuds ( ). They're available in metallic blue, metallic pink, and silver. And they sound better. They're among the best earbuds I've tested.—DF ( full review » )
Audioengine 5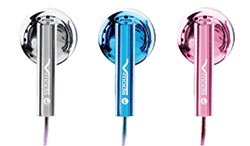 V-Moda Remix M-Class
If you're looking for powered speakers that'll handle your Mac, your iPod, and even your old hi-fi hardware—and if you have some money saved—the $350 Audioengine 5 ( ) is the answer. These speakers provide solid, balanced sound—better than Apple's own iPod Hi-Fi—from many devices. Thanks to the AC adapter in the back, you can plug an AirPort Express directly into the Audioengine 5 and stream iTunes from your Mac.—Chris Breen ( full review » )
When you purchase through links in our articles, we may earn a small commission. This doesn't affect our editorial independence.