If you opt for the Mac mini but don't have a spare monitor at home, you'll need to buy a display. Fortunately, you can get a perfectly decent display—one that you can also use to watch TV and movies—at a reasonable price. Here are some of our favorite affordable monitors.
Sony SDM-HS75P
Pros: Eye-catching, compact design. Cons: Few bells and whistles.
Although the Sony SDM-HS75P ( ) is short on bells and whistles—no built-in USB port, speakers, or ability to pivot—it's a good choice for students who want a nicely designed display that performs well but who have limited desk space. While we originally dinged the monitor for its high price ($450), it's available for much less than that now ($200). Now that this 17-inch LCD is affordable, it's worth your consideration. ( full review» )
Envision EN7450
Pros: Inexpensive; integrated speakers and USB hub; complements the Mac mini. Cons: Color shifts when viewing the screen from an angle; no height adjustment; can't swivel or pivot; small text appears fuzzy.
If you're looking for a monitor bargain that will complement the Mac mini's design, the $280 Envision EN7450 LCD ( ) is a fine choice. It has both analog and digital inputs, and its silver base and white bezel make it an attractive companion for the Mac mini. But be warned: Because of its relatively narrow viewing angle and tinny speakers, the EN7450 isn't the screen your roommates will want to gather around to watch a movie. ( full review» )
NEC MultiSync LCD1970VX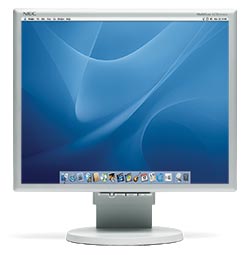 NEC MultiSync LCD1970VX
Pros: Height-adjustable stand; analog and digital inputs; can pivot to portrait mode. Cons: Limited viewing angle.
If you're willing to spend a little more money to get a big screen, the NEC MultiSync LCD1970VX ( ) is reasonably priced—at $440—for a 19-inch LCD. It has nice touches, such as analog and digital inputs, and the ability to pivot and adjust its height. Sure, you can find displays with better viewing angles and cleaner text, but if saving money is important to you, check it out. ( full review» )
Dell UltraSharp 1707FP Flat Panel LCD
Pros: Inexpensive; adjustable design; adjustable height; good text quality; accurate color out of the box; includes DVI and analog cables; 4-port USB hub. Cons: Limited viewing angle.
Budget-conscious display shoppers won't be disappointed with the $280 Dell UltraSharp 1707FP Flat Panel LCD monitor ( ). It's a 17-inch display that has many thoughtful features. My favorite of these is its impressive range of motion: it pivots, tilts, and swivels, and its height is adjustable—no need to stack risers, books, or boxes underneath to get the display at the right height. ( full review» )