We all know that Macs are the world's family-friendliest computers. They're easy to share and network, they can double as home-entertainment centers, and their built-in software can handle all kinds of homework (for parents and kids). But which Mac is right for your family? Most families opt for desktop Macs instead of laptops. Which of Apple's three desktop models—the Mac Pro, iMac, or Mac mini—is best? Here's a breakdown.
iMac
Pros: Fast; big display (on 20-inch model); roomy hard drive; elegant design; built-in iSight camera. Cons: Not portable; doesn't allow you to do much, if any, maintenance or upgrading yourself.
While Apple recently introduced an iMac specifically for the education market, that machine is currently available only to educational institutions. Individual buyers will still have to make do with the 17-inch 1.83GHz Intel Core Duo for $1,299 or the 20-inch 2GHz Intel Core Duo for $1,699 (both ). Unlike the Mac mini, the iMac comes with a keyboard and a mouse, and either a built-in 17-inch or 20-inch monitor. iMacs also have a faster graphics processor (good for gaming), more-expansive hard drives (160GB and 250GB), and sprightlier performance. An added bonus: The 20-inch model's screen is good enough for watching movies in a small- to medium-size room. ( full review» )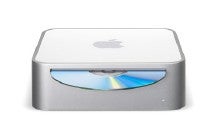 Mac mini
Mac Mini
Pros: Small; inexpensive; fast enough for most work; compact; Front Row software with Apple Remote. Cons: Limited hard-drive space; not a great gaming machine; integrated graphics reduces available RAM; memory difficult to upgrade.
The $599 1.5GHz Intel Core Solo Mac mini and $799 1.66GHz Intel Core Duo Mac mini (both ) make fine primary computers for families on a budget. Thanks to their small size and low prices, they also make sense as second family computers. The mini is perfectly suited for pulling together the monthly finances, creating the annual holiday letter, surfing the Web, sending and receiving e-mail messages, and creating basic "What I Did on My Summer Vacation" multimedia presentations. But if your kids are into 3-D games, the mini's graphics won't be up to the task. And its hard drive (60GB or 80GB standard, 100GB or 120GB optional) won't accommodate massive music or movie libraries. ( full review» )
Mac Pro

Mac Pro
Pros: Fast; highly expandable; easy to service. Cons: Large; no included monitor; AirPort Express and Bluetooth are optional; no support for Front Row or the Apple Remote.
We haven't clocked a lot of hands-on time with Apple's Power Mac replacement, the Mac Pro, but we like what we've seen of it. Apple is selling the Mac Pro ( ) in a single suggested configuration—with two 2.66GHz dual-core Intel Xeon "Woodcrest" processors, 1GB of RAM, a 250GB hard drive, and an Nvidia GeForce 7300 GT graphics card with 256MB of video RAM—for $2,499. You can strip down the Mac Pro to a family-friendlier price of $2,124 by opting for two dual-2GHz processors and a 160GB hard drive. (Or if your family is power-crazed, you could go whole-hog and get a model with two dual-3GHz processors for $3,299). Unlike the Mac mini and the iMac, the Mac Pro is eminently upgradeable: it's built to make adding extra hard drives, optical drives, and PCI Express expansion cards easy. Beyond handling Junior's enormous Final Cut Pro projects and Mom's Aperture work, the Mac Pro has gaming prowess—a big attraction for families who love to game; whether running Mac OS or Windows, no other Mac will pump out the pixels faster. ( full review» )