A recent poll asked some young folks whether they'd like to sign up for a free music download service. Most just said no. The reason? Doing so would mean giving up their beloved iPods. But if there's one thing teens love more than their iPods, it's fashion. Here are a few of my favorite fashion-forward cases.
DLO Nano Fling
I have to admit, I'm not the target demographic for this $30 iPod nano case, with its built-in mirror and elastic loop that can hold a tube of lipstick. The DLO nano fling ( ) is available in a variety of eye-popping designs, textures, and hues. (I tried out a relatively sedate silver model.) As with most flip cases, you can't access the controls with the front flap closed, though the headphone jack is accessible. ( full review» )
Contour Design Showcase Video
It's not showy, but it's a nearly perfect iPod case: Contour's Design Showcase ( ) has long been among my favorites, thanks to good shock and scratch protection in a design that (as the name implies) still shows off your iPod's attractive surfaces. The latest $33 model, for the latest iPod (with video), is the best yet. It features rubber edges with clear plastic front and rear surfaces, protecting everything but the Click Wheel, but it's still thin and light. ( full review» )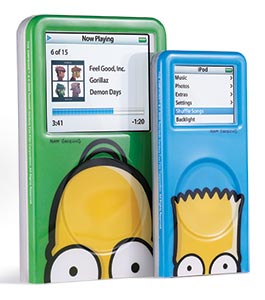 XtremeMac Iconz for iPod Nano
ifrogz for iPod Nano
Silicone skins for iPods are as common as pennies. What sets the ifrogz skins ( ) apart from the rest are their $21 wrapz, $6 screenz, and $4 bandz ($31 for the set). The wrapz are the silicon cases themselves. The screenz are adhesive clear plastic overlays that cover the front and the Click Wheel. The bandz fit along the edge. You can order all of them in customized colors and images. ( full review» )
XtremeMac Iconz for iPod Nano
XtremeMac's $25 Iconz cases ( ) are rigid plastic enclosures for the iPod nano that provide full-body protection against scratches and minor bumps and shocks. But what'll really attract the kids: XtremeMac has put cartoon characters (Speed Racer, Bart Simpson, and SpongeBob Squarepants, among others) and NBA team logos and stars on the front of the cases. ( full review» )
iSkin eVo3
iSkin has been making silicone iPod cases for a long time, and that experience really shows in the eVo3 ( ). It offers total protection for your player and fits snugly, even around the Click Wheel. The screen protector hovers over your iPod's screen, avoiding the possibility of scratches while still providing a clear view. It may be practical, but it's not boring: the eVo3 is available in a variety of vibrant colors. ( full review» )
Note: When you purchase something after clicking links in our articles, we may earn a small commission. Read our affiliate link policy for more details.