If I'm going somewhere, or trying to help someone else get somewhere, I often draw a map—of the roads to drive; the paths to walk, run, or bike; or the trails to hike. Sometimes I'll go to Google Maps or Yahoo! Maps and print out the map, and if I'm feeling especially industrious, I've even been known to take a screenshot of that map and then use a graphics app to draw the route in a bright red line to make it easier to follow.
Making these custom maps just got easier, thanks to Acutus Trading's $20 Meander 1.2 ( ). Meander provides you with a resizable, translucent window that you place over any map and then lets you draw your route—using map points with lines between them—right over the top. This approach can often result in better maps (for example, for walking or biking) than the auto-centric directions you get from Yahoo and Google. You can move points around to fine-tune your route or to choose a completely different route, and when you're finished, you can take a snapshot of the map and route together and either print it, export it as a JPEG image, or save it to your Meander Library for future reference.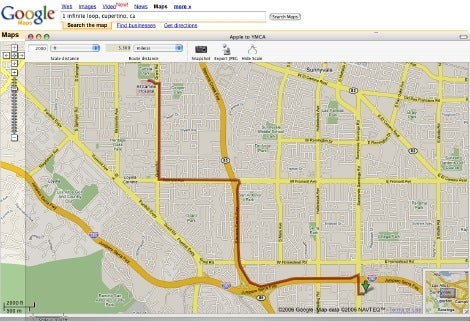 But Meander also has features that go beyond simple line-drawing. For example, by inputting the underlying map's scale, Meander can tell you the total distance of your route. To match Meander's scale to that of the map, you position Meander's scale bar over that of the map and then adjust Meander's bar to fit. And if you later decide to zoom the original map in or out, you can easily zoom Meander's overlay to fit, without having to redraw your route. (Although you'll have to re-calibrate the scale, if necessary.) Unfortunately, when exporting a map to a JPEG image, Meander doesn't include the distance figure.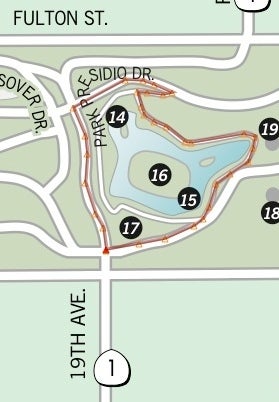 A Meander-drawn route of a run in San Francisco's Golden Gate Park (top) and the distance of that run, as measured by Meander (bottom).
You can also customize Meander's appearance, including the type, color, and thickness of route lines—for example, you could choose a thick, red line or a faint, green highlight—and the transparency and color of Meander's overlay.
Of course, Meander isn't limited to maps on Web sites; it can be used with anything you can display in a window on your screen. (The Golden Gate Park route, above, was created using a PDF map of the park I had previously downloaded to my hard drive.) And assuming you know the scale, it can also be used to find the actual size of an object in an image or drawing; for example, if you have an onscreen illustration of a house, with the scale provided, you can use Meander to quickly approximate the dimensions of any part of that house.
Despite its unique functionality, the current version of Meander does feel a bit like a work in progress. For example, Meander provides a Library feature that lets you save routes for later use and organize saved maps/routes into categories; however, using this Library can be confusing. And the Help system is inaccurate in a number of places.
There are also a number of features missing that would be very useful for this type of utility. For example, a way to "nudge" both the entire window and individual route points using the arrow keys to more easily fine-tune your routes; a way to link several points and make them a smooth curve or a straight line; a way to draw "freehand" instead of with points; a way to add text markings (for example, "Look for the gas station on the right") to maps; a way to easily join multiple maps (for example, when you need to use two or more Google Maps screens to fully outline your route); and the ability to determine the distance of individual segments of your route.
Still, I've been enjoying Meander and have already used it several times to send maps to friends. I'm looking forward to future updates that incorporate more features.