Summer is nearly over, but there's still plenty of time left for you to get out of the office and head to the beach before the cool winds of Fall blow in. Whether you have big plans for a blowout Labor Day at the seashore, or are simply planning a quiet afternoon at the lakeside, here's everything you need to enjoy your iPod on (or near) the water.
Protection
There are so many things to love about the beach, but at least a couple of those things—the hot sand and the cool water—can easily destroy your iPod. Your first priority when bringing your iPod along needs to be making sure it's well-protected from harmful elements.
Sea water and high-tech electronics don't make good bedfellows, so if you plan on taking your iPod in the waves, protect it with a waterproof case. Otterbox carries a complete line of iPod cases for the all recent iPod models that are waterproof up to one meter—great for swimming laps or splashing in the surf, but don't dive too deep. Each case gives you full access to the iPod's controls and screen, so you can still skip songs, change playlists, and turn the volume up or down. Prices range from $19.95 for the iPod shuffle case up to $49.95 for the iPod video.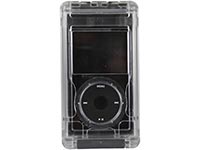 Otterbox
H2O Audio also carries a line of waterproof iPod cases—these submergible up to three meters, allowing you to take them snorkeling or on other below-the-surface escapades. H20's cases for the shuffle ($39.95), video ($89.95), and nano ($79.95) also provide full access to your iPod's controls and screen while keeping the water locked out.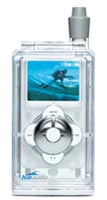 H2O Audio
Though cases are great for protecting your iPod, if you want to listen while you swim, you're going to need waterproof headphones as well. H2O Audio's Headphones ($39.95), submersible up to three meters, will let you get your Team Zissou on. The headphones actually work with all of the cases mentioned above, from both Otterbox and H2O Audio. If you have an older iPod, H2O Audio also sells cases for the iPod mini and 4G iPod, with headphones included, for $119.95.
Pelican's i1010 iPod case
Even if you have no plans to take your iPod swimming, you should still protect it from unforeseen aquatic encounters—such as dropping it in the surf or off the pier—as well as from sand, suntan oil, margaritas, and other potential iPod killers. Pelican's i1010 iPod case ($34.95) will cradle your iPod in a water- and shock-proof shell, providing a barrier against both liquids and solids. The crush-proof case features a rubber liner that doubles as an o-ring seal; you connect your headphones to an external jack that passes through the case and connects to your iPod inside. An interior pocket can store your earbuds—or a credit card and license—when they're not in use. The i1010 works with any iPod, even the shuffle, and is available in black and white.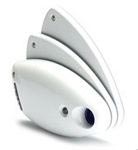 Solio
Enhancements
Protection is just a first step. Next, you might want to consider adding a few accessories to enhance your iPod experience at the beach.
If you plan on spending all day worshipping the Sun, you very well may outlast your iPod's batteries. But with a solar charger soaking up the rays alongside you, the music never needs to stop. Solio ($99.95) will recharge your iPod using the power of the Sun. Its chargers now come in a range of colors, each weighing less than six ounces and taking up not much more space in your bag than a mobile device like a Treo or Sidekick.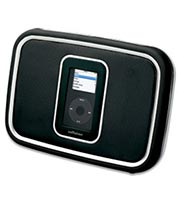 inMotion iM9
When you need to share you music with your friends, tote along Altec Lansing's excellent inMotion iM9 speaker system ($200). Although it's not exactly lightweight at four pounds, for its size and weight it pumps out deeper richer sound than any other portable iPod speaker system on the market. Four c-cell batteries power it on the go, and a sturdy, thick rubberized housing make it truly road-worthy. An included backpack rounds out the impressive package.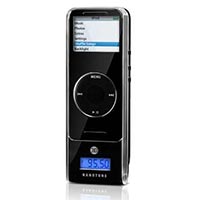 DLO's nanoTune
If you need to keep an eye on the weather, check out DLO's nanoTune ($69.99). The nanoTune turns your iPod nano into an FM radio, so you can check in on the news, weather, and sports while you bask in the sun. Not only does it pick up FM signals, it also acts as an FM transmitter so that you can listen to your iPod tracks in your car on your way to or from the ocean. In addition, it has a headphone amplifier to boost your speakers. Finally, it has a clear plastic cover to protect your iPod from sand and the elements. Users without a nano might want to check out " target="_blank">Apple's iPod Radio Remote ($49) which adds FM radio capabilities to any dockable iPod.
Nike + Featherweight Shorts
Apparel
iPod-oriented apparel is just about everywhere these days, and some of it is quite useful at the beach.
No shorts make better sense at the beach—for iPod nano owners at least—than Nike's Nike + Featherweight Shorts ($50). Though these shorts are designed for running, they make an excellent choice at the ocean or lake. The quick-drying fabric will be water-free within minutes of emerging from the surf. Even better, a small pocket designed for the iPod nano will keep track of your player so you don't have to during volleyball sessions or other activities.
iSoundCap
If you want to protect your noggin from the burning Sun, and store your iPod at the same time, check out the iSoundCap ($29.95). This baseball style cap will store your iPod nano or shuffle in the back of the hat. A pouch holds your headphone cable up above your head so it doesn't get tangled or dangle down.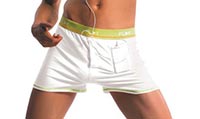 iBoxer
Finally, if you want to carry your iPod but your board shorts don't sport any pockets, Play Underwear's iBoxer ($22) makes for a novel way to store your iPod beneath your shorts. A small pocket in the boxers will stow an iPod or other MP3 player so you can rock out like Tom Cruise in Risky Business from just about anywhere. Just make sure to keep your pants on—we wouldn't want you getting in trouble, okay?