One of the challenges with an ever-growing collection of digital music in iTunes is making sure you've got the proper metadata captured for each song. Metadata, as Wikipedia explains, is data about other data. In the case of songs in iTunes music, it's information such as the artist, genre, album, year, and other details about a given song. If you buy your songs from the iTunes Music Store, most of these fields will be completed for you. But if you rip your own stuff, particularly if it's obscure and not in the Gracenote database that iTunes uses to match song info, you'll be entering a lot of your own metadata.
Not everyone is overly concerned with digital music metadata, but I do know some people who spend hundreds of hours making sure all their songs have complete data for nearly every field available. Personally, I only really care about a few fields—genre, artist, album, and year, primarily. Regardless of which metadata camp you fall in, here's a timesaver to help with the chore.
iTunes Smart Playlists have the ability to search on blank fields in most of its metadata fields. You just need to create a new Smart Playlist (Command-Option-N), set the first pop-up to the field you're interested in looking at, set the second pop-up to "is," and then make sure the final field is blank. For instance, here's what my "Blank Genre" smart playlist looks like: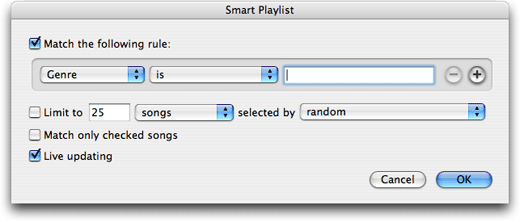 Make sure the Live udpating box is checked as well—this will insure that as you add new songs to your library, the smart playlist will update if its condition is met. If you now view this smart playlist in iTunes, you'll see a list of all your songs that have a blank Genre field. You can repeat the process for as many or as few of iTunes metadata fields as you like. As you edit songs to provide the missing information, they'll drop off the playlist (because you checked Live updating), making it really simple to see how many songs you have left to edit.