Take it from a traveler who's always forgetting to pack some sort of electronic paraphernalia — Apple should expand its retail efforts into airports.
I am in the midst of what my iCal travel calendar lists as The Never-Ending East Coast Road Trip, a 12-day mix of business and pleasure that is taking me to Baltimore, Northern Virginia, back to Baltimore, on to Boston, and finally to Knoxville, Tennessee, before I return to my ancestral homeland in California. As befits a trip that will keep me away from hearth and home for nearly two weeks, I am traveling with a backpack full of electronica—a brand-new MacBook Pro, its accompanying MagSafe power adapter, a cell phone and charger, an iPod mini and its charger, a Canon PowerShot S200 digital camera and its charger, and enough DVDs to keep me entertained on assorted plane and train rides up and down the Eastern Seaboard. As also befits a trip that I am taking, I have left behind a modestly important piece of equipment that it turns out I'm going to need after all—the cable that connects the aforementioned camera to the also aforementioned MacBook Pro.
Could have been worse—I've been known to forget to pack slightly more essential items like toothpaste and pants. So at least my fellow passengers aren't suffering.
The camera cable is modestly important because of the pleasure aspect of this business-and-pleasure road trip. I've already crammed the PowerShot's memory card with images of a Baltimore Orioles game, the Baltimore skyline, a wedding I went to this weekend, and various and sundry long-lost relatives. And while the camera will get a bit of a breather this week while I attend a spate of meetings in and around Boston, it figures to get pressed back into service this weekend when I head out to the Cal-Tennessee football game in Knoxville. So the dilemma I'm facing is this: I'm rapidly running out of room on my memory card, and I have miles to go before I stop taking pictures.
There's an easy enough solution for this problem of my own making—just buy another compact flash card (which I need anyhow) or a card reader. I'm sure that my friendly neighborhood Apple Store—or at least the Apple Store near whatever friendly neighborhood I happen to find myself in today—probably has such cards in stock. The trouble is, my daytime hours are pretty much spoken for during the next five days, making a sidetrip to an Apple Store a visit I am unlikely to make.
Where I am likely to be spending a lot of time in the next week, however, is at the airport. On Friday, when I'm at Logan Airport or when I'm cooling my heels at Hartsfield in between flights, it'd be great if there were an Apple Store wedged between the book sellers, Cinnabon outlets, and other airport-based retailers where I could buy what I needed.
So why isn't there one?
Surely I'm not the first traveller who's ever left an accessory or cable or other essential piece of equipment back at the ranch. And surely, more than one Mac-using road warrior, facing the prospect of a cross-country flight, has wished for a place where they could pick up an extra battery or download some electronic music. And, judging by the MacBooks, PowerBooks, iBooks, and iPods I've spotted on this trip, it seems like people are toting their electronic devices with them on their journeys. I'm no retail expert, but that seems like an untapped market to me.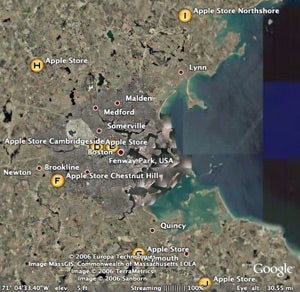 So many Boston-area Apple stores… so little time.
Apple has done an excellent job expanding the reach of its brick-and-mortar stores since the first ones opened up in Glendale, Calif., and Tysons Corner, Va., in 2002. In particular, the company has enjoyed some measure of success opening up a series of stores in and around major population centers—I count some half-a-dozen stores in the Boston area alone. What it hasn't done is introduce compact outposts in airports that serve those major cities. But it could do that very easily, in a manner that fits with the company's approach to retail.
The Apple Stores come in a variety of shapes and sizes. On one end of the spectrum are the flagships stores—the multi-story outlets like the one on Market Street in San Francisco or in New York's SoHo district. The company also offers mid-size stores that enjoy prominent placement in high-profile malls and shopping areas—the Apple Store in Santa Monica's Third Street Promenade comes to mind. And finally, Apple runs smaller stores in smaller malls. It seems like a slimmed-down retail post—one that doesn't sell Mac desktops and laptops necessarily, but instead focuses on accessories, iPods, and some software—would fill in the other end of the spectrum. Throw in services like a kiosk for downloading tunes from the iTunes Music Store or charging stations for power-depleted laptops, and you've got an airport-based store where most Mac users on the go would be happy to spend time (and dollars).
(We are, of course, ignoring the 800-pound elephant in the room, which is Apple's phenomenally successful iPod and the dozens upon dozens of accessories that are available for the music player. Apple could probably stock an airport store with nothing more than headphones, battery boosters, and other add-ons that would delight iPod-toting travelers —a pretty large group by this point, I'm guessing, and make the proverbial killing.)
So there's certainly a place for such a store in a major airport, and Apple clearly has the resources to open such a place. Will it? I have no idea. But if the company does, I'll be first in line to buy that memory card.