Many new Macs ship with Front Row, Apple's full-screen interface for playing DVDs, videos, photos, and music. If you're using Front Row to view movies that you've saved to your Mac, you've probably run into an annoying limitation: the Movies menu, in the Videos section of Front Row, only shows you the contents of your Movies folder. If you've got movies stored elsewhere on your machine, you're out of luck—there's no apparent way to watch them.
There's a relatively simple solution to this problem, though. Front Row understands Finder aliases, which means you can add any folders you wish to Front Row's Movies menu. Let's say you have a folder called My Flicks in your Documents folder where you store your personal movies. To make this folder usable in Front Row, open two Finder windows—one showing your user's Movies folder, and the other showing your Documents folder, with the My Flicks folder visible. Now press and hold Command and Option, and drag the My Flicks folder into the Movies folder. Holding the Command and Option keys down before you start dragging tells the Finder to make an alias in the destination, instead of moving or copying the folder. (The long method is to select the My Flicks folder, press Command-L to make an alias to it, and then drag the alias to the Movies folder.)
Now launch Front Row, and you'll see the My Flicks folder at the end of the list of any movies in the Movies folder. Repeat this process for any other movie folders you want to use within Front Row.
But what if you're the sort who keeps movies scattered all over your hard drive? You might not want to add 20 folders to the movie listing, in the interest of minimizing menu clutter. So here's how to add every hard drive in your machine to Front Row's movie list, while adding but one entry. In the Finder, press Shift-Command-G (Go -> Go to Folder), and then type /Volumes and press Return. This normally-hidden folder keeps an alias to every hard drive in your machine (along with mounted CDs, DVDs, and network drives). If you drag an alias of the Volumes folder into the Movies folder, you'll have a fully-navigable menu system encompassing your entire system.
To create the alias in Column view mode, press Command and Option and drag the Volumes folder into your Movies folder to create the alias. In List or Icon view, you'll have to use the "proxy" icon at the top of the Finder window—hold down Command and Option, then click and drag the word Volumes out of the top of the Finder window and into the Movies folder.
You can see my Volumes folder at the bottom of this screenshot: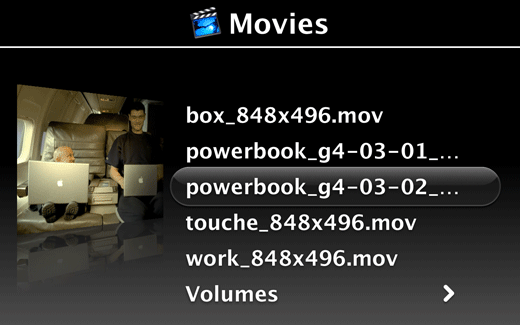 The small arrow at the right indicates you can drill down into this folder, and then into each drive shown within that folder. You'll even see networked drives, though I don't recommend opening a large movie file sitting on a network server! Thanks to aliases, you can greatly extend Front Row's movie playing powers.