At a Glance
Expert's Rating
Pros
Warm sound with good bass response
Switchable iPod/auxiliary-input modes
Video output
Cons
Audible hiss when no music is playing
No way to tell if system is on or off
Remote required to turn system on/off
Dock inserts not included for all older iPods
Slight distortion at louder volumes
Our Verdict
When Bose released its SoundDock back in 2004, it represented several firsts: the first iPod-dedicated home speaker system, the first iPod speaker system to use an all-in-one "desktop/tabletop" design, and the first iPod speaker system at a price point—$300—approaching decent home stereo components. Despite that high price, the SoundDock quickly became—and remains to this day—one of the hottest-selling iPod accessories, thanks to a combination of unique design, good sound for its size, and a well-known brand name.
Considering the SoundDock's success, we've been continually surprised—as we noted earlier this year in our review of Cyber Acoustics' iRhythms A-302/3 —by how few similar products have hit the market. In fact, it took Apple itself to mount the first serious challenge to the SoundDock with the company's $349 iPod Hi-Fi. The good news is that other iPod accessory vendors are finally catching on, as we've recently seen a number of new desktop speaker systems—all-in-one, AC-powered units small enough to fit on a desk, counter, or table, but that provide enough output to fill a small room. We take a look at four of those systems today: Altec Lansing's $200 M602 , JBL's $300 Radial , Klipsch's $250 iGroove HG , and Sonic Impact's $199 T24 Made for iPod Shelf System .
The advantages of desktop speakers over larger systems are obvious: the former take up much less space and are compact enough to let you move them from room to room, if desired. But they also have benefits over true portable systems (those powered by batteries and small enough to fit in a suitcase or backpack): a desktop system's larger enclosure and speaker drivers, combined with AC power and a more powerful amplifier, generally result in bigger, fuller sound when compared to a portable system. In other words, for many iPod owners, a desktop system represents a good compromise between size and sound quality. These four systems offer new alternatives for those looking for a desktop system, but how do they sound, and how do they stack up against each other—and against the SoundDock?
Altec Lansing M602
Altec Lansing's $200 M602 (

) is the company's first home speaker system—one powered only via AC power—designed specifically for the iPod. However, instead of the white or black designs used by most iPod speaker vendors, Altec Lansing has gone with a more neutral silver with white trim: The 14-inch (wide) by 8.2-inch (high) by 5.4-inch (deep) system comprises a 14-inch by 6.5-inch speaker section, only a few inches deep, on top of an integrated stand; I found that the top-heavy design makes it easy to tip the system over if you accidentally bump it. The stand hosts an iPod dock cradle that uses Apple's Universal design. Unfortunately, unlike most iPod speaker systems, Altec Lansing doesn't include dock inserts for older iPods; you'll need to purchase them separately. (Apple sells adapters for each iPod model; a three-pack costs $9.) Your iPod is charged when in the dock, even when the system is turned off.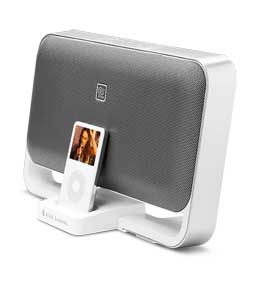 Behind the M602's metal silver grill—which, oddly, attracts fingerprints in a way no other metal grills we've seen do—sit four speaker drivers: left and right 3-inch "full-range" drivers and left and right 1-inch tweeters. Also behind the grill is a series of five blue LEDs that indicate volume, bass, or treble level, depending on the current mode. Along the top edge of the M602 are buttons for power, volume up and down, bass, and treble. Pressing the bass or treble button lets you adjust that level using the volume up/down buttons. Turning the system power off also puts your iPod to sleep; turning the M602 on wakes up your iPod (although you'll need to manually resume playback).
The rear of the M602 provides a number of connection options: a headphone jack for private listening (although this jack would have been easier to use if located on the front); an auxiliary-input jack for connecting an older iPod, iPod shuffle, or non-iPod audio source (a minijack-to-minijack cable is included, and audio is mixed with your iPod's audio); a composite-video connector for displaying photos and video from your iPod on your TV (cable not included); and a mini-USB port for connecting the M602 to your computer to sync your iPod with iTunes (cable not included).
The M602 also includes two unique features not found in most speaker systems. First, the back of the unit includes three mounting-plate screw holes. Using an optional-but-free kit (you pay just $3 for shipping), you can actually mount the M602 on a wall; the unit's AC power cord and auxiliary audio cable even have L-shaped plugs for low-profile connections. (Unfortunately, the AC adapter and cable are black instead of a matching white or gray.) The second feature is a useful "dock" platform, which clips onto the iPod dock and provides a secure cradle and backrest for non-dockable players; you use the included audio cable to connect the player to the M602's audio-input jack.
The M602's remote is identical to the one included with the company's inMotion iM7: a thin, narrow design with Power, Volume Down, Volume Up, Back, Forward, Play/Pause, Bass, and Treble buttons. However, in my testing the M602 remote's range was much better, and its off-axis response much improved, compared to those of the iM7's. However, as an infrared remote, it still requires line-of-sight access to the M602.
Out of the box, with the M602's tone controls set to flat (the default levels), the system offers sound quality that's actually quite similar to that of Bose's SoundDock. You get good midrange, with just slightly worse treble response. Soundstage and imaging are about what you'd expected from a typical one-piece system: decent but not great. The maximum volume level is quite loud, although I heard a bit of distortion at the highest levels; this distortion gets worse if you use the Bass control to increase bass levels. In fact, because of the M602's thin speaker enclosure—as mentioned above, you can actually hang the system on a wall—bass extension isn't as good as that of the SoundDock or other similarly-sized systems: bass response begins to roll off below 125Hz, with a significant decline in bass levels by 80Hz. Overall, the M602's "stock" sound is good but not as clear as that of the SoundDock, iGroove HG, or Radial; on the other hand, the inclusion of Treble and Bass controls means you can customize the sound in ways that the other systems here don't allow, although I wasn't able to equal the sound quality of the iGroove HG or Radial using the M602's tone controls.
JBL Radial
JBL's $300 Radial (

; available in glossy black or white ) is easily the most unique-looking system of the bunch, with a circular shape reminiscent of the company's earlier On Time iPod alarm clock—except that the Radial produces much better audio, as I'll get to in a bit. The 12-inch wide by 10-inch high unit's circular silver grill surrounds a large Universal iPod dock that charges your iPod, even when the system is turned off. Like the M602, JBL doesn't include dock adapters for older iPods; you'll have to buy your own if needed. However, the company does address one minor issue with black iPod accessories: the black Radial includes a sheet of black "masking films"—basically, glossy-black stickers—for Apple's white dock adapters so they don't stand out from the rest of the system like a sore thumb. Like the On Time alarm clock, the Radial's dock area is illuminated by a blue light shining down from the top of the circle; however, the Radial's light appears to be dimmer, which is, in my opinion, a good thing.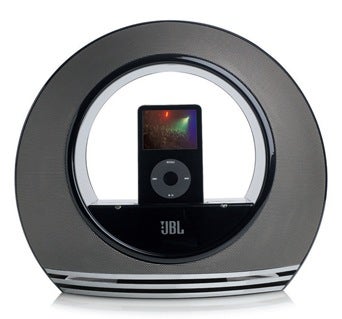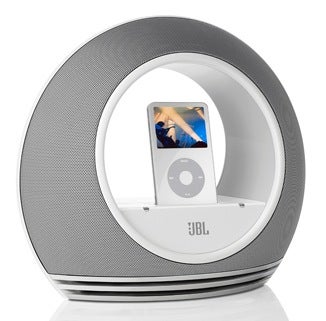 Behind the Radial's grill are four "full-range" drivers—approximately 1.5 to 2 inches in diameter—powered by a 15-Watt-per-channel amplifier. In addition, a single larger driver—approximately 3.5 inches in diameter and designed to produce lower frequencies—is hidden in the bottom of the system and powered by its own 30-Watt amp. The only controls on the Radial itself are two small, silver Volume buttons, Down and Up, just in front of the iPod dock and an on/off toggle switch on the back. As with other JBL speaker systems, pressing the Volume Down and Up buttons simultaneously—on the main unit or on the remote—mutes/unmutes the volume. As for the power switch, you're unlikely to use it, as the system's remote lets you put both the Radial and your iPod to sleep by pressing and holding the Play/Pause button. (And turning the system's power off using this rear switch doesn't pause or sleep your iPod; your iPod continues to play until you pause it or put it to sleep using the remote or the iPod's Click Wheel.)
The rear of the Radial provides a stereo auxiliary-input jack (a minijack-to-minijack cable is included, and audio is mixed with your iPod's audio); an S-video output for viewing photos or movies on your TV (cable not included); a USB-B port for connecting the system to your computer to sync your iPod with iTunes (cable included); and the AC-power-adapter jack. It's worth noting that if we plugged the AC-adapter plug into the Radial after plugging the adapter into an AC outlet, there was a visible spark. The system worked fine, but the spark was a bit disconcerting.
Despite the attractive design of the Radial, and its good sound quality (covered below), the Radial's remote is one of its most impressive features. First off, it's a radio-frequency (RF) unit, which means it works without line-of-sight access and provides longer range than most IR remotes: I was able to control the Radial from up to 20 feet away, even through a wall. And rubber "bumpers" on the bottom of the remote keep it from sliding around a desk or table. But the remote's most unique capability is that its six buttons serve two purposes: In standard mode, they function as Volume Down, Volume Up, Back, Forward, and Play/Pause. But a press of the sixth button (which, confusingly, looks like a standard Stop button) switches the remote to "iPod mode," and the functions of those same buttons become Menu, Select, Click Wheel Scroll Up, Click Wheel Scroll Down, and Play/Pause, respectively. In other words, you can use the Radial's remote to navigate your iPod's menu system from across the room. (Realistically, up to five or ten feet away, but it's also a useful feature up close—it can be a hassle to use the Click Wheel when your iPod is sitting in a dock.) To keep track of which mode you're in, the remote features a small light that flashes orange when in iPod-control mode and blue when in standard ("Music") mode—both when you switch to the respective mode and whenever you press a button in that mode. JBL also includes a handy sticker you can place on the back of the remote that describes the function of each key in each mode. I found the Radial remote to be easy to use; it had me wishing all iPod speaker systems offered this iPod-control functionality. The only confusing aspect of the remote's design is that in certain situations its "scrolling" direction is the opposite that of the iPod's Click Wheel. For example, if you use the Select button to get to the track rating screen, the left arrow actually increases the track rating, rather than the right arrow.
The Radial's sound quality is easily the best of any of the desktop/tabletop speaker systems we've tested. Detail and midrange are both excellent (although the treble can be a tad bright at times; the Radial isn't quite as warm-sounding as the iGroove or T24). And like JBL's diminutive, donut-shaped On Stage systems, which offer much better stereo separation than you'd expect, the Radial offers very good imaging and soundstage for its size. You don't get anything close to the kind of stereo separation you'd get with separate left and right speakers—such as those found in Monitor's i-deck —but most people will be more than satisfied by the spaciousness of the Radial's sound, especially considering the amount of space it takes up on a table or desk. And unlike the other speaker systems here, the Radial's sound quality doesn't degrade dramatically if you aren't sitting directly in front of it. The system also plays quite loud—not quite as loud as the iGroove, but it will easily fill a decent-sized room. More important, the Radial sounds good at the loudest volumes, with no significant distortion. But the most surprising aspect to the Radial's sound is that it has the lowest bass extension of all the speakers here: Bass response doesn't start to roll off significantly until around 80 to 90 Hz, and even 50Hz test tones were audible (though much quieter than higher frequencies). Given the Radial's size, this is a truly stellar-sounding system.
Klipsch iGroove HG
Klipsch's $250 iGroove HG (

) is actually an updated, gloss-black version of the company's older silver/gray iGroove. The 16-inch (wide) by 5.5-inch (high) by 6.5-inch (deep) unit looks larger than it actually is thanks to a "shell" design that leans the curved front face of the iGroove back at an angle. In the middle is one of the more unique iPod dock cradles we've seen: The back of the cradle features a sliding, padded "backrest" (as the company calls it); since the rear of the cradle is angled backwards, like the iGroove's face, moving the backrest up results in a deeper cradle for thicker iPods, whereas moving it down gives you a shallower cradle for thinner iPods. This design is much more convenient than dock-cradle inserts, especially if you want to use your speakers with multiple iPods. However, mini and nano iPods are too thin for even the shallowest setting, so Klipsch includes iGroove-specific nano and mini adapters. When in the iGroove, your dockable iPod is charged, even when the system is turned off.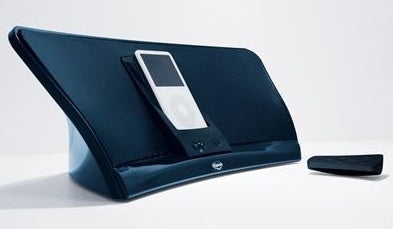 Like the M602, the iGroove accommodates non-dockable iPods, iPod shuffles, and other portable players using a cradle adapter; however, the iGroove's adapter is much nicer. It actually fits into the dock cradle, like an iPod; a 1/8-inch stereo miniplug on the bottom of the adapter slides into a minijack hidden in the bottom of the dock cradle. You place your player in the cradle, which has a rubber-padded back to keep the player in place, and a short cable with a miniplug connects to your player's headphone jack or line-level-output minijack. The adapter is large enough, and sturdy enough, to accommodate a Sony PSP.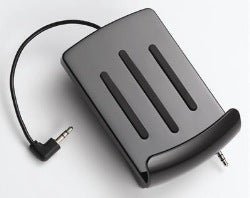 Behind the iGroove HG's expansive black-metal grill are four drivers: left and right 2.5-inch "woofers" and left and right 1-inch tweeters. The latter are Klipsch's proprietary MicroTractrix horns, making the iGroove the only iPod speaker system to use horn technology instead of traditional speaker drivers. The only controls on the iGroove are small buttons for Volume Up and Down and Power On/Off; turning the unit off also puts your iPod to sleep. One odd volume-related issue I experienced is that each time you turn the iGroove off or remove your dockable iPod from the dock cradle, the iGroove's volume is reset to a default level—one that's a bit too loud in a small room or on a desk.
Unlike the other speaker systems covered here, the iGroove has no other connections; only a jack on the rear for connecting the AC adapter. However, you do get an integrated "notch" handle on the back of the iGroove for carrying it from room to room.
The iGroove HG's remove provides the fewest functions of any included remote here: Play/Pause, Volume Up, Volume Down, Back, Forward and Power On/Off. However, the remote is laid out well, with the buttons oriented logically. (I point this out because I've been critical of Klipsch's iPod-speaker remotes in the past.) The iGroove's remote uses IR technology, rather than RF, so its range is limited to line of sight; I was able to control the iGroove from 10 to 15 feet away.
The iGroove HG's sound quality is impressive—only the Radial bests it among the desktop/tabletop systems we've tested. Treble and midrange are both good, with solid bass extension down to around 90Hz to 100Hz. Soundstage and imaging are also good for a one-piece system, slightly better than those of the T24 and M602, but not quite as good as the Radial. The iGroove HG is also the loudest of the systems covered here—and louder than Bose's SoundDock—but did exhibit slight distortion at the highest volume levels. Overall, the iGroove HG offers good, rich sound for a system this size along with good detail—it sounds very similar to the SoundDock but with better midrange. The only significant audio issues I experienced were related to noise. Our sample of the original iGroove last year had a problem with low-level background hiss; the HG improves on the original significantly, but I occasionally still heard a slight hiss when no music was playing. In addition, when playing some bass-heavy tracks at loud (but not full-blast) levels, the iGroove HG's front grill actually vibrated, producing a slight rattling noise.
Sonic Impact T24 Made for iPod Shelf System
Compared to Altec Lansing, JBL, and Klipsch, Sonic Impact is a relative newcomer to iPod speakers. However, we were impressed by the company's first efforts, the i-Fusion and i-Pax portable systems; the $199 T24 Made for iPod Shelf System (

) is the company's first foray into desktop/tabletop speakers. The gloss-black, 13.8-inch (wide) by 6.8-inch (high) by 6-inch (deep) T24 is the most basic of the four systems here—and the most like the SoundDock—in terms of aesthetic design. A rectangular, gray-metal grill on the front hides the system's left and right 3-inch drivers. In the middle is a recessed Universal iPod dock that charges your iPod while docked, even when the T24 is turned off. Sonic Impact includes Universal dock adapters 2, 3, and 5, which together officially accommodate 30GB and 40GB third-generation iPods, iPod minis, and 40GB fourth-generation iPods, respectively, although some other iPods also fit. Unfortunately, if your iPod requires a different dock adapter, you'll have to use the one included with your iPod or buy one from Apple—and those adapters will be bright white instead of gloss black.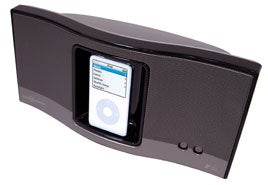 The only controls on the T24 itself are Volume Down and Up buttons on the front of the system. The rear of the unit is similarly sparse, hosting just a composite-video output for viewing photos and video on your TV (cable not included); a stereo-minijack auxiliary input for connecting a second audio source (6-inch cable included); and a jack for connecting the AC adapter. Unlike most iPod speaker systems, which either mix iPod and auxiliary audio or mute iPod audio when a second audio source is connected, the T24 lets you switch between the two via the system's remote. Turning the system off—which can be done only from the remote—also puts your iPod to sleep. Unfortunately, there's no power indicator on the T24, which makes it difficult to tell whether or not the system is turned on—an issue if your iPod goes to sleep on its own, as you're left trying to figure out if you need to turn the T24 on and then resume playback, or just press play. As an aside, although the T24's manual claims that the system will reset to a volume level of 30 percent whenever you turn the system off and then back on, in my testing it remembered the previous volume, which I consider to be preferable behavior.
The T24's credit-card sized remote offers good functionality: Play/Pause, Back, Forward, Toggle Repeat, Volume Up and Down, Mute, and Power, as well as the aforementioned buttons for switching between iPod and auxiliary-input modes. However, as an IR remote, it's limited to line-of-sight; overall, the remote's range was good and its off-axis performance was decent.
The T24 offers good sound quality with its main flaw being poor treble response. The result is a full, warm sound—midrange is good, if a bit pronounced—but without much detail compared to the other systems. Those who prefer a warm presentation may actually prefer the T24, but those looking for clear treble will want to look elsewhere. The T24's 15-watt-per-channel, Class T amplifier and relatively large enclosure provides good bass response that extends fairly smoothly to around 100Hz and is still fairly solid down to around 80Hz. The system's soundstage and imaging are both decent for a one-piece system, although not as good as that of the iGroove HG or Radial. The T24 can play about as loud as the SoundDock—enough to fill a room—although at the loudest volumes I did get a bit of distortion. Unfortunately, like a number of other iPod speaker systems we've tested, the T24 exhibited a noticeable amount of hiss when no music was playing.
The lowdown
As I was testing these systems, two things became clear. First, the SoundDock is no longer the king of the desktop/tabletop speaker market. Granted, it may continue to be the top seller, but it's been surpassed by other products in terms of features and sound quality. All of the systems covered here offer more functionality than the SoundDock, including one or several additional features—for example, computer syncing, video output, and support for non-dockable iPods and other audio sources. And Klipsch's iGroove HG and JBL's Radial offer better sound quality—in the case of the Radial, significantly better. The second development is that the SoundDock finally has some serious competition in terms of performance for the price. All of these systems except the Radial are available for significantly less money than the SoundDock, and the two lowest-priced systems, Sonic Impact's T24 and Altec Lansing's M602, provide sound quality that's likely to satisfy many people—and include more features—for $100 less. This may not be the best news for Bose, but it's good news for iPod owners, who have a growing list of quality choices for compact speaker systems.
On the other hand, if you're in the market for iPod speakers, it's worth nothing that desktop speaker systems are still limited by their size and one-piece design. You can get better sound quality from similarly-sized three-piece systems such as Monitor's $250 i-deck, or "bigger" and better sound from a subwoofer/satellite system such as Jamo's $400 i300. In fact, Altec Lansing's own $250 inMotion iM7, a bulky but portable system, provides sound quality that surpasses the M602 and competes well with the Radial, especially in terms of volume and bass response. But if you're looking for an attractive, compact system to stick on a table, desk, or countertop, a desktop system is tough to beat.