At a Glance
Expert's Rating
Pros
Warm sound with good bass response
Switchable iPod/auxiliary-input modes
Video output
Cons
Audible hiss when no music is playing
No way to tell if system is on or off
Remote required to turn system on/off
Dock inserts not included for all older iPods
Slight distortion at louder volumes
Our Verdict
When Bose released its SoundDock back in 2004, it represented several firsts: the first iPod-dedicated home speaker system, the first iPod speaker system to use an all-in-one "desktop/tabletop" design, and the first iPod speaker system at a price point—$300—approaching decent home stereo components. Despite that high price, the SoundDock quickly became—and remains to this day—one of the hottest-selling iPod accessories, thanks to a combination of unique design, good sound for its size, and a well-known brand name.
Considering the SoundDock's success, we've been continually surprised—as we noted earlier this year in our review of Cyber Acoustics' iRhythms A-302/3 —by how few similar products have hit the market. In fact, it took Apple itself to mount the first serious challenge to the SoundDock with the company's $349 iPod Hi-Fi. The good news is that other iPod accessory vendors are finally catching on, as we've recently seen a number of new desktop speaker systems—all-in-one, AC-powered units small enough to fit on a desk, counter, or table, but that provide enough output to fill a small room. We take a look at four of those systems today: Altec Lansing's $200 M602 , JBL's $300 Radial , Klipsch's $250 iGroove HG , and Sonic Impact's $199 T24 Made for iPod Shelf System .
The advantages of desktop speakers over larger systems are obvious: the former take up much less space and are compact enough to let you move them from room to room, if desired. But they also have benefits over true portable systems (those powered by batteries and small enough to fit in a suitcase or backpack): a desktop system's larger enclosure and speaker drivers, combined with AC power and a more powerful amplifier, generally result in bigger, fuller sound when compared to a portable system. In other words, for many iPod owners, a desktop system represents a good compromise between size and sound quality. These four systems offer new alternatives for those looking for a desktop system, but how do they sound, and how do they stack up against each other—and against the SoundDock?
Altec Lansing M602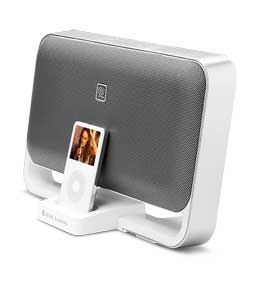 Behind the M602's metal silver grill—which, oddly, attracts fingerprints in a way no other metal grills we've seen do—sit four speaker drivers: left and right 3-inch "full-range" drivers and left and right 1-inch tweeters. Also behind the grill is a series of five blue LEDs that indicate volume, bass, or treble level, depending on the current mode. Along the top edge of the M602 are buttons for power, volume up and down, bass, and treble. Pressing the bass or treble button lets you adjust that level using the volume up/down buttons. Turning the system power off also puts your iPod to sleep; turning the M602 on wakes up your iPod (although you'll need to manually resume playback).
The rear of the M602 provides a number of connection options: a headphone jack for private listening (although this jack would have been easier to use if located on the front); an auxiliary-input jack for connecting an older iPod, iPod shuffle, or non-iPod audio source (a minijack-to-minijack cable is included, and audio is mixed with your iPod's audio); a composite-video connector for displaying photos and video from your iPod on your TV (cable not included); and a mini-USB port for connecting the M602 to your computer to sync your iPod with iTunes (cable not included).
The M602 also includes two unique features not found in most speaker systems. First, the back of the unit includes three mounting-plate screw holes. Using an optional-but-free kit (you pay just $3 for shipping), you can actually mount the M602 on a wall; the unit's AC power cord and auxiliary audio cable even have L-shaped plugs for low-profile connections. (Unfortunately, the AC adapter and cable are black instead of a matching white or gray.) The second feature is a useful "dock" platform, which clips onto the iPod dock and provides a secure cradle and backrest for non-dockable players; you use the included audio cable to connect the player to the M602's audio-input jack.
The M602's remote is identical to the one included with the company's inMotion iM7: a thin, narrow design with Power, Volume Down, Volume Up, Back, Forward, Play/Pause, Bass, and Treble buttons. However, in my testing the M602 remote's range was much better, and its off-axis response much improved, compared to those of the iM7's. However, as an infrared remote, it still requires line-of-sight access to the M602.
Out of the box, with the M602's tone controls set to flat (the default levels), the system offers sound quality that's actually quite similar to that of Bose's SoundDock. You get good midrange, with just slightly worse treble response. Soundstage and imaging are about what you'd expected from a typical one-piece system: decent but not great. The maximum volume level is quite loud, although I heard a bit of distortion at the highest levels; this distortion gets worse if you use the Bass control to increase bass levels. In fact, because of the M602's thin speaker enclosure—as mentioned above, you can actually hang the system on a wall—bass extension isn't as good as that of the SoundDock or other similarly-sized systems: bass response begins to roll off below 125Hz, with a significant decline in bass levels by 80Hz. Overall, the M602's "stock" sound is good but not as clear as that of the SoundDock, iGroove HG, or Radial; on the other hand, the inclusion of Treble and Bass controls means you can customize the sound in ways that the other systems here don't allow, although I wasn't able to equal the sound quality of the iGroove HG or Radial using the M602's tone controls.
JBL Radial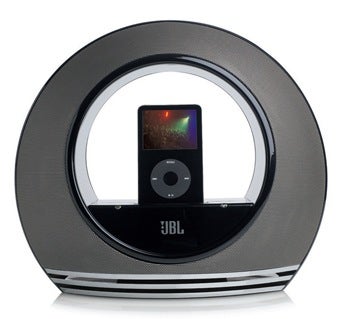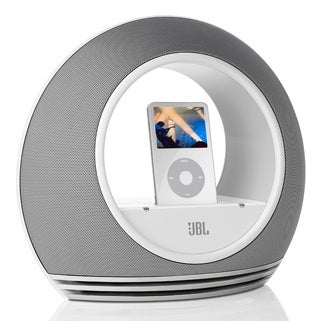 Behind the Radial's grill are four "full-range" drivers—approximately 1.5 to 2 inches in diameter—powered by a 15-Watt-per-channel amplifier. In addition, a single larger driver—approximately 3.5 inches in diameter and designed to produce lower frequencies—is hidden in the bottom of the system and powered by its own 30-Watt amp. The only controls on the Radial itself are two small, silver Volume buttons, Down and Up, just in front of the iPod dock and an on/off toggle switch on the back. As with other JBL speaker systems, pressing the Volume Down and Up buttons simultaneously—on the main unit or on the remote—mutes/unmutes the volume. As for the power switch, you're unlikely to use it, as the system's remote lets you put both the Radial and your iPod to sleep by pressing and holding the Play/Pause button. (And turning the system's power off using this rear switch doesn't pause or sleep your iPod; your iPod continues to play until you pause it or put it to sleep using the remote or the iPod's Click Wheel.)
The rear of the Radial provides a stereo auxiliary-input jack (a minijack-to-minijack cable is included, and audio is mixed with your iPod's audio); an S-video output for viewing photos or movies on your TV (cable not included); a USB-B port for connecting the system to your computer to sync your iPod with iTunes (cable included); and the AC-power-adapter jack. It's worth noting that if we plugged the AC-adapter plug into the Radial after plugging the adapter into an AC outlet, there was a visible spark. The system worked fine, but the spark was a bit disconcerting.
Despite the attractive design of the Radial, and its good sound quality (covered below), the Radial's remote is one of its most impressive features. First off, it's a radio-frequency (RF) unit, which means it works without line-of-sight access and provides longer range than most IR remotes: I was able to control the Radial from up to 20 feet away, even through a wall. And rubber "bumpers" on the bottom of the remote keep it from sliding around a desk or table. But the remote's most unique capability is that its six buttons serve two purposes: In standard mode, they function as Volume Down, Volume Up, Back, Forward, and Play/Pause. But a press of the sixth button (which, confusingly, looks like a standard Stop button) switches the remote to "iPod mode," and the functions of those same buttons become Menu, Select, Click Wheel Scroll Up, Click Wheel Scroll Down, and Play/Pause, respectively. In other words, you can use the Radial's remote to navigate your iPod's menu system from across the room. (Realistically, up to five or ten feet away, but it's also a useful feature up close—it can be a hassle to use the Click Wheel when your iPod is sitting in a dock.) To keep track of which mode you're in, the remote features a small light that flashes orange when in iPod-control mode and blue when in standard ("Music") mode—both when you switch to the respective mode and whenever you press a button in that mode. JBL also includes a handy sticker you can place on the back of the remote that describes the function of each key in each mode. I found the Radial remote to be easy to use; it had me wishing all iPod speaker systems offered this iPod-control functionality. The only confusing aspect of the remote's design is that in certain situations its "scrolling" direction is the opposite that of the iPod's Click Wheel. For example, if you use the Select button to get to the track rating screen, the left arrow actually increases the track rating, rather than the right arrow.
The Radial's sound quality is easily the best of any of the desktop/tabletop speaker systems we've tested. Detail and midrange are both excellent (although the treble can be a tad bright at times; the Radial isn't quite as warm-sounding as the iGroove or T24). And like JBL's diminutive, donut-shaped On Stage systems, which offer much better stereo separation than you'd expect, the Radial offers very good imaging and soundstage for its size. You don't get anything close to the kind of stereo separation you'd get with separate left and right speakers—such as those found in Monitor's i-deck —but most people will be more than satisfied by the spaciousness of the Radial's sound, especially considering the amount of space it takes up on a table or desk. And unlike the other speaker systems here, the Radial's sound quality doesn't degrade dramatically if you aren't sitting directly in front of it. The system also plays quite loud—not quite as loud as the iGroove, but it will easily fill a decent-sized room. More important, the Radial sounds good at the loudest volumes, with no significant distortion. But the most surprising aspect to the Radial's sound is that it has the lowest bass extension of all the speakers here: Bass response doesn't start to roll off significantly until around 80 to 90 Hz, and even 50Hz test tones were audible (though much quieter than higher frequencies). Given the Radial's size, this is a truly stellar-sounding system.
Note: When you purchase something after clicking links in our articles, we may earn a small commission. Read our affiliate link policy for more details.