Macworld's live coverage of Apple's "It's Showtime!" event has concluded. Please visit our News page for more details about Tuesday's announcements.
Steve Jobs opened Tuesday's "It's Showtime!" special event with a round of applause from the audience, after showing the new Bob Dylan iTunes ad that's been in circulation on television in recent days.
Jobs noted that Apple shipped over 60 million iPods in total by the end of the last quarter, and joking showed an iPod toilet paper holder to demonstrate the widespread adoption of iPod accessories.
Jobs praised advances like iPod connectivity options in automobiles — 70 percent of 2007 model year cars sold in the United States will have some kind of connectivity, he said. And Apple and Nike have sold 450,000 Nike+iPod Sport Kits in less than 90 days since their introduction. The kits provide connectivity between the iPod nano and Nike running shoes.
Later Jobs remarked that iTunes has a market share of 88 percent of legal US downloads.
The iPod video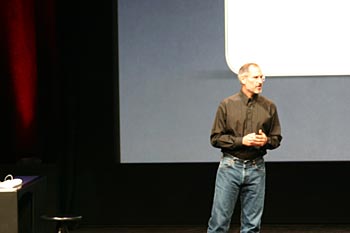 Steve Jobs at Tuesday's 'Showtime' event in San Francisco.
Without further ado, Jobs introduced Apple's new and improved video-capable iPod, with a screen that's 60 percent brighter. Battery life has been increased from 2 hours while playing video to 3.5 hours, Jobs says.
Also new is a new earphone design that took Apple 18 months to develop, said Jobs. Superficially, they look similar to the old design — they're still white.
The new iPod provides gapless playback, according to Jobs, which works with MP3, AAC, Apple Lossless and uncompressed music files. New software features have been added such as instant searching that uses the wheel to input letters and does a live search of iPod content.
As has been speculated in recent months, Apple's been hard at work on new games for the iPod — while it still may not be a substitute for a Nintendo DS or Sony PSP, the new iPod can play versions of popular casual games including Bejeweled, Mahjong, mini-golf, Pac-Man, Tetris, Cubis, Texas Hold 'Em, Vortex and Zuma — all designed to work with the click wheel interface which has been retained. These games aren't included with the new iPod — they're for sale, for $4.99 each, from the iTunes Music Store.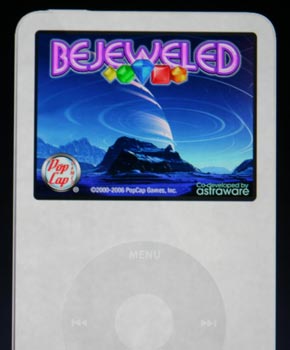 Bejeweled
Apple is offering two iPod video models: a 30GB and 80GB version, both in white and black. The 30GB model is available for $249, the 80GB model for $349 — less expensive that previous versions.
iPod nano, take 2
Jobs also unveiled the second generation of the slim iPod nano, Apple's color screen-equipped flash-based iPod that made its debut a year ago. "The iPod nano is the most popular MP3 player in the world," Jobs said.
Critics of the first iPod nano complained that the glossy front of the unit could be scratched too easily — Apple has addressed that problem by making it out of aluminum, much as it does its MacBook Pro laptops.
"And we're bringing back colors," said Jobs — harkening back to the iPod nano's predecessor, the venerable iPod mini. The iPod nano will be available in anodized blue, pink, green, silver and black.
The second-generation iPod nano also features a battery with better charge capacity than the first — up to 24 hours of play, versus 14 for the first-generation nano.
The iPod nano debuts in three different models — 2GB, 4GB and 8GB versions, priced at $149, $199 and $249.
What's more, the iPod nano ships in a smaller box than before — it's barely bigger than the nano itself. Apple has similarly shrunk accessories like the battery charger. And accessories will be available including an armband and lanyard headphones with the new earbud design. And it works with the much vaunted Nike+iPod Sport Kit.
iPod shuffle Rev 2
Also on stage today is the new iPod shuffle, a diminutive flash-based digital music player that's even smaller than before. While the first-generation shuffle resembled a pack of stick gum, the new iPod shuffle takes it styling cues from the Apple Remote.
"Wearability" was of key importance to first-generation iPod shuffle owners, said Jobs. So Apple designed the new iPod shuffle in an aluminum case with a built-in clip. The headphone jack is also where the device charges and connects to the computer. Apple bills the new shuffle as the world's smallest MP3 player.
Available for pre-order and shipping in October, the 1GB iPod shuffle will cost $79.
iTunes 7
Apple on Tuesday released iTunes 7, a new version of its popular music jukebox and online music download store. The new software has been organized into sections — separate libraries for music, movies, TV shows, podcast and radio.
A three-position switch alternates between different views, and a new view has been added called Album View, which puts album art and all tracks from the album so you can scroll by album now, if you wish.
What's more, iTunes will now populate your music collection with album cover art if the cover art is missing, and if you have an iTunes Store account.
"We may not have everything, but we have 3.5 million songs of album artwork," Jobs remarked. "If you've got an iTunes account, iTunes will automatically download it for free."
A third view is called Cover Flow View. It enables you to find songs more quickly by album cover — it's a window that shows a 3D representation of album covers above your music list.
Improvements to video
"We announced TV shows less than a year ago," Jobs said. "Since then over 45 million TV shows have been downloaded."
The redubbed iTunes Store (Apple has dropped "Music" from the title to signify the service's growing library of video content and games) has expanded from five shows to more than 220 and from one network to more than 40, including ever major network, said Jobs.
Shows downloaded from the iTunes Store are encoded at 320 x 240 pixel resolution. "Today we are taking [resolution] up a notch," said Jobs. "We are going to increase that resolution four times, and all video will be at 640 x 480."
iTunes 7 features gapless playback, of course, and also lets users manage the iPod from right inside of iTunes — no more having to fiddle with iTunes' preferences to get your iPod configured. iTunes can search for music library for albums that are meant to be played in gapless fashion, and sets them to work that way.
A frequent complaint of iPod users is that the iPod only synchronizes content on one computer at a time, even if both computers are authorized with the iTunes Store. Now you can take your iPod, sync it with a computer, move it to a different authorized computer, and content will "flow back" to the new computer, so you can transfer purchased music between authorized computers using an iPod.
iTunes 7 also shows the games you've downloaded from the iTunes Store in your library, so you can see instructions and other information.
iTunes 7 is available today
One more thing … movies
"But there is one more thing," said Jobs. "And that is movies. Today I want to talk about adding movies to the iTunes Store and the whole iTunes-iPod experience. Today we're starting out with films from Disney, Pixar, Touchstone and Miramax — four studios owned by Walt Disney Co."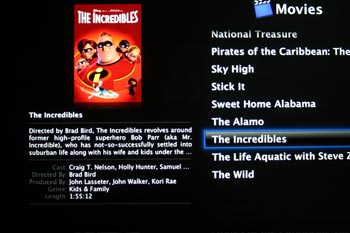 Movie service from the iTunes Music Store.
The service launches with more than 75 films online, starting today. Apple is adding more, including Pirates of the Caribbean 2 and Cars. New releases are priced at $12.99 for pre-orders and during their first week of release, the same time they're available for purchase on DVD. After that they increase to $14.99, though older "library titles" will be priced at $9.99 every day.
Movies available for download from the iTunes Store are shown at 640 x 480 resolution in "near-DVD quality," according to Jobs. Jobs said that if you have 5 Megabit per second broadband service — not uncommon for cable modem users — you can expect to download a full-length movie in roughly a half an hour. What's more, you can start watching the movie in as little as a minute, while it's still downloading.
To ease that process, iTunes now has a Download Manager that lets you watch items you're downloading from the store, and you can switch priorities if you're downloading multiple files.
Jobs described the audio quality as "Dolby Surround." Usage rights for movies purchased and downloaded from the iTunes Store are the same as the TV shows — so you can't burn them to disc, though you can share them among multiple authorized computers and video iPods. And parental controls have been updated with MPAA ratings.
Of course, there's more to Disney than just kids' movies. The back catalog of movie titles the iTunes Store will sell include Shakespeare In Love, Good Will Hunting, The English Patient, Enemy of the State, The insider, National Treasure and O Brother Where Art Thou.
"We hope to take this international in 2007," added Jobs.
Jobs then introduced Disney President and CEO Bob Iger. He called Disney and Apple's first partnership to bring TV shows to the iTunes Store last year "a breakthrough," and added that "the marriage of great content and great technology — and of great user interface — is truly a killer application."
"We knew we were in business with a great partner, and we know the consumer has spoken because the success of TV shows has been enormous on this platform," Iger continued. "We're confident that movies are going to work as well. We're very thankful to work with Apple and Steve, and we congratulate you on this next step."
Steve Jobs shows off the brand new iTV.
One last thing — iTV
Jobs introduced the attendees in the audience from Apple representing the work that went into this latest major effort, to a round of applause from the other audience members.
"But there is one last thing," said Jobs, stunning long-time Apple event attendees. "This next thing's a little unusual for us. It's a sneak peek for a product that will be introduced in Q1 2007."
"We usually keep things corralled until we ship them, but we thing this completes the story, so we decided to go ahead and show it to you today," Jobs said.
Jobs previewed iTV, which he described as "a product code name. We've got to come up with a final name when we introduce it."
"You can take a movie, download it to a computer, put it on your ipod. But what about that big flat screen TV you just bought?" asked Jobs. "You need a box to drive that big screen TV. How's the box going to talk to the computer? Do I want to string cables throughout my house? So I'm going to talk to it using wireless network, to get the content from the computer to the box, from the box to the TV."
The iTV resembles a short Mac mini. The power supply is built right in to the unit, and it features integrated wireless networking, a power plug, USB 2.0, Ethernet, High Definition Multimedia Interface (HDMI) plug, component video, analog audio and optical audio interfaces.
The box is driven by software that carries a distant resemblance to Front Row, the multimedia control application Apple bundles with newer Macs. The software features 3D animated graphics with a menu on the right and graphics on the left. Jobs demonstrated it, going into the Movies menu and scrolling through floating artwork on the left-hand side.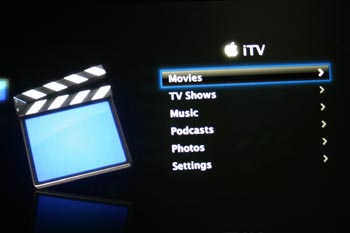 iTV menu
"Pretty cool, huh? These are the same files, same exact files, paying on my iPod, my computer and my flat screen TV," said Jobs.
Jobs said the iTV will be released in the first calendar quarter of 2007 with a price of $299.
"Apple's in your den now, right?" said Jobs. "iTunes on a Mac or a PC. Apple's in your living room with iTV, driving your big flat-screen TV. Apple's in your car, with over 70 percent of the 2007 model cars offering iPod connectivity. And of course, Apple's in your pocket, with iPods."
"Den, living room, car, pocket. And i hope this gives you a little idea of where we're going," said Jobs. "Thanks for coming. and we'll see you all soon."
Jobs closed the event with a live performance by Grammy-winning musician John Legend.
For more pictures from the event, check out Macworld's Flickr photostream.