Apple CEO Steve Jobs unveiled a new, "completely remastered" version of the iPod nano on Tuesday at a special press event in San Francisco, sporting a new case that comes in a variety of colors. Apple last updated the iPod nano in February, when it released a GB model.
The new iPod nano comes in three configurations, 2GB, 4GB, and 8GB, prices at $149, $199, and $249 respectively.
Apple abandoned the high-gloss case of its first generation of iPod nanos in favor of an aluminum enclosure that comes in several colors—blue, pink, green, silver and black. The 2GB nano comes in silver only, the 8GB model is only available in black, while the 4GB nano will be available in silver, pink, green and blue.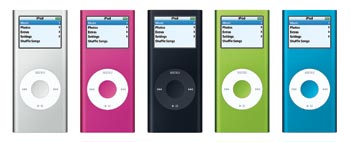 The iPod nano lineup.
The second-generation model is smaller than the original and sports a brighter display. A new Search and Quick Scroll feature is designed to help find tracks quickly by entering letters with the scroll wheel. A gapless playback feature allows for listening to albums without breaks between songs. A new Auto-Sync feature automatically downloads a user's digital music collection, photos or podcasts onto iPod nano and keeps it up-to-date whenever it is plugged into a Mac or Windows computer using USB 2.0. The second generation also iPod nano features up to 24 hours of battery life.
The company has also shrunk both the charger and the box the nano ships in. The device now comes in a package not much larger than the nano itself, which it says will reduce the amount of fuel required to ship each nano.