Apple on Tuesday announced an update to its top-of-the-line iPod models, releasing two new models with brighter displays, enhanced battery life, new earbuds, and new software features, including games.
The new full-sized iPods come in two versions. The $249 model is equipped with a 30GB hard drive, and offers up to 14 hours of battery life for music playback or up to three and a half hours of video playback. The $349 model has a 80GB hard drive — a new iPod size record — and offers up to 20 hours of music battery life or five and a half hours of video playback time.
"The most important feature we're adding today is that we're going to make the iPod more affordable and accessible," said Jobs, who pointed out that $249 is the lowest price ever for a full-sized iPod model.
Both models feature screens that Apple claims are 60 percent brighter than previous fifth-generation iPod models, and come in either black or white. And both models ship with Apples newly redesigned iPod earbuds.
"We've been working on this for 18 months, studying a thousand ears, to find just the right headphones," Apple CEO Steve Jobs said at today's Apple product announcement event.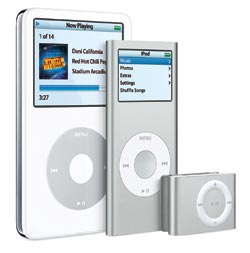 The revamped iPod family.
The iPod's software has also gotten an update. The iPod's new search feature lets users use the scroll wheel to input letters for an instant live search of all the content on that iPod. The new Quick Scroll feature displays a rectangular overlay of the letter you're currently scrolling through, if you're scrolling quickly through an extremely long list of items.
As with iTunes 7 and the new iPod nanos, these new iPods feature support gapless playback, allowing one track to flow seamlessly to the next without a pause in-between.
Another major new feature supported by these and all other fifth-generation iPods is Apple's new collection of $5 games, downloadable from the iTunes Store. The games released today are Bejeweled, Cubis 2, Mahjong, Mini Golf, Pac-Man, Tetris, Texas Hold'em, Vortex, and Zuma.