When introducing iTunes 7 at Apple's September 12 special event, Steve Jobs proclaimed that it was the "most significant enhancement to iTunes since we introduced it in 2001." Given iTunes multitude of talents, that's a mighty impressive claim. But how realistic is it? To find out, I spent the day with the latest version of iTunes. Here are my first impressions.
iTunes 7 introduces wholly new features including two new views, the ability to copy purchased content from an iPod to all of the computers authorized to play that content, a download manager that lets you stop and start downloads from the iTunes Store (no longer called the iTunes Music Store), a feature that automatically downloads album art from the iTunes music store for tracks in your library (even those not purchased from iTunes), and a reworked interface for the iPod that incorporates the iPod updater and includes a new Games entry that appears when you plug in a fifth-generation iPod.
But iTunes also addresses some long-standing gripes many people have had with both the program and the iPod. To begin with, iTunes (and an iPod updated with the latest iPod updater) supports gapless playback. iTunes now scrubs when you're playing a track and drag the play marker back or forward in the timeline. Videos (including music videos, TV shows, and, now, movies) are offered at a higher resolution of 640-by-480 versus the old lower-resolution 320-by-240 content. And,just like with QuickTime Player, videos played in iTunes now sport onscreen playback controls.
Setting up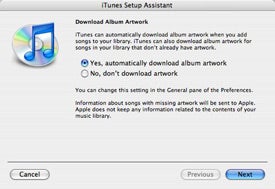 After upgrading to iTunes 7, the application's setup assistant will give you the option of downloading free album artwork from the iTunes Store.
When you first install and launch iTunes 7 on a Macintosh, you'll notice that the familiar green iTunes icon in the Dock changes to the blue icon of an early version of iTunes. If you have an iTunes account, the iTunes Setup Assistant will pop up and offer to download album artwork for you. I told iTunes to go right ahead and off it went, downloading artwork in the background. As I should have expected, it downloads artwork only for the material available on the iTunes Store—in other words, no Beatles album covers for you or me.
Should you wish to download album artwork at a later time—because you've told iTunes to cancel those downloads or you've added a load of new material to your iTunes library, just choose Advanced -> Get Album Artwork and you're on your way.
iTunes will also search your library for tracks that should be played back-to-back (pictured below). This worked remarkably well—and in fairly sprightly manner—with iTunes finally playing Brian Wilson's legendary Smile as it was intended—with no gaps. Classical and jazz music buffs should be dancing in the streets thanks to this one feature alone.
New look and views

iTunes 7's Source list
iTunes 7 rejiggers the Source list to separate items by category—Library (where Music, Movies, TV Shows, Podcasts, Audiobooks, iPod Games, and Radio appear); Store, which includes iTunes Store, Purchased, and Downloads (which appears only when you're downloading something from the Store); Devices, for audio discs and iPods; Shared, where shared iTunes libraries appear; and, finally, Playlists, which contains Party Shuffle, folders you've created, smart playlists, and standard playlists. While this is a cleaner view, it does mean that those with lots of playlists will want to begin organizing those playlists into folders or be faced with scrolling through a long list.
When you purchase an item from the store, a Downloads item appears. Select it and a status window appears, showing you the items you're downloading and the progress of your downloads (much as you see in a Web browser's Download window). The convenience here is that you can stop and start downloads, giving priority to a television show you want to watch sooner than a movie that's downloading at the same time.
Jobs suggested that you can begin watching movies and videos as they download, and I found that to be the case. I began downloading an episode from the second season of ABC's Lost and about halfway through the download I tried playing it. Sure enough, in a matter of seconds, the episode began playing smoothly at full screen.

A progress bar lets you track—and stop—iTunes Store downloads.
The two new views are one of the marquee features of iTunes 7. In the past you could view your media in list view. Apple has added a Grouped Artwork view and CoverFlow. Grouped Artwork displays album artwork on the left side of the pane and track titles to the right.
CoverFlow, a technology that Apple purchased from Steel Skies, provides a list view at the bottom of a divided pane and then a series of album covers arrayed in lazy-susan sort of arrangement (see the screenshot below). You can swoop through the album covers by dragging the scroll bar below, clicking on the arrow icons at either end of the scroll bar, pressing a left or right arrow key on your computer's keyboard, or by typing the name of the album you seek. This works particularly well, as CoverFlow understands spaces in titles. So, for example, you can type Beatles For Sale and be taken directly to that album rather than to the Beatles' "White Album" (called, simply, Beatles ). A reminder that album art won't appear automatically if iTunes doesn't carry the album (though album art will appear if you've added it manually within iTunes' Info window).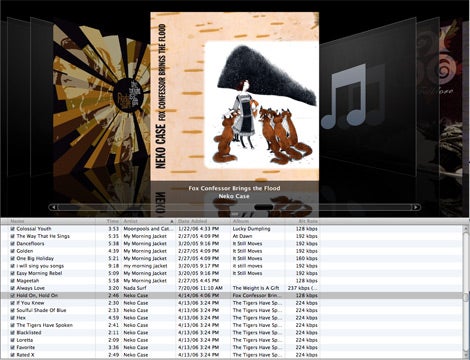 Facing the iPod
The iPod preferences screen (pictured below) has changed for the better. Not only is it more attractive, it provides a great deal more information than earlier versions. In the Summary tab, you find your iPod's name, capacity, serial number, and formatting (Macintosh or Windows) plus a picture that accurately reflects the kind of iPod you have plugged into your computer (including the color).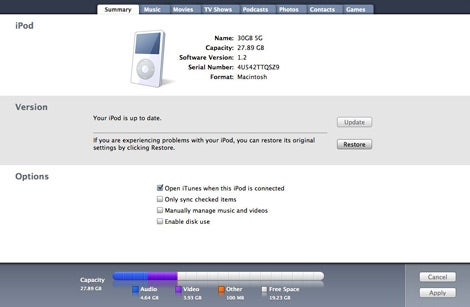 The iPod updater is now built into iTunes and is found within this Summary tab in the Version area. In the Options area below, you find time-honored options for opening iTunes when you first plug in an iPod, manually managing your iPod's music and videos, and enabling disk mode.
The Music, Movies, TV Shows, Podcasts, Photos, and Contacts work much like they always have. The difference is that you can manage TV Shows as you do Podcasts—choosing to sync all your TV Shows or just recent and/or unwatched shows. Another difference is that Calendars has lost its tab. Calendar syncing is now controlled within the Contacts tab. Regardless of which tab you choose you'll see a new Capacity area at the bottom of the iPod preferences area. This reveals how the storage on the iPod is being used in a thermometer interface—blue bars indicate audio, purple stands for video (both TV shows and movies), orange is "Other" (pictures and file storage), and white is free space.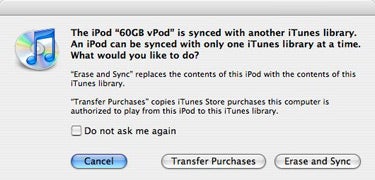 You can enjoy movies and TV shows purchased through iTunes on multiple authorized computers, thanks to iTunes 7's iPod sharing capabilities.
When you plug an iPod into a computer that's authorized to sync purchased media to that iPod, but not the iPod it's currently synced with—for example, you've plugged your home iPod into your business computer—you'll be offered the option to transfer your purchased media from the iPod to the currently connected computer. I'm happy to report that this too works as advertised. You can also invoke this command manually by choosing File -> Transfer Purchases From the name of your ipod.
And more
The Back Up to Disc command is a new addition in iTunes 7.
iTunes includes lots of nice additions and fixes. Among them is a new Back Up to Disc command in the File menu. Invoke the command and you can back up your entire iTunes library and its playlists or back up just the items purchased from the iTunes Store. You can also enable an option to back up just those items added since the last backup.
The Multiple Item Information window now includes options for switching on or off the Remember Position, Skip When Shuffling, and Gapless Album options. Previously, the first two options were available only in an individual track's Info window. The Gapless Album option is also found in the Options tab of each of these Info windows.
A Search command in a new Store menu takes you directly to the iTunes Store's power search pane. You can also use this menu to sign in or out of your iTunes account and view the details of your account.
And more? Certainly. But this is a first look and, at first look, it appears that Steve Jobs' estimation of the latest version of iTunes wasn't far off the mark. This is a significant update and one worthy of a place on your computer.
[ Christopher Breen is a senior editor for Macworld and Playlist. ]