After a spate of product unveilings and previews at a Tuesday press event, one thing became perfectly clear: Apple wants to dominate another room in your home.
Currently, the company has staked out a claim to "the den," a term Steve Jobs used during his Tuesday presentation to generically describe the room centered around a computer. Now, Jobs says, Apple wants to move into the living room. And the latest products from the company—specifically, the addition of movie downloads to the iTunes Store and a new Front-Row-powered streaming-media product, the iTV —are how Apple intends to do it.
Apple goes to Hollywood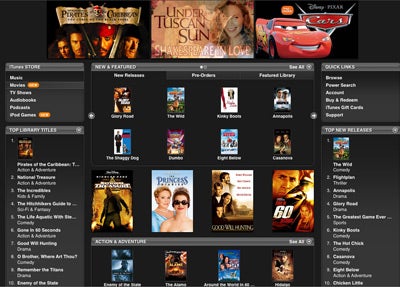 The iTunes Store's new Movies page
As expected, Apple announced that the iTunes Store—note that "Music" has been quietly dropped from the online outlet's name—now offers feature-length movies for purchase and download. And contrary to rumors around the Web, Apple's offerings include movies from more than one studio. Sort of . The four studios involved—Walt Disney Pictures, Pixar, Touchstone, and Miramax—are all divisions of Disney.
Still, more than 75 films are available today, with more to be added over the next few months, including new releases such as Pixar's Cars and Disney's Pirates of the Caribbean: Dead Man's Chest . (Like all new releases, those film will be available from iTunes on the same day their DVDs hit retail shelves. Neither Cars nor Pirates will be available at Amazon.com's competing Unbox Video Store, either—Disney isn't among the studios participating in that venture.)
Although Steve Jobs has long extolled the virtues of a solitary price point for music, the iTunes Store offers a multi-tiered pricing structure when it comes to movies. New films are $12.99 if pre-ordered or purchased the first week after their DVD release or $14.99 after, whereas "Library" titles—basically, older movies—cost $9.99. (Movie downloads are currently limited to the U.S. iTunes Store, although international support is promised for sometime in 2007. Digital-rights-management restrictions are the same as for TV shows: You can view movies on up to five authorized computers, and unlimited iPods, but you can't burn movies to disc.)
Although movie downloads have been expected for quite a while, it's the details of these movie downloads that point to Apple's migration from the iPod's screen to your TV. Instead of the low-resolution, 320-by-240-pixel files previously offered, movie downloads are encoded at 640-by-480, still in H.264 format but now with Dolby Surround audio encoding. (Some movies are provided in widescreen format. It will be interesting to see if Apple eventually offers some movies in a choice of full-screen or widescreen, as is the case with some DVDs.) Unfortunately, Apple still doesn't offer HD-quality video through the iTunes Store, but the higher-resolution 640-by-480 videos do look much better in full-screen mode or on a television connected to your computer. (Videos still play back at a resolution of 320-by-240 on the iPod itself.)
Apple has also increased the quality of TV show downloads, upping resolution to the same 640-by-480 resolution. In fact, the company has gone back and re-encoded older shows to the higher resolution—even the free ESPN TV commercials are now available in the new format. (Although a few hours after Jobs' presentation, several older episodes of a number of shows were disappearing from the Store, only to reappear later—presumably because older versions were gradually being replaced by better-quality files.) Unfortunately, it doesn't appear that you can re-download the newer, higher-resolution versions of previously-purchased 320-by-240 shows.
One of the obstacles to movie-download services has always been bandwidth—whereas a 4-minute music track can be downloaded in less than a minute on even a slow DSL or cable-modem connection, a 2-hour movie is a different game altogether. Unfortunately, Apple can't speed up the pipes between its servers and your computer. On our 10Mb/s office LAN—admittedly, at a very busy time just a few hours after the movie section of the iTunes Store opened—the 2 hour, 22 minute- Pirates of the Caribbean: The Curse of the Black Pearl , took 1 hour, 10 minutes to download its 1.64GB file. This was significantly longer than Jobs' claim of 30 minutes per movie, although perhaps speed will be better in a week or two when the iTunes Store's traffic settles down to normal levels.
On the other hand, in iTunes 7, you can start watching a video file soon after it begins to download, and the new Downloads view lets you rearrange the download queue and pause and resume downloads. For example, you can purchase movies now but download them later when you're on a faster connection.
i on the living room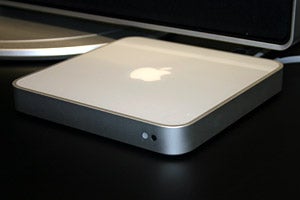 iTV
The other half of Apple's effort to take over more of your digital life was a rare pre-announcement: the company talked about and demonstrated a product, code-named iTV , that won't be shipping until the first quarter of 2007. Looking very much like a half-height Mac mini, the $299 iTV will in many ways be a video version of the company's audio-streaming AirPort Express: It lets you stream video, audio, and photos from your computer to a connected television over an 802.11 wireless connection. But instead of "listening blind" like you're forced to do with the AirPort Express, the iTV provides a Front-Row-like interface on your TV screen; you navigate that interface using an included Apple Remote.
The iTV will offer a number of options for connecting it to your home entertainment system: an HDMI connection for HD-capable video and digital audio, as well as component video, optical digital and analog left/right audio, and an Ethernet port (which will presumably work as an Ethernet bridge).
That Apple talked about the iTV well before its release was unusual, given the company's famous secrecy. But in the context of the event, it was likely a prudent move. First, it showed that Apple is taking the TV and living room seriously, rather than as an afterthought, at a time when more and more people are looking for ways to get their growing collection of digital content out of their computer and into the rest of their homes.
But just as important in the wake of Amazon's recent foray into downloadable movie sales, the iTV—or whatever it will be called when it arrives next year—gives Apple a significant leg up on other services by offering a way to enjoy purchased digital media in locations other than sitting at your computer or staring at a tiny portable screen. And it's likely that Apple's sneak peek was at least in part aimed at the movie studios—to convince them that getting their movies into the iTunes Store would be desirable.
Expanding the ecosystem
It remains to be seen if consumers will be willing to pay $9.99 to $14.99 for lower-resolution versions of movies that sell for $15 to $30 on DVD. And when it comes to video, iTunes is currently missing a significant feature available for audio—the ability to rip content you already own for use on your computer, your iPod, and (soon) your iTV. But with the most popular portable audio/video player in the world and the most popular (legal) music- and television-download service in the world, Apple is already a big player in the field of digital media. More content and better integration with your home entertainment system should make the iTunes Store and the iPod ecosystem even more attractive to both consumers and content providers.
[ Dan Frakes is Playlist's senior reviews editor. ]