At a Glance
Expert's Rating
Pros
Album and CoverFlow views
Tighter iPod integration
More organized interface
Gapless playback
Cons
Can be unstable with third-party plug-ins, applications, and hardware
Artwork isn't always updated completely
Doesn't recognize many compilation recordings
Our Verdict
Touted by Steve Jobs as the "most significant enhancement to iTunes since we introduced it in 2001," iTunes 7 does indeed offer enhancements to existing capabilities as well as groundbreaking new features. Among the enhancements are a tidier interface that includes a reorganized Source list, a reworked iPod preference panel, onscreen playback controls, audio scrubbing, more extensive parental controls, and support for CD Text when burning audio CDs. Significant new features include support for multiple libraries, gapless playback within iTunes and on compatible iPods, an iTunes Store download manager, an option to back up your data to disc, and two new views for navigating through your music and video collection via a slick album-cover interface.
Each of these enhancements and features makes for a better and brighter iTunes, but I'd like more—specifically, more stability and more refinement.
The look
With iTunes 7, Apple has given the program a needed interface overhaul. When iTunes simply organized and played music, a Source list with a Library entry and some playlists was adequate. But today's iTunes is a multi-trick pony—organizing and playing videos, podcasts, audiobooks, and streaming radio; acting as a media-store client; synchronizing iPods; sharing music with other iTunes owners; and, of course, operating as a manager for your music collection.
This overhaul is reflected in a reorganized Source list that includes Library, Store, Devices, Shared, and Playlists entries. As their names imply, the Library is the gateway to your media; Store links you to the iTunes Store and your purchases; Devices displays connected iPods and mounted audio discs; Shared lists iTunes Libraries shared by other people on your local network; and Playlists contains lists of, well, playlists—Party Shuffle as well as Smart and standard playlists.
Within that Source list a Downloads entry will appear when you're downloading something from the iTunes Store—music, video, movie, iPod game, or podcast. Click the Downloads entry and you'll discover that you can pause downloads—useful when you want to give priority to a TV show that you want to watch right away and then later allow your usual collection of podcasts to download.
Although this organization scheme makes sense, it also means that fewer playlists are visible in the Source list without having to scroll. And while you can organize playlists into folders, iTunes provides precious few ways to sort playlists within those folders.
iTunes' overall appearance has also been tweaked: the color scheme has been muted to include more gray than aqua, some buttons have been squared off and moved to new locations, while others, such as the EQ and Visualizer buttons, have disappeared entirely, and Apple has abandoned the Search Bar above the main window that allowed you to filter the contents of your Library by type—music, podcasts, audiobooks, and video, for example. Instead, iTunes returns to including subcategories within the Search field at the top of the window. Click the magnifying glass icon and you can confine your search to Album, Artist, or Name. I missed that feature when it disappeared and am pleased to see its return but I now miss the Search Bar. I'm sorry iTunes can't include both, as Search-field filtering doesn't provide the same functionality as the Search Bar.
The views
iTunes 7 comes with two new views that let you navigate your music and video collection: Album view and a lazy-Susan artwork view termed CoverFlow . Album view divides your music collection into albums, displaying the album artwork on the left side of the pane and the tracks within that album on the right. CoverFlow places album artwork at the top of the pane in a fanned-out arrangement. You can flip from cover to cover via the scroll bar and its arrow icons or your keyboard's Arrow keys. You can also search within CoverFlow by typing the name of the item you seek.
For these views to be useful, you must have that artwork. iTunes 7 can automatically obtain some of that artwork—even for media that you haven't purchased from Apple—from the iTunes Store. As long as you have an iTunes account and an active connection to the Internet, iTunes will attempt to retrieve artwork for any albums and videos in your library that are also in the iTunes Store's catalog.
In practice this doesn't work as well as it could. For example, iTunes is completely ignorant of compilation albums that weren't purchased from the iTunes Store. More often than not, in both Album and CoverFlow view, iTunes will create a separate entry for every track on a greatest hits collection or concert recording. You can fix this by selecting all the tracks in the album, opening the Multiple Item Information window, and enabling the Compilation tag, but it's a bother. And, of course, if an album isn't available from the iTunes store—got any Beatles or Led Zeppelin in your collection?—iTunes won't find any art for it.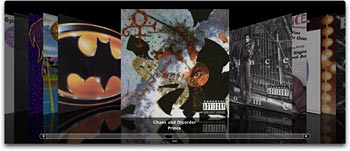 Also, iTunes doesn't appear to get all the artwork at one time. On the first go-around on my iTunes library, iTunes retrieved about half the artwork. I had to tell it to try again to get more of it. In some instances it refused to download artwork it had because some of the material in my iTunes Library was tagged improperly—with one genre when the iTunes Store uses another, for example. I'd like iTunes to be a bit more intuitive about albums and their artwork. It would also be nice if Apple added a button to the iTunes Store that reads "Copy Artwork" so you had the option to manually copy artwork from the store that refused to download automatically.
Once you've gotten artwork into iTunes, it really is a handy reminder of what's in your Library. On several occasions I stopped as I flipped through my collection and thought, "I completely forgot I owned that. I need to give that a listen again." And this kind of casual browsing, rather than raw searching, is CoverFlow's strength. Cool as the graphics are, it's easier to find specific music using the Search field or Browser.
Mind the gaps
Other than Album and CoverFlow views, gapless playback is iTunes 7's marquee feature. In the past, iTunes and the iPod inserted a small slice of silence between tracks—even tracks that were intended to flow directly into one another. iTunes 7 fixes this long-standing issue, seamlessly playing tracks on classical, jazz, and concept albums I have in my iTunes library. If you have a lot of tracks, it's worth your while to have iTunes seek gapless recordings overnight as its analysis can take awhile and hog many of your computer's resources.
CDs you burn from a gapless playlist will likewise be gapless if you set the Gap Between Songs option to None in the Burning tab of the Advanced iTunes preference. Regrettably, when it comes to iPod playback, this gapless feature works only with fifth-generation iPods and the second-generation iPod nano. Earlier iPods will continue to play with gaps between tracks.
Interacting with the iPod
Apple has better incorporated the iPod into iTunes. To begin with, the redesigned iPod preferences pane reflects what's on your iPod through a Capacity gauge at the bottom of the window. Here you can see how much of your iPod's capacity is consumed by audio, video, photos, and data as well as how much free space is left on the iPod. (Clicking on the gauge cycles it between time, data size, and number-of-each-type views.)
Also, Apple's built its iPod Updater software into iTunes 7 itself. No longer must you launch a separate application to update or restore your iPod, as it's all done within the Summary tab of iPod preferences. And when there's a new version of the updater, iTunes downloads it and offers to update your iPod the next time you plug it in. It's a nice convenience to finally have this tool available within the application you use to manage every other aspect of the iPod. (And it's just as nice not to have to wonder if your iPod actually needs the latest update.)
The options within the various tabs are similar to what was available in the iPod pane of iTunes 6's preferences, with these exceptions: You can better manage TV Shows on the iPod by instructing iTunes to sync all your TV shows, all your unwatched TV shows, a certain number of recent TV shows (1, 3, 5, or 10), or a certain number of the most recent unwatched TV shows. Also, iTunes 7 combines iPod contact and calendar management into a single Contacts tab, whereas the previous version of iTunes included both a Contacts and Calendars tab. And, of course, there's now a Movies tab that appears when you plug in a 5G iPod.
Subtle refinements
iTunes 7 includes a number of small but welcome refinements. For example, when you purchase media from the iTunes Store, you are now offered the option to immediately burn a backup of that content to disc. If you'd like to back up your media later, simply choose File => Back Up to Disc or, with a selected playlist, File => Burn Playlist to Disc.
When you plug an iPod that contains purchased media into a computer that's authorized with your iTunes Store account (not the computer that originally synced it, but another of your authorized computers), iTunes offers to copy that purchased media to the current computer. Unfortunately iTunes doesn't tell you exactly what it's going to transfer or offer you the option to pick what you'd like it to transfer. Such an option would be useful.
And iTunes now lets you create additional Libraries and choose from among them when you launch the program. Just hold down the Option key (on a Mac) or Shift key (on a Windows PC) when launching iTunes and you're presented with the option to quit, choose a Library, or create a new Library.
Growing pains
Out of the gate, iTunes 7 seems to have more problems than its predecessors. Numerous online forums reflect concerns about slow performance and crashing. In my own experience I found that iTunes 7 did become more unstable when used with the iTunes component of You Software's You Control. And iTunes can also become unstable when third-party plug-ins are installed in the iTunes Plug-ins folder. For example, I experienced two kernel panics on my Power Mac G5 when working in iTunes; switching off You Control and clearing my iTunes Plug-ins folder of third-party plug-ins solved the problem. Although it's not Apple's business to police the activities of third-parties who write plug-ins for iTunes, it might not be a bad idea for the iTunes installer to disable third-party plug-ins (and notify users that it's done so).
Regrettably, iTunes 7 affects more than plug-in vendors. Roku Labs reports that changes to iTunes' underlying technology renders all SoundBridge products—which have the capability to wirelessly play back iTunes-shared music—incompatible with the new version of iTunes. The company hopes to have an iTunes 7-compatible version of its own software soon.
The lowdown
Is iTunes 7 truly the most significant enhancement to iTunes since Apple first introduced the program? A more organized interface, new Album and CoverFlow views, gapless playback, and tighter iPod integration hint that it is. But its premiere release isn't without problems—stability issues and inconsistent results in Album and CoverFlow views can make working with the latest version of iTunes frustrating. Thankfully, any reservations I have about the program may be erased with a single update. When that update comes, iTunes will earn its rightful place as both the program's most significant and enjoyable enhancement.