Never forget an attachment
Tired of clicking on Send only to realize moments later that you forgot to attach a file to that e-mail message? You need Attachment Scanner, James Eagan's free plug-in for Mail 2.0. The plug-in scans outgoing messages for words, such as attached and attaching, that suggest you might have intended to enclose something. If the message has no attachments, an alert appears when you click on Send.—Joe Kissell
Check for overstuffed accounts
There's no need to miss messages because you've unknowingly reached your ISP's e-mail quota. In Mail 2.0, you can check to see how close you are to reaching the storage limit and which mailboxes may need pruning. Press Command-I to display the Account Info window, and choose your account from the Account pop-up menu at the top. For IMAP, .Mac, and Exchange accounts, the window will list current usage and account capacity (if applicable), as well as the mailboxes in that account, the number of messages the mailboxes contain, and their total size. For POP accounts, the window will show how many messages are on the server and their sizes.—JK
Quickly copy multiple attachments
With Mail 2.0, you can quickly copy multiple attachments from a message onto your desktop or into another folder. First make sure that individual attachments aren't showing in the header; if they are, click on the disclosure triangle next to the header's paper-clip icon to collapse the display. Then just click and drag the paper-clip icon to the desired location (see "Clip and Drag").—JK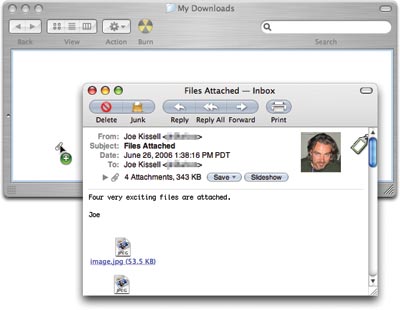 Clip and Drag If you use Apple's Mail, there's a fast way to save all of a message's attachments at once. Just drag the paper-clip icon in the message header to your desktop or to another folder.
Retrieve missing quote
If you begin composing a new message in Mail 2.0 and then realize that you meant to quote part of another message, you don't have to open a new window, copy, switch back, and paste. Instead, select the message you want to quote, return to your new message window, and choose Edit: Append Selected Messages (or press Command-option-I). The quoted message (including any attachments) will appear at the bottom of the new message.—JK
PDFs—pronto!
Need to e-mail someone a PDF of the document you're working on? Here's the fast way. Open the document and press Command-P. In the Print dialog box that appears, click on PDF and select Mail PDF from the drop-down menu. OS X will create a PDF and attach it to a new outgoing message in Mail.—JK
Take the larger view
In Mail, you're not limited to one window for displaying your mailboxes and message lists. Choose File: New Viewer Window to open an additional window (or more than one). Multiple viewer windows let you see different accounts, sorting orders, column arrangements, or views at the same time, without a lot of tedious clicking and rearranging.—JK
Hang up on hung-up Mail
Mail sometimes gets hung up in the process of sending mail, receiving it, synchronizing, or performing other background activities. If the program seems slow, you don't necessarily need to quit Mail altogether. Choose Window: Activity Viewer to display a list of all the tasks Mail is performing. Click on the Stop icon next to any task to cancel it.—JK
Full-service Mail
Most people overlook the time-saving tools tucked into their programs' Services menu ( application name : Services). If you use Apple's Mail or Bare Bones Software's Mailsmith 2.0, you can use the Services menu to make e-mailing easier. For example, select some text on a Web page and choose Services: Mail: Send Selection (or Services: Mailsmith: Send Selection) to create a new message containing the selected text. Select an e-mail address and choose Services: Mail: Send To (or Mailsmith: Send To) to create a new message with the selected address in the To field. (Some apps, including those in Microsoft's Office 2004 suite, don't support services.)—JK
Focus on what's new
Hide older messages in any Microsoft Entourage 2004 mail folder by choosing View: Unread Only, or pressing Command-shift-O. Only unread messages will remain visible. Repeat the process to make all your messages visible again.—Tom Negrino
Set your Entourage data free
If you use Entourage 2004 on more than one Mac, syncing all your messages and settings over a network can be tedious (see Keeping Your Macs in Sync ). Instead, back up your Microsoft User Data folder (in your user folder /Documents); then copy it to a USB flash drive. Now delete the original and, in your Documents folder, create an alias to the folder on the external drive (by selecting the folder in the Finder and then pressing Command-option while dragging it to the Documents folder). Do the same on your second Mac. Now all your Office apps on both machines will use the external drive to store their data. (Be sure to quit all Office applications before unmounting the drive. And don't forget to back up!)—JK
Deploy improved spam shields!
Entourage 2004's Junk Mail Filter is decent, but it doesn't catch everything. And wily spammers come up with new tricks faster than Microsoft updates software. For better protection, consider investing in Michael Tsai's $25 SpamSieve 2.4.4. Train this utility to sort through your mail by showing it actual spam and good mail. The extremely accurate SpamSieve works with Entourage to identify the spam as it arrives and shunt it to Entourage's Junk E-mail folder.—TN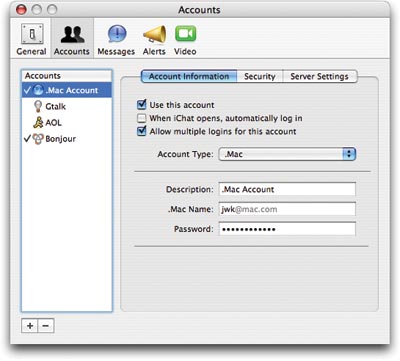 Take Two Use more than one Mac at a time? Select this option to make incoming iChat messages appear on both screens at the same time.
Many Macs, one iChat account
You might use two Macs, but you'd probably prefer to use one chat account. It's possible to set up both computers to use the same AOL Instant Messenger (AIM) or .Mac account in Apple's iChat AV at the same time. Start up iChat on the first computer and take your AIM account offline (iChat: Log Out Of AIM). Then choose iChat: Preferences, click on the Accounts button in the toolbar, and select your account. Select the Allow Multiple Logins For This Account option (see "Take Two"). Now repeat the procedure on the second computer. Incoming messages will appear on both screens at the same time.—JK
One-way video chats
If you have an iSight camera and your friend doesn't, you can still use iChat AV to have a one-way video chat. Your friend will see your picture and, as long he or she has a microphone, you'll both hear each other. (No microphone? No problem. Your friend can type responses.) Select the other person's name in the Buddy List (Window: Buddy List) and choose Buddies: Invite To One-Way Video Chat.—JK
Learn to speed read
Plow through your incoming mail faster by learning Entourage 2004's most important message-reading shortcut keys.—TN
Entourage
Shortcut
What It Does
command-[
Displays the previous message. *
command-]
Displays the next message. *
control-[
Displays the previous unread message. *
control-]
Displays the next unread message. *
spacebar
Scrolls down one screen of text, or displays the next unread message if you are at the end of the current message.
shift-spacebar
Scrolls up one screen of text.
* – Add the option key to this keyboard combination to delete the current message and then perform the action.
Easy .Mac access with Address Book
Chances are, more than a few of your contacts have .Mac addresses. Care to peruse the goodies they've put in their public iDisk folders? Address Book makes it easy. Create a smart group with the condition Email Contains mac.com. All your Address Book contacts with .Mac addresses will now appear in the group. Control-click on the address next to an entry—the Home address, for example—and choose Open iDisk. In moments, that person's iDisk Public folder will mount on your Mac. Explore and download what you like.—Christopher Breen