So much for the iTunes Music Store. Now that Apple's iTunes-based emporium of digital entertainment contains not only music, music videos, short films, and TV shows, but actual feature-length movies, the company has finally admitted what the rest of us have known for a while—iTunes isn't just about music anymore.
Aside from simplifying the store's name, though, Apple's announcement that it would be selling motion picture downloads has ramifications for Mac users, iPod fans, and couch potatoes alike. Here's a guide to Apple's new movie-download service—what we know so far, what we're learning, and what might be coming down the pike.
Where do the movies come from?
Currently, only movie studios owned by Disney—Miramax Films, Pixar Animation, Touchstone Pictures, and Walt Disney Pictures—offer their wares at the iTunes Store. (Disney was also the first entertainment company to make its TV shows available for sale at the iTunes Store, and its largest individual shareholder just happens to be Apple CEO Steve Jobs, who also has a seat on Disney's Board of Directors.)
How many movies does iTunes offer?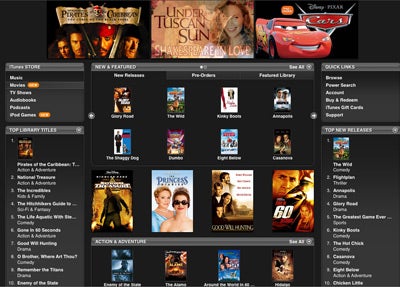 As of September 20, 2006, the service had 86 feature-length movies available for purchase. As with its TV offerings, Apple plans to continue adding movies—not only new films on the same day they're released on DVD, but also films from studios other than Disney once those studios sign on to iTunes. Expect the number of available movies to increase rapidly once that happens.
Well, when will those studios come on board?
We wish we knew. All we know is that Apple is adamant that you'll be able to buy movies from a studio not owned by Disney one of these days. And the onus just isn't on Apple here—rival movie-makers are likely to be unwilling to concede an entire potential source of revenue to Disney. The timing may be up in the air, but we can state with great confidence that other studios are going to jump at the chance to sell movies via iTunes.
What kind of movies does Apple offer?
The iTunes Store has a mix of new releases and what it refers to as "Library" titles—older movies that have been out of the theaters for a while.
So how much does Apple charge for these movies?
Unlike with TV shows and music videos, there's no set price for movies. Apple has announced that new films are $12.99 if you pre-order them before they're released—a Coming Soon page at the iTunes Store lists all the movies you can pre-order. New movies also cost $12.99 if you them during first week after their release; afterward, the price rises to $14.99. The older films that make up the iTunes Store's Library offerings sell for $9.99. But we've noticed some already been some inconsistency in pricing— some of which appears to have been fixed—so be sure to take a look at the price of a particular movie before you assume anything.
Apple lets you sign up for an e-mail newsletter that notifies you of new additional and music exclusives offered through the iTunes Store. Is there a similar feature for new movie releases?
At this point, no. But as Apple ramps up its movie offerings, you can bet the company will want to communicate such information to customers in as many ways as it can.
Are movies available on all iTunes Stores around the world?
Currently, only U.S. customers can buy movies. But Apple plans to take the iTunes Store's movie selections international sometime during 2007.
These are probably going to take up a lot of hard drive space—how big are the movies?
Movies range from between about 750MB to around 1.75GB, depending on the length of the movies. The 2-hour-and-38-minute film The Insider, for example, takes up 1.76GB, while the 1-hour-and-10-minute Bambi weighs in at only 755MB.
Won't that take a long time to download?
When compared to music or even TV shows, yes. When announcing the service to the media, Steve Jobs said that it would take a user with a 5-Mbps Internet connection—a faster-than-usual broadband speed that's becoming more common but is still far from universally available—about 30 minutes to download a whole movie. But realistically, it will take most people more like and hour to download a film. In fact, it took us exactly an hour to download M. Night Shyamalan's "Signs" (a 1GB file with a 107-minute running time) on a home DSL line.
But what if I don't have that much time on my hands?
iTunes 7 adds a download manager, which makes it easy for you to reorganize your download order, as well as pause a download to resume later. This could be particularly useful if you're browsing the iTunes Store at a wireless hot spot and decide to purchase a movie, but want to wait until you get home to download it. And you can watch the movie even while it's downloading—just double-click on the movie and it'll begin to play. On most broadband connections the time to download the movie will be much less than the movie's running time, so by the time you get to the end, the entire thing will have been downloaded.
I bought a TV show on iTunes and it wasn't great in terms of picture quality. Is that going to be true of these movies, too?
Prior to the addition of movies, all video content on the iTunes Store was encoded using the H.264 codec at a size of 320-by-240 pixels. That looked good on an iPod, but was very small for a high-resolution computer screen, not to mention a television. Movies use the same video codec, but are now available in 640-by-480-pixel resolution—"near-DVD quality," according to Apple—or four times the number of pixels you'll find in a 320-by-240 video. (Incidentally, 640-by-480 is now also the resolution for TV shows available for download through iTunes; Apple went back and re-encoded older material to the larger frame size.) For a widescreen movie, the width is always 640 pixels, but the height will be less than 480 pixels (and vary depending on the aspect ratio used for the original film).
If movies and TV shows are coming in at 640-by-480, do I have to do anything special to make them play on my iPod?
No. Apple has increased the size limit for videos that can play on video-capable iPods —you just download and sync, and you'll be watching movies and larger TV shows in no time.
And these movies are compatible with all fifth-generation iPods, right? And not just the new models Apple announced on September 12?
That's correct. But for older 5G iPods, you'll need to upgrade your iPod's software to version 1.2 (the first time you plug in your iPod after updating to iTunes 7—which is required for movie downloading—you should be prompted to install the new software on your iPod).
Do I have to upgrade any software on my Mac or PC in order to download and watch movies?
Yes. You've got to upgrade iTunes to version 7 or better, and QuickTime to version 7.1.3 or better.
Are there any restrictions to what I can do with my movies? Can I burn a DVD from one?
Just as with anything else purchased from the iTunes Store, some restrictions apply. For movies, that means you can watch them on up to five computers (Macs or PCs) that are authorized with your iTunes account, and you can transfer them to as many iPods as you have—just as with TV shows. But in another similarity to the DRM restrictions with TV shows, you can't burn movies to a blank DVD that will play on a set top DVD player. (You, can, however, burn the movie file to a data DVD as a backup or for moving it from one computer to another).
Isn't there an easier way to move my movies to another computer?
Why yes, in fact, there is. Another new feature in iTunes 7 is that it now lets you put content on your iPod, plug that iPod into another authorized Mac, and transfer those files directly to the second computer. In the past, Apple offered no way to extract files from the iPod, but didn't specifically disable it—many third-party utilities could do the trick. But note that Apple's method only works with movies, music, and TV shows purchased from the iTunes Store.
Well, what about my television set? How can I watch a movie there if I can't burn it to a DVD?
Currently, the one way to watch an iTunes movie on a TV is to connect your Mac or iPod directly to the TV using an adapter cable. But Apple has also announced a new product—scheduled to ship during the first quarter of 2007—code-named iTV. The small $299 box will connect to a TV and let you wirelessly stream your movies, TV shows, music, and photos from a computer running iTunes 7 to the television.
Even so, why would I want to buy a movie from iTunes instead of buying a DVD?
That's a good question, and is similar to one people asked when Apple first started selling music: "Why buy compressed music when I can buy a CD—complete with a nice booklet—for roughly the same amount?" The answers are somewhat similar as well. Unlike DVDs (or CDs, for that matter), files don't get scratched; you can have digital movies (or songs) in many places at once (several computer and iPods); and you don't have to leave the comfort of your home to buy them. At the same time, the quality of even current DVDs is better than what Apple offers, "near-DVD quality" or not; DVDs include extra features, including commentaries, captions, featurettes, and multi-channel audio; Apple's movies don't necessarily cost any less; and Apple's offerings are very limited right now.
But just as Apple sold more than one million songs in the first week of the iTunes Music Store, and has sold more than 1.5 billion in the past three-and-a-half years, Disney CEO Robert Iger says his company has sold 125,000 movies on the iTunes Store in the first week. So people are clearly interested in what Apple is trying to do.
OK, but I usually only watch movies once or twice—why doesn't Apple rent movies instead of selling them?
Again, that's a question only Apple can answer. But we feel pretty confident summing up Apple's rationale. Since it first started selling digital music in 2003, Apple's mantra has been that people want to own their content, not rent it—a swipe at subscription-based services such as Napster. While iTunes' market share has showed that people largely agree when it comes to music, movies are a different beast. Very few people watch movies in the same way they listen to music—that is, many times over and over again—which is why services such as Netflix (not to mention your local Blockbuster or Hollywood Video) are so popular. Yet if DVD sales are any indication, people do enjoy buying movies. Amazon's new Unbox Video Downloads offers both sales and rentals, although neither particularly well. Apparently, Apple thinks sales are the way to go—but that doesn't mean things won't change in the future.
You mentioned Amazon.com. How does its Unbox service compare to what iTunes offers?
We already mentioned that you can rent movies as well as buy them at Unbox. Amazon's service also offers more movies from more studios out of the gate, though we can see iTunes gaining ground in this regard. Like iTunes, Amazon.com offers variable pricing for movies, though its prices range from $7.99 to $14.99.
Oh, and one other crucial difference, at least to Mac users: Unbox won't work with Macs and its movie downloads aren't compatible with iPods.
[ Jonathan Seff is Macworld 's Senior News Editor. ]