I'm intrigued with gewgaws, doodads, and thingamabobs that record audio—have been ever since I laid hands on my first tape recorder in that prepubescent long-ago. These days not only am I enamored of software that records audio from external devices—the ProTools, Logics, Digital Performers, QuickTime Pros, GarageBands, Soundtracks, Amadeus IIs, Sound Studios, and Audacitys of this world—but those utilities that grab and manipulate audio playing on and through my computer.
Lately I've been dinking around with a utility that I like a lot—Rogue Amoeba's $32 Fission. At heart, Fission is a simple digital audio editing application that allows you to edit natively in the current audio format without reencoding (in other words, you can muck with an MP3 or AAC file without having to first convert it to AIFF and then back again to the compressed format).
Some will find the program very useful for creating custom ringtones for their cell phones. After all, why pay $3 a pop for an MP3 or AAC snippet of a favorite song when you can hack one of your own and drop it onto your phone?
But I'm a traditionalist. Give me a phone that sounds like a phone rather than a trendy boutique's Muzak and I'm happy.
No, for me the real charm of Fission is its ability to easily split long files into multiple tracks. And what I'm really talking about is finding an iTunes radio station that pleases me, flipping on Rogue Amoeba's Audio Hijack Pro or Ambrosia Software's WireTap Pro to grab that audio as it streams to my computer, pulling it into Fission, and painlessly slicing and dicing it into discreet tracks. (Or, if you like to play old-school, this is the way to slice a long file you've recorded from an old LP or cassette tape.) Yes, there are other programs that can do this—Roxio's CD Spin Doctor was the first out of the gate with this capability some years ago—but Fission surpasses that program's skills.
The onramp to splitsville is Fission's Smart Split command. Invoke it and up pops the Smart Split window, which contains two sliders labeled Length and Sensitivity. The Length slider determines how long a period of silence needs to be (the gap between cuts) in order for Fission to mark it as a break between tracks. The Sensitivity slider helps the program determine how loud something needs to be in order to be called "silence." This is useful for music that fades from one track to another without going completely silent between tracks.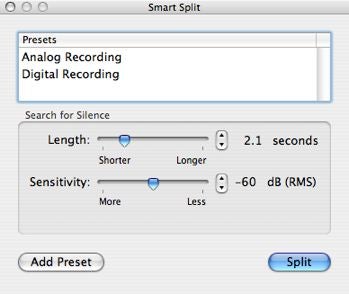 As you adjust these sliders you can immediately see their effect in the waveform view. This visual feedback helps you gauge the accuracy of the split—you can tell if it's splitting too little or too much. When you've got the splits nicely narrowed, just click the Split button and Fission does what you've asked—divides the long track into separate tracks.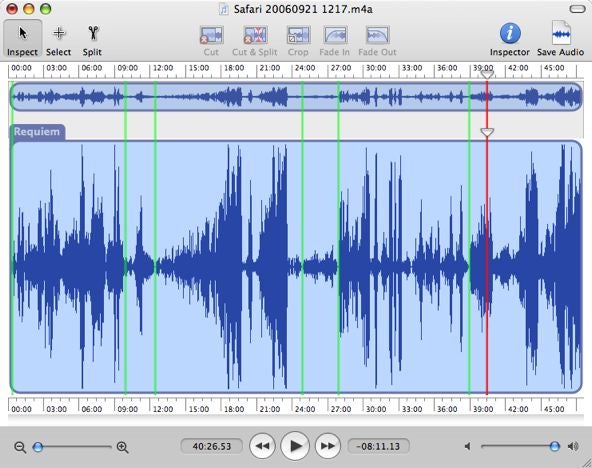 You can name the tracks before or after the split. I found it more convenient to take the long track, call up the Inspector, enter its ID3 tags (Title, Artist, and Album information, for example) and then split the track so that most of the ID3 information is already entered for each clip. In this regard I'd like to see Rogue Amoeba implement a sequential naming scheme. For example, if I start with a long clip called "Ambient Stream," name it in the Inspector, and then split it, the tracks would be named Ambient Stream 1, Ambient Stream 2, etc.
And that's pretty much my only beef. It works well, is easy to use, and it has a nice relationship with Audio Hijack (making it the work of a moment to move tracks captured by AH into Fission). Worth a look, say I.