Presto change-o iPhoto sorting
When you need to sort loads of photos, iPhoto 6 has two tools that can get the job done together: smart albums and the Batch Change command. To gather all your summer pictures, for example, first create a smart album (File: New Smart Album) with the condition Date Is In The Range 6/1/06 To 9/1/06. Give it the name Summer 2006. Repeat the process to create additional smart albums for other summers. Then select all the photos in each summer album, choose Photos: Batch Change, and set Comments to Summer. Now create yet another smart album with the conditions Comments Contains Summer. Peer inside this album to see all your summer photos.—Christopher Breen
Presentations on the cheap
Even if you don't own a full-blown presentation application, such as Keynote or PowerPoint, you may need one from time to time. Rather than pungle up for such a program, prepare your slides in an application you own—such as TextEdit or AppleWorks. Save the slides as graphics files, import them into any version of iPhoto (File: Import To Library), and put them all in an album (File: New Album). Use iPhoto's slide-show tools to create a simple presentation.—CB
Zoom and Grab
In iPhoto 6's Slideshow mode, the Zoom control at the bottom of the window and the Grab cursor that appears when you place your cursor in iPhoto's image-viewing area aren't just decorative. Any adjustments you make with these tools apply to the images when they appear in the slide show. Have a few smaller images that include black bars on the side? Zoom in and position them so they fill up the entire screen during the slide show.—CB
Save your slide-show settings
If you intend to show iPhoto 6 slide shows only on your Mac's display, it's easy to set things up just the way you like. First, select an album (or pictures within an album) and press the Play button at the bottom of the iPhoto window. This produces the Slideshow Settings window, where you can shut off the obnoxious Ken Burns effect and choose the slide show's transition and music. Click on the Save Settings button. The next time you view a slide show, hold down the option key as you click on play. The slide show will play immediately, using the settings you saved.—CB
A big batch of effects
A great way to save time in Apple's iMovie HD 6 is to select similar clips and apply the same effect to all of them—you could apply a Brightness & Contrast video effect to all the clips of your kid riding a surfboard, for example. Just control-click on one of the clips and choose Select Similar Clips from the contextual menu (see "Clip Job"). Any effect you choose will be applied to all selected clips. (This command will sometimes select clips you don't want selected.)—CB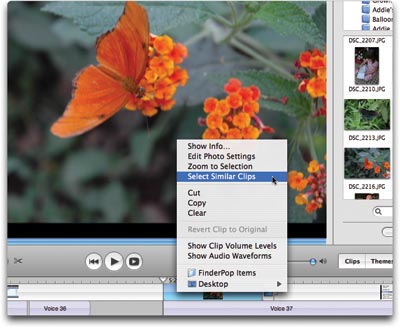 Clip Job iMovie's Select Similar Clips command is the first step in applying one effect to multiple clips.
Select all your clips
Some people find it frustrating that pressing Command-A doesn't select everything in iMovie's timeline—it selects only video clips. To select all audio or clips in iMovie HD 6 you must be in their timeline track. Click on an audio track, for example, and choose Edit: Select All (Command-A). You can also select all video clips by control-clicking on an empty area of an audio track and choosing Select All from the contextual menu.—CB
Better iWeb searching
Apple's iWeb lets you place a search field in your site so viewers can search your content. (Select a blog or podcast page, reveal iWeb's Inspector window, click on the Blog & Podcast Inspector button, and enable the Display Search Field option.) But these searching capabilities are limited. To give your viewers a more thorough option, add a Google Free Site Search button to your iWeb site. Here is the code, as well as directions for adding it to your page.—CB
Better iWeb counting
iWeb's hit counter lets you tally up the total number of times satisfied visitors have opened a page (just choose a page and select Insert: Button: Hit Counter). If you'd like a more exact count—for example, one that counts unique visitors as well as page loads—check out the free StatCounter, an invisible Web tracker that provides Web stats that detail unique, returning, and repeat visitors. It also offers analysis of visitors' browsers, operating systems, and more.—CB
Autoplay (or not)
Most Web-site visitors dislike music and movies that play automatically when a page is opened. As a result, iWeb doesn't let you add autoplay movies or music by default. But if you're determined to design a serenading site, you can. Create your page, save the site, and then open the folder that contains the files for your site. (If you're using .Mac, it will be at /iDisk/Web/Sites/iWeb/ Your Site's Name. ) Locate the JavaScript file within the page's Files folder (for example, Welcome.js in the Welcome_files folder). Open the JavaScript file in a text editor, such as TextEdit, and search for incidences of
autoplay=false
. Change
false
to
true
.—CB
Replace background and drop zones
In Apple's iDVD 6, when you drag a picture into a theme that includes drop zones, only the background image changes—the drop zone and its graphic remain. You can install a new background image and remove the drop zones in one step by holding down the Command key while dragging the picture into iDVD's main window. When you do, a contextual menu will give you the option to replace the background and drop zones (see "Zone Out").—CB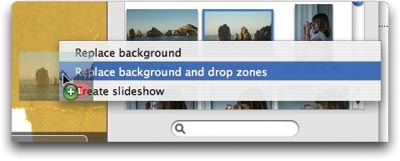 Zone Out Use this handy command to replace an iDVD project's background and delete its drop zones in one step.
Make it a deluxe DVD
Grandma will certainly appreciate a DVD that includes a slide show of your latest family adventure, but you can make your gift even better by including the original images as well. You can do so in iDVD 6 by choosing Advanced: Edit DVD Contents. Click on New Folder in the resulting DVD-ROM Contents window, and drag your original pictures into this folder. Lucky DVD recipients will find the images in the folder you created at the root level of the disc when they pop the disc into a computer.—Jeff Carlson
The limits of locking
Playing an Apple GarageBand 3 project with lots of tracks can overburden your computer's processor, causing tracks to drop out or distort. One solution is to lock tracks by clicking on the lock icon in the Tracks column of each track you want to lock—in other words, render them to your computer's hard disk. This can free up processing power, allowing you to use more tracks. But there's a gotcha. If you have a Mac with a slow hard drive (an iBook with a 5,400-rpm drive, for example), locking tracks isn't as effective. GarageBand writes each track to disk (instead of processing the effects in real time), so as you add more locked tracks that need to be read from the hard disk, the slower drive won't be able to keep up. If that's the case, consider purchasing more RAM and a faster hard drive—or a new computer.—CB
Rearrange your loops
Whether you're looking for bongo grooves or a spacey electric piano, Apple's default arrangement of sound sets in the GarageBand 3 Loop Browser is intuitive. (If you can't see the Loop Browser, click on the eye icon at the bottom left of the GarageBand window.) But if your mind works another way, you don't have to stick with the default order. Rearrange the position of any button by dragging it on top of another (see "Who's Got the Button?").—CB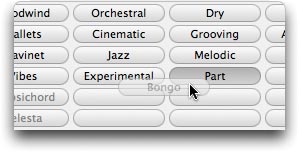 Who's Got the Button? Drag buttons in GarageBand's Loop Browser to rearrange their order.
Free up tracks with submixes
For those times when you want to play a GarageBand project in other iLife '06 applications, GarageBand 3 gives you the option of saving the project as an iLife Preview . But this file format can also help you when you're creating complex musical masterpieces. If you're running short on tracks, create a submix by saving your mixed project as an iLife Preview. Go to GarageBand: Preferences, choose the Render A Preview When Saving option, and then choose File: Save. Now open a new project and import the iLife Preview of the previous project. It will import as a single stereo track. Build the rest of your project from there.—CB