At a Glance
Expert's Rating
Pros
Durable black fabric covering
Ample sound
Discrete MP3 input
Cons
Design is more for kids and teens than grown-ups
Cabling gets messy
Our Verdict
Pyramat is a long-time player in the gaming chair market, if you can wrap your head around the fact that there is such a thing as a gaming chair market. My first experience with one of Pyramat's products was the PM300, a fold-out mat that you laid flat on the floor, with speakers and a subwoofer in a headrest. It was great if you were playing games on a laptop or a TV, but not exactly useful for playing games on an iMac. The company's come a long way since then, and one of its newest designs is the S2000 "Sound Rocker," which sits upright and is even better.
The S2000 sports a sleek design that's low to the floor. It folds in half for easy storage, but upright it's a bit like sitting in the seat of a small sports car. The seat is clad in black fabric that stretches and gives—good, because rockers on the floor often get stepped on by passersby.
The S2000 features two three-inch full-range speakers beneath some fancy grey covers that glow blue when the power is on. And in the back of the seat, right in the small of your back, a 5.5-inch subwoofer pounds bass straight into your spine.
With two RCA inputs, accessible by a large switching dial mounted on a side control panel, you can draw input from virtually anything—for example, an iPod, PSP, Mac, PC, or game console; you can even hook it into the audio from your home entertainment system. With 20 watts of power to the sub and 8 watts to each of the speakers, the S2000 doesn't shake your windows, but it outputs a respectable amount of power without heavy distortion unless you really crank it up. You can adjust bass level. You can also output to headphones if someone's yelling at you to turn it down.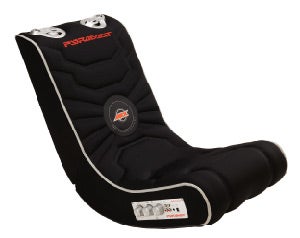 Pyramat S2000 Sound Rocker
If you're more interested in listening to music on your iPod than playing games or watching movies, the right side of the chair features a strap and a right-angled headphone jack labeled "MP3." You can just set your iPod underneath that strap and forget about it.
With black fabric and grey piping, some orange graphics and the glowing blue speakers, the S2000 certainly doesn't project a very executive image—it's more rumpus room than boardroom, so if you're looking for something that will impress visitors to your media room, keep looking. But having said that, I must add that my kids adore this chair and sit in it every chance they get—for them, it's perfect.
Now that you can play games on your iPod, using the S2000 is more fun than ever—it's a lot more fun to play in the chair than it is to isolate yourself with earbuds. It's not exactly a home run—Pyramat includes a headphone-to-RCA adapter and RCA cables to plug into the chair, which is useful but a bit clunky if connecting to an iPod. Then again, Pyramat had no way of foreseeing that Apple would release games for the iPod, either.
The only real complaint I have about the Pyramat is the same complaint I've been making about sound chairs for years—the wiring. A large external power supply is included—the transformer brick is about halfway down the cord, thankfully, so it's not blocking outlets on a power strip—but between the power cable and audio cables, things get messy quickly. I'd really love to see Pyramat produce a wireless gaming chair with a concealed power supply.
The bottom line
The S2000 Sound Rocker has a sleek design that's bound to appeal to kids and teens; as long as the wiring doesn't get in your way, it's a fun add on for a gaming room or dorm.