At a Glance
Expert's Rating
Pros
Accurate recreation of arcade game
Adjustable difficulty levels
Cons
Controls don't work that great
Maze is too small
Our Verdict
Namco was one of four companies outside of Apple picked to inaugurate Apple's premium iPod games service —games you can buy from the iTunes store for $4.99 a pop. It's nice to have such a beloved classic on the iPod, though the game itself doesn't succeed quite as well as I had hoped it would.
If you've somehow completely missed the boat on Pac-Man, he's one of arcade gaming's towering heros—a yellow mouth that chomps pellets through mazes as he's chased by ghosts. Occasionally he comes across power pellets that will temporarily turn those persistent ghosts blue and make them vulnerable to being chomped. He can also pick up the occasional fruit for additional points.
Simple color graphics on a black background—this is an authentic Pac-Man experience you remember from the arcades, right down to the music and the interstitial sequences that occur every few levels through the first parts of the game.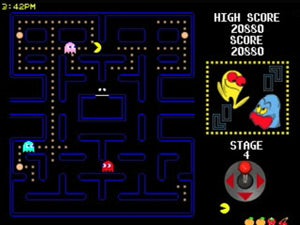 It may be on an iPod screen instead of an arcade machine, but Namco's iPod version Pac-Man looks more or less like the '80s arcade favorite.
What's of key difference in this version of Pac-Mac is the control—instead of using a joystick, like in the arcades, you're using a virtual joystick, if you will, by gently touching the cardinal directions of the click wheel. You don't need to actually press the buttons—moving your thumb over the Menu, play/pause, rewind, and fast forward keys is enough to get the on-screen joystick to respond. It takes a little getting used to, and it's more difficult than it should be—Pac-Man really requires lightning reflexes, and the iPod's click wheel just doesn't feel that precise.
The other major difference is the screen, and that's something I found myself less adaptable to. Maybe it's just old age creeping up on me. In the arcades, Pac-Man is rendered on a computer screen set sideways, so it's higher than it is wider. The iPod takes the opposite approach, a more conventional aspect ratio. Without any way of rendering Pac-Man sideways, Namco ended up just using part of the display—the entire maze is barely larger than a postage stamp, with the right side showing your score and a representation of the virtual joystick, so you can see which direction you're telling Pac-Man to go.
Options include the ability to turn sound effects on and off, adjust brightness levels, and change your name (odd, since high scores aren't recorded by name). You can also adjust volume and play the game in three different modes (Easy, Normal and Original, which mainly seems to adjust game speed).
The lowdown
Pac-Man is fun to see on the iPod, but with click wheel control leaving something to be desired, this is one arcade experience that probably ought to remain a nostalgic memory.
[ Senior News Editor Peter Cohen reviews games for Macworld 's Game Room. ]