At a Glance
Expert's Rating
Pros
Well-executed on iPod
Easy to understand gameplay mechanics
Our Verdict
PopCap Games seems intent on making a version of Bejeweled for every platform known to man. While I expect it'll take a while for this popular action puzzle game to catch up with Tetris' ubiquity, it's reassuring to see Bejeweled available for the iPod; more important, it makes a surprisingly good conversion.
Bejeweled is one of the most popular "match three" puzzle games out there, and has spawned countless imitators (and several sequels) A board appears containing gems of different colors and shapes. You can swap the positions of any two gems to form a chain of three or more matching ones, either horizontally or vertically. Doing so makes those gems disappear, adds to your score, and swells a gauge on the left hand side of the screen. Make enough gems vanish and fill that gauge to the top, and you'll proceed to the next level.
Maneuvering across the board and switching the position of gems is simple—you use the click wheel's scrolling action to quickly move yourself across the board, with a reticle around the gem showing your position. Touching the click wheel up, down, left, or right will switch the gem you're currently on with the one in that position.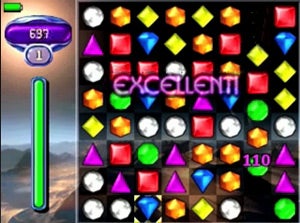 It's only fitting that Bejeweled—one of the most popular "match three" puzzle games around—joins the ranks of games you can play on fifth-generation iPods.
This gives you the freedom to make moves without a lot of frustrating clickwheel motions. And while it's easy to overshoot your target or make positioning mistakes when you first start playing, you adapt very quickly. One thing I've noticed that's pretty consistent with all the iPod games I've tried—thumb fatigue. My hand starts to ache by about the fifth or sixth level, which makes Bejeweled's "exit and save" feature particularly handy—it gives me time to rest my thumb for the next go.
Bejeweled includes two gameplay variations—the slower-paced "Classic" mode, which gives you unlimited time to pass each level, but ends the game if you're left without any moves; and "Action" mode, a time-based game that reduces the gauge the longer you take (so you need to make gems disappear faster than the gauge diminishes). You can also adjust game music volume (thank goodness—it's annoying), sound effects volume, game brightness, and whether you receive hints—all from the options menus within the game.
The lowdown
You've probably already played Bejeweled on your Mac, PDA or cell phone, but that doesn't stop the game from making a fantastic transition to the iPod.
[ Senior News Editor Peter Cohen reviews games for Macworld 's Game Room. ]