At a Glance
Expert's Rating
Pros
Inexpensive
Tight integration with iPod nano
Sleek iTunes and Nike+ Web site software
Tiny components
Easy setup
Cons
Works with only the iPod nano
Our Verdict
An accelerometer—an instrument that measures acceleration, which can be used to determine such information as speed and distance—can be a handy gadget for fitness buffs who want to track their workouts. But as recently as a year ago, an exercise-focused accelerometer cost around $200. That price point dropped dramatically earlier this year, when Apple and Nike announced the first fruit of their new partnership, the Nike + iPod Sport Kit (

).
This diminutive accessory package consists of a transmitter (the actual accelerometer) designed to fit specially-designed Nike running shoes, a small receiver that attaches to the dock-connector port on any iPod nano (other iPod models aren't supported), and iPod software that provides feedback on the time, distance, and pace of your running or walking workout. The Nike + iPod Sport Kit offers many of the features of pricey workout hardware at the remarkably low price of only $29. (Plus the cost of an iPod nano, of course.) I put this nifty, thrifty workout companion through its (and my) paces.
Tiny training tool
The Nike + iPod Sport Kit comes in a display box about the size of a double-CD jewel case. It prominently displays the miniatures inside: a postage-stamp sized receiver that plugs into your iPod nano's dock-connector port, and a track-shaped sensor/transmitter about the size of a large piece of Bazooka gum. The transmitter fits snugly inside a matching compartment hidden under insole of the left shoe of a pair of Nike+ shoes, which range in price from $100 to $130. (Apple says the transmitter's battery, which isn't replaceable, is designed to last 1,000 hours.)
The Nike + iPod Sport Kit box
(If you don't want to pony up for a new pair of Nikes—or if, like me, you're inclined towards Asics, New Balance, or other popular brands of running shoes— Marware will sell you a $10 Sportsuit Sensor+ that attaches to the tongue of your shoe and holds the transmitter securely. If even that's too much coinage for you, you can attach the transmitter to your shoe using Velcro. In fact, after having trouble obtaining a pair of Nike+ shoes, I actually did my testing for this review using these two latter methods, which worked surprisingly well—a Playlist staffer later confirmed my impressions using the real thing.)
Breaking it in
After you secure the sensor in (or on) your shoe and plug the receiver into your nano's dock connector, you turn on your iPod and a new "Nike+iPod" option appears in your iPod's main menu; the receiver detects the transmitter almost immediately. Select "Nike+iPod," and then choose your settings: a "Power Song," a male or female feedback voice, your preferred units of measurement (miles or kilometers), and your weight (necessary for a decent calorie-burning count)—setup is simple. If you wish, you can pair multiple sensors to a single nano. You can also choose to calibrate the device right away. (More on this below.)
The Sport Kit lets you get up and go immediately (a "Basic" workout, with open-ended time and distance), or set up a workout that alerts you when you've reached a preselected goal—a time, distance, or number of calories burned. After you choose your workout mode, you choose your workout music (or audiobook or podcast) and you're off. The Kit keeps track of your progress and stores it for ongoing progress reports and later uploading to iTunes and the Nike+ Web site.
Right out of the box, without calibration, I found the Sport Kit to be remarkably accurate; I walked a pre-measured one-mile course that the Sport Kit registered as .98 miles. But as I walked and ran different courses at different paces (most of them hilly) without calibration, inaccuracy became more noticeable. After calibrating the device both for running and walking (a simple process that involves traversing a known distance at each pace), the accuracy was improved: Nike advertises 90-percent accuracy "or better," and suggests that "better" comes with calibration. My informal tests found the Kit to be within five percent, plus or minus, on courses I've measured many times with car odometers and Google Earth. The Kit worked equally well whether I held my nano in my hand (which I prefer when running) or put it in my pocket (my preference for walking).
Starting, stopping, and pausing workouts, and getting audible feedback on demand (in addition to the default feedback provided every kilometer or mile) worked as intuitively as all other iPod options—for example, pressing the iPod's Play/Pause button pauses your workout (and your music) until you press Play again, and pressing the Center button provides a spoken-word report on your progress. However, you need to slow down or stop to switch playlists—I found that process, which requires two button pushes and scrolling, to be too difficult to complete even while walking at a moderate pace.
Tracking your tracks
When you get back home and sync your nano with iTunes, your workout data is automatically displayed in an elegant tab in iTunes (iTunes 7 required). On a single screen (shown below), you can see your latest workout's time, distance, average pace, and calories burned, as well as your consolidated workout history with the same information categories. There's also an option to automatically send your data to the Nike+ Web site, at which you can register (for free) and view additional workout information—times, distances, and line graphs of every run, including average speed and changes in pace (charted on line graphs), your fastest pace, and more. You can also set goals to run more often, burn more calories, run faster, or run a certain distance over a period of time you specify. The Web site provides visual feedback that indicates how well you're doing in your quest. I found this to be a true motivator.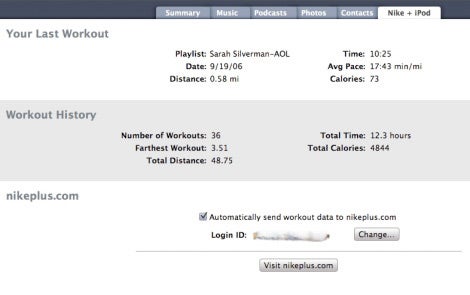 The Nike+ site also lets you create "challenges:" competitions with friends or fitness partners—in your neighborhood or around the world—to see who can run the farthest, fastest, or most. You can even set up a virtual race, competing one time over a set distance. If you don't have a fitness-oriented friend to compete against, you can choose a "Group Challenge." Last time I looked, Chicago's Northside was battling Chicago's Southside for total miles run—a friendly competition for charity.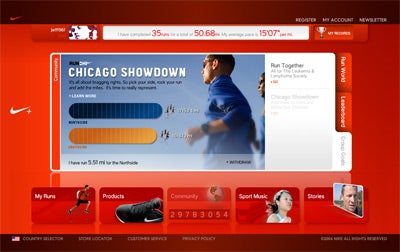 At the Nike+ Web site, you view workout information, set goals, and even create challenges, involving other runners.
The Lowdown
Runners and walkers, whether casual or serious, should find a lot to like in the Nike+iPod Sport Kit. Although the package doesn't provide enough data (for example, heart rate or split times) for the most hard-core competitors, it does provide plenty of motivation, enabling you to enjoy your tunes, receive audio feedback with the press of a button, be part of a community, and see how well you're doing—both against yourself and against others. When Lance Armstrong or Paula Radcliffe told me, through my nano, "Congratulations! You've just run your fastest mile," I felt like they were talking directly to me—even though I knew they weren't. The Nike + iPod Sport Kit is simple but ingenious, easy enough to use for beginning runners and technophobes alike, while reliable enough for even competitive runners.
[ Jeff Merron is a freelance writer and senior Web site editor for 108 Magazine. ]