If you're a student, one of the more mundane, but vital, tasks you need to do is keep track of homework and other assignments. Any good calendar program can do this, including OS X's own iCal, but I recently came across Logan Design's Assignment Planner 2.3.1 ( ; $5), a "homework tracker" designed specifically for students, and it offers a number of features a student will appreciate.
You add an assignment to Assignment Planner's list much like you would a calendar event, except that your task doesn't include times—you just designate the date the assignment is due or the day a test or quiz will be given. (In this respect, Assignment Planner is sort of a cross between a calendar and a to-do list.) You can also enter additional information about the event via the assignment-info drawer, such as the course name, textbook, type (for example, essay, project, worksheet, or speech—or a system of your own choosing), and notes. (After you get your homework back, you can also enter your grade and additional notes.) If you've got an assignment due on a regular basis—for example, every Monday and Wednesday for the next ten weeks—the Add Multiple Assignments command lets you create a task for each instance.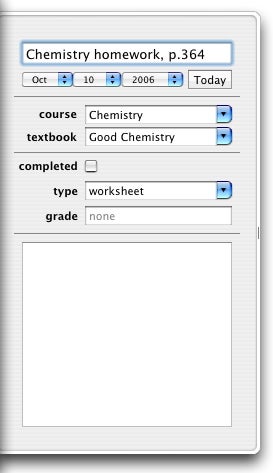 You view your upcoming assignments in one of two views: calendar or list. Calendar view, as you'd expect, displays an onscreen calendar with assignments shown on their due dates. List view displays tasks as a text list that can be sorted by any column: Completed, Name, Due Date, Course, Textbook, Type, Grade, or Notes. Assignments are color-coded based on their due date: past due, due today, due tomorrow, due further in the future, or completed. In addition, by using the filter buttons just above the view, you can quickly limit the view to display only complete or incomplete (the default) assignments, or to view only assignments for a particular course. The latter is a neat feature that makes use of the course information you include when you create assignments; for example, you can quickly view all your upcoming Chemistry tasks with the click of a button.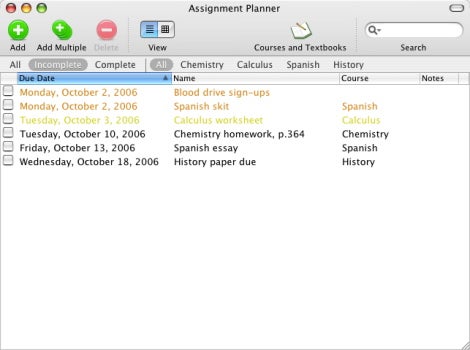 To make data entry easier, you can use the Courses and Textbooks window to enter all your courses and textbooks once; they'll then be available via pop-up menus in the assignment-info drawer.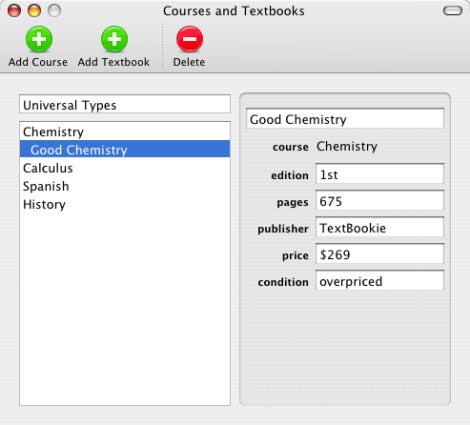 A nice extra is the optional Dashboard widget that displays all tasks due in a specified range of time. Also included are Calculators to determine your GPA and what grade you'll need on a course's final exam to achieve a particular course grade.
You can also customize most of Assignment Planner's text labels, useful if you plan on using the application for something other than homework—for example, to track work projects or personal tasks.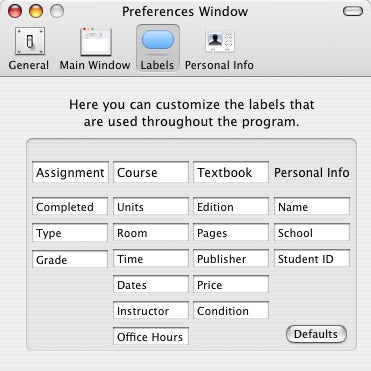 Finally, you can export your task list to a text file or iCal (which also means you can then sync your assignments with your iPod).
Unfortunately, Assignment Planner doesn't include a manual, nor are detailed instructions available from the developer's Web site, so you'll have to learn to use the application as you go. I'd also like to see a few more options for displaying tasks. For example, if you've entered a repeating assignment that occurs, say, every Monday and Wednesday, List view quickly becomes cluttered; it would be nice to be able to further filter the view by date so that only those tasks due in a particular time frame are displayed. And a pop-up calendar for choosing an item's due date would be helpful; the default "due date" field is difficult to use if the desired date is more than a couple weeks from today, and even the optional pop-up menus for month/day/year are a hassle compared to a pop-up calendar.
Sure, you could create a system similar to Assignment Planner using iCal or one of a number of good to-do managers out there, but I think $5 is a reasonable price for an application that's designed specifically for this purpose and provides a more-useful display for students. And even non-students may find Assignment Planner to be a handy tool for general project- and task-tracking.