Apple's Mail is not only easy to use, but also much more powerful than it may appear. If you feel that you're not making the most of Mail 2.0 (bundled with Mac OS X 10.4), try using these tips to dig into some of its interesting and less obvious features.
Supercharge your searches
When you're trying to find a certain message in your vast and unwieldy e-mail archives, typing a word or two into Mail's Spotlight search field doesn't always get the job done. Get the specificity you need by using Boolean expressions.
To indicate an AND search in Mail—in other words, both search terms must be present in the message—use an ampersand (&). For example, you might type
jack & jill
in Mail's Spotlight field to find messages containing both
jack
and
jill.
To specify an OR search—meaning that either, but not necessarily both, of the terms must be present—use a pipe character (|). For example, type
jack | jill
to find either of those names in a message. To specify a NOT search, use an exclamation point (!). For example, type
jack & (jill | hill) ! water
to find messages containing
jack
and either
jill
or
hill
but not
water
(see "Find It"). The parentheses group terms together so that a single AND, OR, or NOT applies to all of them. Be sure to include spaces between the terms whenever you type your search because if you don't, the search (for example,
jack|jill
) may not work.

Find It When you're looking for a specific message in your vast e-mail archives, narrow the search by using Boolean expressions in Mail's Spotlight field (A) . This works only if you select the Entire Message option (B) .
Boolean expressions work in Mail only if you select the Entire Message option. (After you type a search term in the application's Spotlight field, you'll see the Entire Message button above the message list.) You can't do Boolean searches on just the Subject or From field, for instance.
Check Gmail or AOL Mail
If you have an e-mail account with Google's Gmail service or America Online, you don't have to bother with a Web interface or AOL application. Check your messages with Mail instead. Go to Mail: Preferences, click on the Accounts tab, and use the following settings:
Gmail In Mail's Accounts tab, create a new POP account by clicking on the plus-sign (+) button and selecting POP from the Account Type menu. Fill out the other fields here and click on Continue. In the window that appears, enter
pop.gmail.com
in the Incoming Mail Server field. In the User Name field, type your full e-mail address (
user_name
@gmail.com
). Then enter your usual Gmail password in the Password field and click on Continue.
In the next window, enter
smtp.gmail.com
in the Outgoing Mail Server field, specify your full Gmail address as the User Name, and type your password. Select the Use Authentication option and click on Continue. In the confirmation screen, click on Continue again and then click on Done. If you're a Gmail pack rat, brace yourself—
a lot
of messages will download the first time you access them this way.
AOL In Mail's Accounts tab, create a new IMAP account by clicking on the plus-sign button and selecting IMAP from the Account Type menu. Fill in the rest of the fields and click on Continue. In the Incoming Mail Server field, type
imap.aol.com
. In the User Name field, just type the portion of your AOL address that comes
before
the @ sign. Fill in your password and click on Continue. For the outgoing mail server, type
smtp.aol.com
. As before, enter your user name (without
@aol.com
) and password. Select the Use Authentication option and click on Continue. In the confirmation screen, click on Continue again and then click on Done.
Juggle aliases in Mail
If you're a .Mac member, you can add up to five e-mail aliases to your account. These extra addresses all deliver mail to your regular inbox. Their purpose is to protect your main address from spam. Use an alias to sign up for online newsletters, for example, or to post on message boards. If the alias becomes flooded with junk mail, delete it and create a new one.
It's easy to use your aliases in Mail. Choose Mail: Preferences, click on the Accounts button, select your .Mac account, and click on Edit Email Aliases. Your Web browser will open to your .Mac account. After you've set up one or more aliases here, they'll appear automatically in the Account pop-up menu in Mail's message-composition windows. To send a message using the alias as the From address, choose the alias from this menu.
Send it from the right address
Do you have a non-.Mac e-mail account that has more than one address associated with it? For example, the messages for you@example.com and webmaster@example.com might both come to the same inbox. In Mail, you don't have to set up multiple accounts for each of these addresses to choose one as the From address on outgoing mail.
Instead, choose Mail: Preferences, click on the Accounts tab, and select the account. Type the multiple addresses in the Email Address field, separated by commas. Now, before sending a message, you can choose the From address you want to use from the pop-up Account menu.
Help the Junk Mail Filter
Mail's Junk Mail Filter is reasonably good and learns from its mistakes, as long as you conscientiously correct them by clicking on the Junk or Not Junk button. But some preference settings can throw it off, resulting in extra spam in your inbox.
Check for a common offender by going to Mail: Preferences and clicking on the Junk Mail tab. If the Message Is Addressed Using My Full Name option is selected, Mail gives a pass to any message that uses your full name in the To field. Unfortunately, it's all too easy for spammers to learn your full name, so I recommend making sure this option is not selected. If you'd like to use it anyway, at least make sure Mail actually knows what your full name is. Go to Mail: Preferences, click on Accounts, and fill in the Full Name field.
Count your messages
Mail always displays the number of messages in the currently selected mailboxes at the top of the viewer window. But what if you want to know how many messages you've selected? Easy: after you've selected the messages, drag them slightly, as though you were going to move them. A red badge with a number appears next to your cursor (see "Pick Any Number"). Release the mouse button before leaving the message list and you'll know the count, but the messages won't actually move.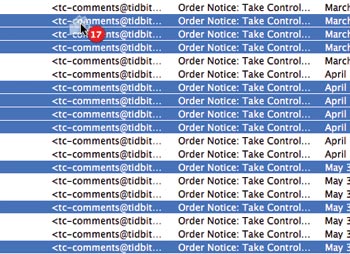 Pick Any Number How many messages do you have selected at the moment? Just drag any of the selected messages slightly (without leaving the current pane) and a badge appears on the pointer with the total count.
Use E-mail to send reminders
Sometimes you might prefer to send an e-mail message automatically—without having to launch Mail yourself. With a little tinkering in iCal, you can do just that. When you create a new event in Apple's iCal, you can choose to receive a reminder message by e-mail. But if you'd rather send a reminder to someone else—the forgetful colleague who's supposed to attend the meeting with you, for instance—download Chris J. Shull's free iCalMail.
iCalMail's setup application creates a new iCal calendar for you. After assigning an event to that calendar, choose Open File from the Alarm pop-up menu. Then, from the Other pop-up menu beneath it, navigate to the iCalMail application. Now add one or more e-mail addresses to the Attendees list. At the selected time, iCalMail uses Mail to send out reminder messages. The subject is the event name, and the text is the contents of the Notes field. You can even send an attachment by entering its full file path in the Location field. For example, type
~/Documents/mydocument.doc
if you want to attach the Word file mydocument.doc, located inside the
your user folder
/Documents folder.
Two cell phone helpers
OS X's Address Book can make life easier for Bluetooth cell phone users. Here are two helpful hints:
1. Sync without Syncing Even if you don't have syncing set up (or don't want to wait for a full sync), it's easy to send your Bluetooth cell phone a single address from Address Book. Select the contact's name in the Name list and choose Card: Send This Card. In the dialog box that appears, select your cell phone and click on Select.
2. Get More Options When you have a Bluetooth cell phone paired with your Mac, caller ID information for incoming calls automatically appears on the Mac's screen. But if you also have Address Book open in the background, and you click on the Bluetooth icon in its toolbar (it turns blue when selected), incoming calls produce a dialog box with even more options. Click on Log Call (before clicking on anything else) to add a note to that contact's Address Book record stating when the call occurred. Click on Answer to accept the call. Click on Voice Mail to send the caller directly to your phone's voice-mail system, or SMS Reply to reply to the caller with a text message.
[ Joe Kissell is the senior editor of TidBits and the author of Take Control of Apple Mail (Peachpit, 2005). ]