I like Dashboard. There, I said it. Yes, it can hog system resources and be (very) slow to launch, but it integrates into my workflow very well: I use it many times each day for quick access to OS X's Dictionary, the PCalc 3 widget, weather updates, WidgetTerm, sports scores, and more. For me, it really is a productivity enhancer.
But there are times when I want to use particular widgets without going through Dashboard. Perhaps I don't want to deal with Dashboard's system overhead at that moment, or maybe I want to do something without leaving my main "workspace"—Dashboard is great for quick, get-in-get-out tasks, but if you need particular functionality repeatedly, get-in-get-out-get-in-get-out-get-in-get-out…gets old quickly.
A hint over on Mac OS X Hints explained how to use Dashboard's "developer" mode to drag a Widget out of Dashboard and onto your Desktop, but this approach offers limited options—for example, you're stuck with the widget floating above all other applications. Last April, I covered Mesa Dynamics' Amnesty ( ), a $20 utility that lets you quickly place any widget on your Desktop and provides a number of options for how that widget is displayed (for example, floating above all other windows, as a standard application window, or as part of your Desktop itself—you can even resize it).
Some readers felt that $20 was too high a price for this functionality; others felt it was overkill if you only wanted to pull one or two widgets out of Dashboard. If you fall into either of these groups, Amnesty's lower-priced sibling, Amnesty Singles 1.1.1 ( ; $10), may be for you.
Amesty Singles takes a very different approach to "Desktop widgets" than its bigger sibling. Rather than running continually and letting you choose widgets on-the-fly for Desktop use, Amnesty Singles actually converts individual widgets into standalone applications. You just drag your favorite widget into the Amnesty Singles window or onto the Amnesty Singles application icon: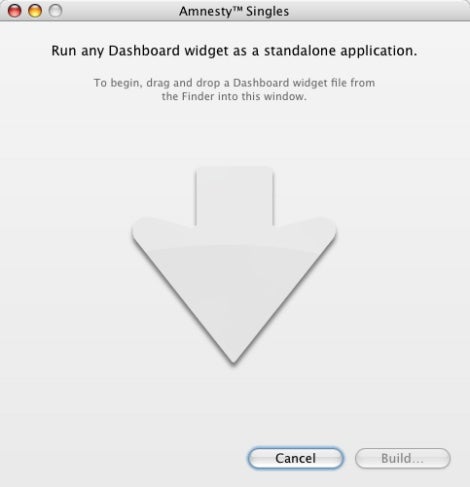 The window will then show you exactly which widget is being used and ask you if you want the resulting application to load the original widget from it's current location—for example, in ~/Library/Widgets—or if you want to create a standalone version, which makes a new copy of the widget inside the application bundle. (Note that you won't be able to pass this new application around to your friends—it will work only on a computer with a registered copy of Amnesty Singles installed. I also found that some widgets, such as Apple's Dictionary widget, don't work properly if you create a standalone, bundled application, but work fine if you use the option to load the original widget from its original location.)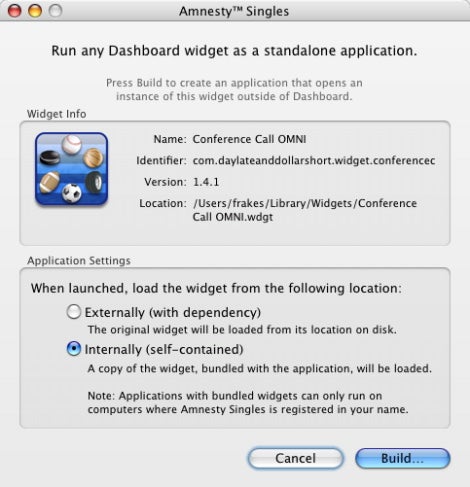 Click Build, choose a location to save the new application, and you're done. (The Save dialog provides a couple handy options: to reveal the new application in the Finder after you've saved it, and to launch the new application immediately to test it.) The new application, when launched, will appear in the Dock, provide its own menu-bar menus, and appear in OS X's Command+Tab application switcher, just like any other application. The application's Widget menu offers the same behavior options available with the full version of Amnesty (floating, standard application window, or part of the Desktop), along with a setting for widgets that need to periodically refresh their content that determines how often these refreshes should occur. (Many such widgets normally refresh only when Dashboard is active; this setting lets them refresh on schedule.) And if you're still using Panther, the good news is that, like Amnesty, Amnesty Singles and its widget-application creations work with both Tiger and Panther (10.3.9).
I've used Amnesty Singles to create an application version of the excellent Amazon Album Art widget to help me locate album art for iTunes—for this particular task, it's much more convenient to have the widget available continuously, on the Desktop, than to have to switch in and out of Dashboard. I've also created an application from Apple's Dictionary widget, given how often I access it while writing—the widget-based version takes up much less screen real estate than Apple's own Dictionary application.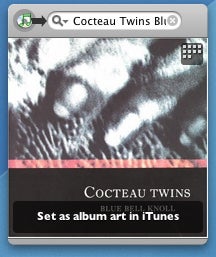 Amnesty Singles works with Mac OS X 10.3.9 and later and is a Universal binary; however, widget applications created using Amnesty Singles are Universal only if the original widget was Universal.