At a Glance
Expert's Rating
Pros
Different control methods
Adjustable difficulty settings
Lots of power ups
Cons
Difficulty ramps up too quickly
Our Verdict
A couple of the first batch of premium games released for the iPod are of particular note, not necessarily because of what they are but who made them—Apple itself. Apple isn't known as a game publisher, although the company has included games from third parties with its consumer Macs for years.
One of Apple's home-grown iPod offerings is called Vortex. It's a game that utilizes the iPod's design and a classic gaming concept in new and interesting ways.
Vortex is a brickbashing game. You aim a bat, positioned lengthwise, around the edge of a pit filled with slowly rotating bricks. You must fire a ball to strike bricks; as the ball rebounds, the bricks disappear, and you must keep the ball in play by rebounding it again with your bat. Let the ball go by your brick and lose a life. Vortex is essentially a 3-D version of the Bricks game already included on the iPod. So it's exceedingly easy to learn, and it's a lot of fun besides.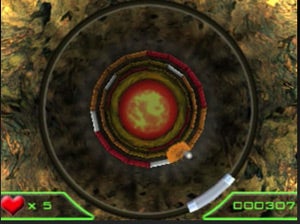 Vortex, a home-grown iPod game from Apple, is a new variation on the old brickbashing concept.
When you clear each level, you fly into the Vortex itself and appear on another level. Some bricks require more than one hit to destroy; occasionally you'll be able to collect bonuses that float upwards, which will temporarily imbue you with powers like guns that can shoot bricks, a sticky bat that will let you grab the ball and hold on to it, and stretch, which extends the length of your bat. There are nine bonus types in all, including a few that you might want to occasionally avoid. Take Shrink, for example. Useful if you've stretched your bat to the point where it's unwieldy, but not too helpful if it leaves you with a tiny surface to rebound the ball with. Or Faster. Sometimes, making the ball go faster is good. Often times it'll make it too fast to be able to play. To activate bonuses like guns or the sticky bat, you simply press the Select (center) button, or double-click anywhere on the click wheel.
Vortex offers players two different control styles—Wheel Rotation and Finger Position. Using Wheel Rotation, the bat moves in the same direction as your finger (good to get the bat exactly where you want it). Using Finger Position, the bat tracks your finger position on the click wheel instead (better for quick reaction, though less precise). You can also set the music source (either using Vortex or your own iPod's playlists), adjust brightness and sound effects levels, and save or abandon the game in progress.
Vortex has multiple levels of difficulty—Newbie, Rookie, Intermediate, Pro and Expert, which let you jump ahead to later levels. Vortex starts out slow, almost ponderous, but ramps up the difficulty pretty quickly—I never got comfortable enough to play any games seriously in Pro or Expert mode without getting frustrated very quickly.
The lowdown
Vortex adapts a proven arcade game concept to the iPod with great results, though it may prove too difficult to hold your attention indefinitely.
[ Senior News Editor Peter Cohen reviews games for Macworld's Game Room.]