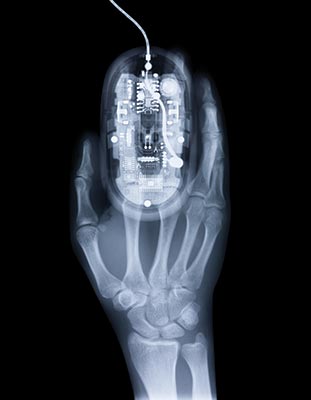 Photo illustration by Peter Belanger
David Pogue's soreness came on gradually, and was often most pronounced after long sessions at his Mac. It started with some aching in his wrists. After a while, the pain he felt after typing became so severe that he couldn't button his shirt without help. When the New York Times columnist and Broadway pianist was diagnosed with tendinitis, a type of repetitive strain injury (RSI) in which the tendons become inflamed, he turned to speech-recognition software—a solution that he says helped save his career.
It's hard to say for sure what role computers play in injuries such as these—even experts disagree on the subject. The issue becomes trickier when you consider that some RSI-like symptoms aren't caused by computers, and certain complaints, like eyestrain and headaches, don't qualify as RSI. Still, the relationship between computers and pain, numbness, and other debilitating symptoms is too persuasive to discount.
Whether you use your computer for work or entertainment, you're at risk for developing RSI. But you don't have to give up your Mac to stay fit. Read on, and we'll show you the best ways to arrange your workspace, as well as how to use software and hardware to help avoid problems.