Tuesday's tip on disabling Dashboard and Exposé using System Preferences spurred Jon Ruffridge to ask about something he'd like to disable for his classroom Macs.
Any chance you could give me an idea how to turn off Front Row? I run a middle school lab and it didn't take students long to figure out that they can turn it on with Command-Escape.
That would be the keyboard shortcut for launching the multimedia manager that now ships with most Macs (and will be included with OS X 10.5 when Leopard comes out next year.)
We summoned together the Macworld brain trust to see if we could come up with a workable solution to Jon's problem. Mac Gems wrangler Dan Frakes had what he termed a "harsh" fix: Use Activity Monitor to quit Front Row, archive the Front Row application itself ( /System/Library/CoreServices/Front Row.app ), and then delete the application. (You'll of course need to be an administrator to do this; you archive the application first to keep it handy in case you ever want to reverse your actions.)
That same thought occurred to Mac OS X Hints blogger Rob Griffiths, but he offered up a less disruptive proposal: use the Keyboard & Mouse preferences panel in System Preferences to disable the keyboard shortcut—just click the checkbox to the left of the command (shown below). Of course, Rob's tip assumes that student accounts are locked out of the System Preferences.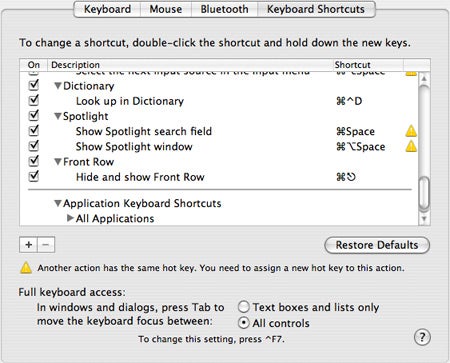 Those are the solutions we came up with anyhow. If you've got another idea, let us—and Jon—hear about it.